Android TV dongle passes through FCC with giant Google logo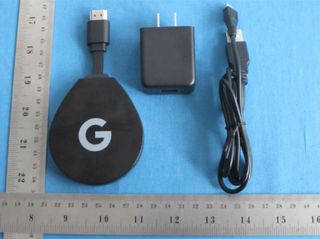 If you're in the market to buy a new Android TV-equipped device, your options are – limited – to say the least. Google isn't currently selling any Android TV gadgets of its own, but that could soon change according to a new FCC filing.
Spotted by Ausdroid, a gadget from Shenzhen SEI Robotics Co., Ltd. recently filed a new listing for a "4K ATV Stick" with the FCC. There are a number of pictures that accompany the listing, and they show a Chromecast-like HDMI dongle with a large Google "G" logo plastered on the front.
The dongle uses HDMI 2.0 for its connection to a television set, and it comes with a USB cable that can either connect directly to your TV or to the included 5V/2A power supply. An Amilogic S905X processor with 2GB of RAM is powering the gadget, and there's 8GB of eMMC storage for storing apps/games. There doesn't appear to be an ethernet jack for using a wired Internet connection, but you will find Wi-Fi 802.11 a/b/g/n/ac and Bluetooth 4.1. In other words, these are essentially the same specs found on Amazon's Fire TV dongle that came out late last year.
Android 8.0 Oreo and its refreshed UI for Android TV are present out of the box, and there's also a remote with a dedicated Google Assistant button. Similar to the dongle, the remote also features a very prominent "G" logo.
So, is this the "Pixel Player" we've been waiting for? Google clearly isn't making this dongle itself seeing as how Shenzhen SEI Robotics owns the FCC filing, but the "G" logos on the dongle and remote indicate that Google will likely be promoting or selling it in some fashion.
Google I/O 2018 will officially begin in less than a month, so here's to hoping we learn more about this mystery dongle then.
Android TV vs. Roku: Which smart TV platform is right for you?
Joe Maring was a Senior Editor for Android Central between 2017 and 2021. You can reach him on Twitter at @JoeMaring1.
I want that remote for my Shields. Needs a play/pause button though.

It's kinda sad that the controller is the best remote for the Shield, isn't it?

Google is about to Chrome all the things even further than they already have. One truly unified OS...

Android TV doesn't excite me. Maybe this will change that.

Owning an Nvidia shield would change that, believe me

Really with it had HDMI Passthrough. Not sure why this isn't a thing yet. Needs HDMI Passthrough or it's not worth getting excited about. Having a dedicated remote would be handy but it really needs HDMIp.

Since this is just a dongle, there's no way to have enough space for HDMI passthrough.

LoL what? Of course a dongle can support HDMI passthrough.

Looks good. Badly needed in the ATV world. I was wondering recently was there isn't an "Android TV stick". Good to see. I love my Shield TV but I really want something easy to travel with. To pick nits a bit on that remote ..Tiny, tiny Google Assistant button, right next to the tiny, tiny home button. Tons of unused space at the bottom of the remote. Not one can design a decent remote nowadays ..

I agree. But something here doesn't smell right...

Finally an alternative to Fire TV. Chromecast works great for somethings but it's just nice to have a UI on the TV and remote too, especially for the whole family. I really can't stand Fire TV and I'm looking forward to a cheaper solution to the Shield.

Interesting. Looks really cheap though quality wise. Guess we'll see what it is soon.

Glad to see this, bring it on, and the Google Smart displays as well.

I like it, I'll replace all of my Fire TV sticks with this in the future. I hope that remote is programmable power and volume buttons

It's insane that Sony decided to ship Android TV only on their top models (x80e and up), so this would be a great alternative to pair with a lower model like the X70e.

Hey, look, it's the Millennium Falcon Android TV.

The remote needs a mute button. The CPU might be too weak to stream BD/ UHD rips from NAS. Won't help with OTA TV. I just don't see this device as being useful to anyone that already has a Chromecast. This is just a Chromecast with apps and a remote.

Ever try to use a Chromecast in a hotel room? You can't. This would be awesome.
Android Central Newsletter
Get the best of Android Central in in your inbox, every day!
Thank you for signing up to Android Central. You will receive a verification email shortly.
There was a problem. Please refresh the page and try again.