Android One Moto X4 now being updated to 8.1 Oreo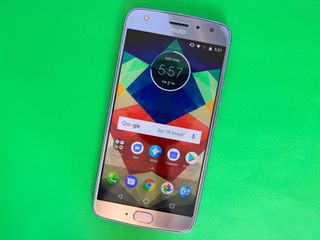 Even though recent reports suggest that Motorola will be scrapping its plans to release a Moto X5 this year, the Moto X4 still remains as one of the best mid-range phones you can buy right now. After being updated to 8.0 Oreo in late December, the Android One version of the X4 is now getting an update to 8.1.
Android 8.1 is a minor update, but even so, it's reassuring to see Motorola committed to its promise of offering fast software support for the Android One variant of this phone.
The software experience should be mostly the same compared to 8.0, but one noticeable change is an upgrade of the security patch to the most recent March 2018 one.
Assuming Motorola follows the same pattern of the Android 8.0 release for the Moto X4, we should see the regular, non-Android model updated at some point in April.
Joe Maring was a Senior Editor for Android Central between 2017 and 2021. You can reach him on Twitter at @JoeMaring1.
Delivering on the promise...
😋

I truly like the Android One concept. It is geared toward the 'general' user who wants a phone with smartphone amenities with security updates being pushed out more frequently than most OEMs do on their proprietary phones... This should be the minimum level of security any phone user should have or use...

I would have considered an Android One phone phone but since updates are still controlled the OEM and not Google, I"ll pass and get a Pixel 2 XL still as that's already on Android 8.1 plus will get Android P before everyone else too and I wouldn't touch a Motorola phone with a barge pole even with Android One as they suck.

So, I have an Android One Moto X4 on Project Fi that just received the March security update today. Sadly, it did not include 8.1. I was hoping that the phone being on Project Fi would somehow lead to earlier updates rather than later. I guess we'll see what the future brings.

Finally got my update notice. Unfortunately, it says it's still 8.0.0. This is the Project Fi Android One model. Anyone else seeing this?

So did nobody research this article? Literally no one has gotten 8.1 on the moto x4... The one screenshot that all these seem to be basing this one came from reddit and is believed to be fake.

I think this is fake news. My Moto X4 is still on 8.0.0 (April 20, 2018). Everyone else seems to be saying the same. Come on Motorola, what's the hold up? Broken promises on keeping phones up to date. Ughhhh! Next phone will not be Motorola!!

No updates here. Not even a security update got dick of no updates on phones. Front everything I read going to projectfi and Andriodone phone would solve that problem but it didn't. Bait and switch, I may go back back to straight talk in totalwireless.

A month and a half later and still no 8.1 on my Android One X4.
Android Central Newsletter
Thank you for signing up to Android Central. You will receive a verification email shortly.
There was a problem. Please refresh the page and try again.