Moto X begins receiving Android 4.4.3 push on T-Mobile and for developer editions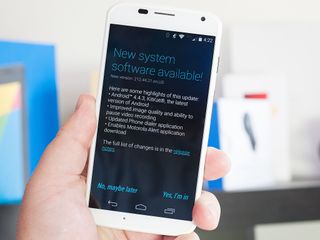 Rocking the Moto X? Then you're going to be pretty happy to find out that Android 4.4.3 is now available through an over-the-air (OTA) update. A few days ago we pointed out that Motorola would begin pushing out Android 4.4.3 to their various handsets throughout the week.
We just picked up the update on our Moto X. T-Mobile customers and those with developer devices are the first to get Android 4.4.3 on their Moto X.
With the update you can look forward to improved camera software with the Moto X. You'll get better exposure consistency, flash colors and fixes for low-light issues. Also look forward to the ability to pause a video recording with a pause/resume button in the viewfinder.
What do you think of this update to your Moto X? Head to the forums for more:
Get the Android Central Newsletter
Instant access to breaking news, the hottest reviews, great deals and helpful tips.
Just a matter of time before the rest are updated Posted via Android Central App

Just got mine on ATT Posted via Android Central App

Just got mine on my iPhone 6 Posted via iTunes

My ATT moto x is saying no update available. Any way to get the update other than OTA?

Like where is the HTC one m8 android 4.4.3 update?? I live in Chicago and still don't have it yet. Its a brand new phone in a popular city, why don't I have it yet? Posted via Android Central App

+1 Posted via my sixth Sense HTC M8

Thought you were serious at first then kept reading.
Well played friend. Posted via Android Central App

I like to have my fun;) Posted via Android Central App

I'm just poking fun at those who frantically express their feelings about why they don't have an update. Posted via Android Central App

Can't update yet or I will lose root :( Posted via AC app from my amazing Moto X

I was in that 3 months with my G2 Posted via Android Central App

It's good to see the improvements they've made to the camera since launch. Posted via Android Central App

My Nexus 7 2013 got it Wednesday, but My two Nexus 5's are getting no love.
Sent from my toaster

Same here, I don't understand how the roll out could be so slow this week. It was released Monday and the files are already up online (if you don't mind losing your data that is. Posted via Android Central App

If you Google xda, and know what you are doing then you won't lose your data. Updated my Nexus 4 since files went live, no data loss. I am running stock rooted with twrp and xposed to add. No problems whatsoever Posted via Android Central App

Still waiting here too. The reason I got a nexus 5 was to get the updates faster.

Same here. Pretty shitty work Google! London UK Posted via Android Central App on my Nexus 5

Headline is misleading - not all the developer editions are updating. No VZW in sight.

vz will get it soon, whats the complaint? verizon was first carrier to update to 4.4 before everyone else

no complaint. just saying headline "Moto X begins receiving Android 4.4.3 push on T-Mobile and for developer editions" is misleading

What are the changes from 4.4.2?? Posted via Android Central App

Pretty sure visually just the dialer and then a bunch of bug fixes. That's of course not including any moto x specific updates. Posted via Android Central App

Your phone can now order you pizza with touchless control

Roflmao Sent from my Nexus 7 2013 or iPhone 5

Active notifications tells me when I'm hungry and when to take a shit
Posted via Android Central App

Look at the picture above...

Does anyone know when the moto g will get this update? Posted via Android Central App

Mine just came thru, I'm in Arizona. Wife and signal indicator were gray at first instead of white but fixed it self after a few minutes. Posted via Android Central App

your wife turned gray? Posted via an AT&T Galaxy S III LTE

OMG HAHAHAHAHAHAHAHAHAH! Posted via Android Central App

Oh thank you for this. Needed the belly laugh.

Pure gold Posted via Android Central App on the Nexus 5

Hangouts is force closing every time I open it now, just got the update. Updated the app in the play store as well. Hope this is fixed soon. Posted via Android Central App

Try clearing it's cache? Posted via Android Central App

Nope didn't fix it, thanks for the suggestion Posted via Android Central App

Try reinstalling it. Posted via Android Central App

I figured it out, I think. I had previously disabled messaging since I was using hangouts. I enabled it and it seems to fixed the problem. Posted via Android Central App

Thank you I was having the same problem. Posted via Android Central App

Can you explain how you went about re-enabling the SMS app? My Hangouts keeps force closing as well, and the option to Enable SMS is greyed out in Settings>Apps... At the moment, I cannot send SMS at all, and have even tried numerous 3rd party apps, but no dice.

Awesome! I'll have to consider moto the next time I'm buying a phone. Posted via Android Central App

Late news? Maybe I was lucky but I got the GSM developer edition update a few days ago. It beat my N5.

Just hit my Moto G. Posted via Android Central App

Yep, I've been really impressed with my Moto X and this just cements those feelings (had HTC One and N5 before). Got the update today on my DE (GSM).

One of the many reasons I got a Moto X. Updates as fast as a Nexus or GPE device! Constant software tweaks & improvements too. Motorola is on the right track for sure. Posted via a beautiful Ebony backed Moto X or the amazing Nexus 10 using the totally awesome Android Central App

I got mine early afternoon today nothing big change except phone dialer app got pretty cool. It looks more simply flat now liking the new look dialer pad color got change to white and u got icons for contact

Anyone else lose the transparent bar on the bottom?

I just updated and no, my navigation buttons are still transparent on the home screen. Posted via Android Central App

wao.my nexus 7 is still without update Posted via Android Central App

My Nexus 7 already got it. Posted via Android Central App

my Nexus 5 got it. but still not on Nexus 7 (2012) Posted via Android Central App

Moto G is getting it today as well! Posted via Android Central App

*eyes turn towards Verizon*

When it will be released to moto g India. Posted via Android Central App

Wow, just great. Im on Nexus5 and I still dont have an update.Thank you Google!

Oh baby
Just got 4.43 on my nexus5 in England. Time 2130 9th June Posted via Android Central App