Android 8.1 Oreo rolls out to the Moto G5 and Moto G5 Plus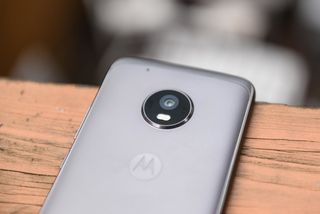 Android Pie has been out for over two months now, so when Moto G5 and G5 Plus users in the US were notified that there was a system update for them, they might have gotten their hopes up for getting a slice of the latest and greatest Android has to offer.
Well, sorry to steal your dessert, but Android 8.1 Oreo is still an upgrade, right?
Android 8.1 Oreo may not be the newest Android on the block anymore, but there are still plenty of upgrades in there for users who have been stuck on Nougat. The official release notes on the Motorola support site for the Moto G5 Oreo 8.1 update (opens in new tab) and Moto G5 Plus Oreo 8.1 update (opens in new tab) list its improvements as:
Android™ 8.1 Oreo™: many enhancements including new multitasking features, more efficient notification controls and improved data saver, battery features, new power menu UI and Bluetooth improvements.
Android security: includes the updates of Android security patches through June 1st 2018.
Stability improvements: includes changes that fix bugs and improve the stability of your phone.
You may have noticed that monthly security patch is still a few months old, but at least it'll be slightly less outdated. The OTA update is rolling out to US models of both devices. If you've gotten the update, tell us if you've noticed any improvements with it — or if any bugs have surfaced after updating.
Android Central Newsletter
Get instant access to breaking news, the hottest reviews, great deals and helpful tips
Ara Wagoner was a staff writer at Android Central. She themes phones and pokes YouTube Music with a stick. When she's not writing about cases, Chromebooks, or customization, she's wandering around Walt Disney World. If you see her without headphones, RUN. You can follow her on Twitter at @arawagco.
Sounds like my mom will be asking me about this now...
Thanks for the heads up. Better late than never?

Yeah no kidding, I got tired of waiting and ordered a new phone with (hopefully) better release support. That and I started running out of memory, causing the phone to really drag at times.

Nothing on my G5+ so far, in Chicago.

Nothing here in Dallas yet.

Nothing in Oregon yet. Just checked my wife's phone. Security patch date is weird, though. She just got a security update and I think it was the August one.

Haven't gotten anything besides an update that upgraded the patch to Aug 2018. So this update then downgrades the security patch?

Nothing on my G5 in California

Nothing here on AT&T in SoCal on G5 Plus so far

Nothing here on Long Island yet....
O R E O WHERE ARE YOU OTA NOT TODAY WTF THE WAIT HAS BEEN LONG ENOUGH

With my G5 plus, no Oreo update, but I do have August security update. Battery life is horrible with August update. I could previously go entire day on charge, but now I can't make it 5 hours. Hurry up Oreo!

I usually recommend a factory reset after an OS update, but in your case I would strongly recommend. Especially, since you are already experiencing a battery drain issue with just a security patch.

Just checked, update available here in Houston area!

And I'm ticked that my Nexi 6p and 5x are stuck on 8.1 forever.

Why? Is it because it is stuck there or just because it's 8.1?

That's about right for Android's phones, 2 year major release support. Though, Google-specific phones tend to support their phones for longer than the other manufacturers (Samsung / LG / etc). I did see a graph that showed Apple's support, and I ave to say, it's a bit better than Android's. But then again, their ecosystem vastly simplified.

Ha! Consider yourself very lucky my 5x and my wife's 5x both died with that never coming out of bootloop issue. Opted for the this Moto G5+ loving the 7 hour SOT all day battery.

Stuck how? With a Nexus phone you have many options. You could roll back to whatever previous OS you like or flash a custom ROM or root the stock ROM and customize it to your liking.

Supposedly 8.1 is also rolling out in several places in Europe for the G5, G5s and + versions, but so far no such luck for me. For those who are a little more impatient, the OTA is available at XDA's.

I received the OS update for my unlocked Moto G5s Plus. The first notable thing was a faster bootup time when I turned the phone on. I live in Los Angeles County, CA.

How is the memory usage? I noticed on 7.0, I my G5 Plus would act sluggish often because of low memory.

Same for me.
8.1 with August security on my G5S Plus unlocked.
I am in Oregon.

Got my update last Thursday, 10/25. Notifications have improved. Performance is a little faster. Installed easily, only 20 min, then up and running.Oh, I'm in VA.

Had the update symbol and updated my g5plus last week here in the Uk. Wife held her's back till the weekend so she could sort out any bugs she had. As it turned out none happened. Yep that's UK users, unlocked as well.

I'm in Connecticut and my Oreo update rolled out probably 5 day
ago so I don't know II what the hell's going on with everyone else's ****

What is your phone model? G5 plus or G5s plus.

Moto G5 Plus, only got the security patch update last week (Aug 1, 2018), still on Android 7.0

I received the update on 10/27 n Arkansas and I hate it, it has made doing everything on my G5s Plus a pain in the ass to deal with. Couldn't leave **** alone that worked just fine.

Got it here in Skegness UK

Nothing official here yet in Virginia. I did get a subliminal message from Motorola telling me not to buy another phone from them because I can't rely on getting timely updates for my device. Message received, Motorola!

Nothing yet in Western NC

Nothing yet. Bought my G5 Plus (XT 1687) in Miami.

Nothing here in New Orleans yet..

Still nothing here. Oct 30th

I'm in Baton Rouge and received the update today

Hi guys, speaking from Poland here. I've just got mine on Sun 28th. Looks nice, but nothing spectacular. Though I think my battery might be doing better.

My Moto g5s plus got it about a week ago here in kansas. Been running great so far love picture In picture feature. Though the finger print I'd geastures has been super sensitive. Just try to swipe to go back and it takes you to the home screen. so I just switched back to the touch screen buttons. But other than that it working great.

It still doesn't have Oreo? That's ridiculous.

What about the G4 Plus that you promised last year? Guess not as Chinese owned Motorola only wants to sell the latest. Next phone will be a Nokia. My wife's just went to Android 9.

Hey I have Moto G5 plus (gold 32GB/ 2GB ram)
No Oreo Yet . I'm from Kentucky. Been waiting and waiting and waiting and waiting and waiting and waiting

Hummm, is that an Intl version? Mine has 64gb storage and 4gb ram (retus).

I got my last week, g5+ in cricket network. Orlando FL

Still waiting in New York. Lmaoo. Come quicker. Tired of this crappy nougat Bluetooth buggy ass rom. Boring. Need some rootless substratum.

Got the update on 19th October in Malaysia. The update has fixed a constant camera crash I've been having. Instagram also crashes less. Everything seems fine. Though occasionally the phone seems to bog down. Might have to do a factory reset.

Folks--if you're with Sprint, I wouldn't hold my breathe. Here's the rub. Just because Motorola has finally released Oreo for us, the Cell phone Carrier must also comply. Last I heard, Sprint is kicking Moto 5G Plus to the curve...which angers me so much! If anyone has proof to the contrary, shout out.

In Chicago on Mint Mobile with Amazon variant of Moto G5+ and no OTA update yet.

I got Android 8.1 Oreo on my unlocked Moto G5 Plus with August security patch more than two weeks ago. I'm in Japan.

I am in Atlanta. I got the update yesterday 10/30. I have a G5 plus (64GB) on At&t. Can anyone report if the 8.1 Oreo with Sept patch has a battery drain issue? I am seeing a lot of complaints online and am reluctant to upgrade.

G5 before Z2? What's up with that?
Quantity sold perhaps...

Got Oreo 8.1 -- today 10/31/18 around 1 PM. Moto G5 Plus Yucca,AZ

I just got the update in Poland for Moto G5 (XT1676) reteu channel.

Nothing here in eastern NC

I'm guessing the Amazon prime versions then will be after Christmas?

Exactly, I have the unlocked version bought it from Amazon and still not Oreo release yet.

Its not just you folks that have amazon that haven't recieved it yet. I have a release day g5plus bought directly from lenovarolla and im still on 7.0 august 1st security patch.

Wondering if the August security patch influenced the upgrade to Oreo. Oreo was pushed to older security update only. No one with the August security patch has received Oreo.

Nope. I have the August patch on my phone and received the update. My phone is a G5 Plus purchased from Newegg so it has the Retus software channel not Amz for those who purchased from Amazon (Ad version or not).

Very weird because I bought it unlocked from Amazon and it's in the retus channel as well.

Like I said i have release day phone from motorola, on retus still no oreo update.

So, still in Virginia, and no update. I called Verizon this morning and had an extremely helpful young lady who organized a three-way call with Motorola to find out what the hold up is. Long story short, the Motorola lady told me to contact Google to find out when the release would be. The Verizon rep argued on my behalf that this response was unacceptable but that didn't change anything. Thanks to the Verizon rep for going above and beyond. As I mentioned in my previous post, I'm done with Motorola after this phone. This is just awful customer service.

Well, strangely enough, after all those calls, I just happened to get the update today.

I live in the Seattle area and I received the Android 8.1 Oreo update for my Moto G5 plus on 11/7/18. I have a unlocked Moto G5 plus which I purchased from Amazon. The phone originally came with Amazon lock screen ads but those have since been removed. My phone is on the amz software channel. I like the new OS. My battery is lasting longer and the phone seems a little faster.

Got my update on the 8th, with the security patch 9-1-2018, loving it ,no issues at all.

I received the Oreo update here in Wisconsin on the 9th seems to be working fine and enjoying it I also received a security patch September 1st 2018

Got 8.1 on my G5+ in Maryland by manually checking for updates. This one was an Amazon Prime version. Thought I was never going to get an Oreo update on this version. So far, all is well.
Android Central Newsletter
Get instant access to breaking news, the hottest reviews, great deals and helpful tips
Thank you for signing up to Android Central. You will receive a verification email shortly.
There was a problem. Please refresh the page and try again.