Amazon unveils free calling and messaging with Alexa Calling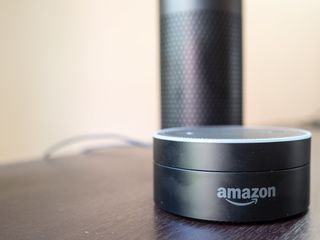 Amazon continues to make big splashes this week, unveiling a game-changing new feature called Alexa Calling that will be made available across all its Amazon Echo devices, including smartphones running the Alexa app. Alexa Calling will allow Amazon's Alexa-enable devices to send and receive hands-free calls and voice messages to anyone with an Echo speaker or the Alexa app installed on their phone, at no cost. Amazon has outlined the new features on its website, but there is no specific release date as to when we'll see it roll out.
The service will be free to use and will be built into Alexa's voice controls so that you can place or answer calls without stopping what you're doing around the home. Messaging works similarly, allowing you to easily send and receive short voice messages via your Echo devices.
This news is paired with Amazon officially unveiling the latest Echo device, the Echo Show which features a 7-inch touchscreen and will retail for $229. The Show will make use of the free calling and messaging features of course, and will use its camera and screen to provide video calling features. One interesting/creepy video calling feature Amazon will be including with the Echo Show is called "Drop In", which will allow approved people — your closest family and friends — to instantly connect with you via video chat. This is a bit similar to Google Duo's "Knock Knock" option, except that it's on a stationary object that's likely pointed into your living room or bedroom.
Amazon hasn't come out and explained exactly how these video calling features will work, but we're sure to find out more as we get closer to the Echo Show's June 28 launch date. This isn't the first time Amazon has waded into the wireless communication business — long-time readers will remember the ill-fated Amazon Fire Phone which was discontinued just over a year after it was launched.
It's also worth noting that adding Alexa Calling to the Alexa app suddenly gives it way more standalone functionality than ever before — it was previously used as a support app for Echo owners, but appears to be pivoting to be an app that may be worth downloading even if you don't yet own an Echo speaker.
What do you think of Amazon adding free calling features to its line of Echo smart speakers? Are you ready for regular "drop ins" from the relatives via video chat on the Echo Show? Let us know in the comments!
Marc Lagace was an Apps and Games Editor at Android Central between 2016 and 2020. You can reach out to him on Twitter [@spacelagace.
Ok, finally a feature I can turn my echo back on for.
No Prime means reduced functionality for me.

I'm curious, can the Echo devices be used as an intercom type system within the house if you have multiple scattered about? If not that would be handy sometimes.

Currently, no. But I believe that type of functionality is going to come with the new calling features. I agree that will be very useful. I spend a lot of time yelling at my kids around the house.

Yes. My wife and I have been playing with the new feature. When she's watching her shows upstairs and I'm in the man cave song my thing, we can talk to each other via Amazon devices. The Amazon Tap is not supported yet but the devices you have intended for intercom use have to be connected to separate accounts. Upstairs is connected to my wife's amazon account and my man cave Echo is on my account.

How long before I can pay to call someone who doesn't have the same secret decoder ring as me?

From my discussion with Amazon today on the phone, the Tap will not be getting this feature. So it looks like I'll be getting a Dot in the near future. They didn't say that the Tap is done but it's not part of the Echo lineup on Amazon's site anymore.

Confirmed. I just tried to make a call using the tap but got "calling with alexa is not supported on this device. You can use the alexa app instead". Sorry I really thought it rang earlier

Pretty sure this works now! I just tested it out by calling myself "Alexa, call Ricky Lastname" and it rang all my other devices (I made call on original Echo but my Tap and Dot rang). This is such a cool feature! Updated app on my iPhone (boo hiss) but seems to be working :)

Wow! You are easily impressed. This is not a cool feature. A cool feature would allow you to call anyone, not just another echo user. All of these devices work off of you smart phone, with an app. So they should be able to use your smartphone's calling features. Why this hasn't happened is a dubious thought.

lol... you can call anyone with the alexa app not just an echo so technically you can call anyone with a smartphone

That is about the dumbest comment I've ever heard on a tech site. First, almost no one who doesn't have an echo would have the Alexa app on their phone. So concentrate really hard, and try not to be an idiot! Next, if you have an Alexa, you're still a moron, as it sucks at doing almost anything. So i guess you are a two time loser...

i'm not gonna continue on with this because it seems like you have anger issues and are really bothered by the fact the echo and amazon doesn't cater specifically to you! But when you learn to respond in a civil manner feel free to try this conversation again

I think you've mistaken this for a newspaper comments section.

What I detest about this is that I don't want it, yet their crApp forced me to allow it. I don't want to give it a name for people to be able to search for, nor receive messages on it, and I couldn't opt-out of that. There was no cancel or "no" option.

I think this is crap. When I read the headline, I was excited for a great new feature. But after reading that it will ONLY allow you to call others with an echo, that pretty much killed it for me. This is NOT useful at all. Both the Echo and the Google Home need to be able to make hands free phone calls through their connected smart phones, and also text messages and calendar annotations without IFTTT. Until they can do those things, it's ridiculous to even get excited about them.

We get it, you don't like it. Most people don't like something new and wait for the rest of us to work out the kinks. Cool. You sit back and wait and we won't judge. But for the mean time stop interrupting the adults who are trying to do something. Nickelodeon has a wonderful app I'm sure you'll find very useful while we work on this one for you. Now please let us get back to it.

Hey moron, your bus is leaving. Time to get back on the shortbus. You aren't an adult. You're a juvenile idiot, who thinks since someone disagree's with you, that they should have no rights. Well, idiot, get a grip. Educated people realize that everyone has a right to their own opinion, and voicing it doesn't mean dumbasses like you need to chime in with childish antics, while accusing them of that exact thing. This is what you liberals do. You accuse others of doing exactly what you are doing, because you're all hypocrite snowflakes. Punks like you are always brave behind a keyboard, but I guarantee your punk ass wouldn't have said that to me in person. But boy, do I ever wish you would...

Ok. I'll play along one time just because clearly your daddy never taught you manners. I'm not opposed to your disagreement. I'm opposed to the manner in which you expressed it. You jumped right out of the gate demeaning people for their opinions never realizing the point of the article was to see if people liked the idea of Alexa calling and if they would be using it. So your post should've gone something like this. "I don't think relying on people who don't have or want an echo signing up for an app they don't want either is the best way to launch a service or even a good idea for that matter." And all would've been left alone because you would have conducted yourself appropriately for the forum in which you were participating. However. You chose to be an ass about it and tell people they "were easily impressed" meaning simple or dumb. Then you called another person's post "the dumbest thing on a tech site, which is not only rude but incorrect, since you own that title. Then when I took issue with your negativity and basically called you a child for the way you were acting you used idiot (which that part I actually enjoyed because it made me think of Dwight from the office and reminded me to watch some on Netflix tonight so for that I thank you) and "short bus" again showcasing your 6th grade mentality for the whole world to see. So that is my issue with your jackassery (you'll be tempted to look that up but don't waste your time. See one of the benefits of having a well versed vocabulary is you can actually play with words, instead of yourself, and have fun with a conversation instead of just ruining everyone else's) it's not that you have a different opinion. Again it's the way in which you expressed it. Oh, and as for the political stuff and other vague assumptions you made, if you'd like to test the whole liberal snowflake theory I'm in San Antonio TX and will be happy to let you come test your little theory whenever you want. ;-)

The idea is to sell more echos. Like, to a whole family.

Ok so I have two echo's, currently both paired to the same account because I didn't have the need to put them on individual accounts nor did I really want to. But now asking one echo to call the other calls everything at once because they're all on the same account. I tried giving them more unique names but still same issue. Does any one know how to assign each device a unique calling profile without putting them each on an independent Amazon account? It seems like each device needs it's own unique account as if a single person would never own more than one. What I'm after is trying to use these more as an intercom than a true phone call replacement. Like calling my kids upstairs to come down for dinner while I'm downstairs but not having every echo go off together just calling the one that's needed. If each one needs an account I can't imagine Amazon wants me to go create a bunch of bogus accounts just to identify each echo with no actual user intended for the account. Any ideas? Or is everyone still trying to figure it out like me lol.

Strange that the Amazon App Store still only has a 1.0 version of the Alexa app while the Google Play Store has 2.0 (apparently needed for this). And wow, my 1.0 version is under 10 MB but I have to download a 45 MB update? My, how they grow!
Android Central Newsletter
Get the best of Android Central in in your inbox, every day!
Thank you for signing up to Android Central. You will receive a verification email shortly.
There was a problem. Please refresh the page and try again.