Amazon Fire TV is just $84 for a limited time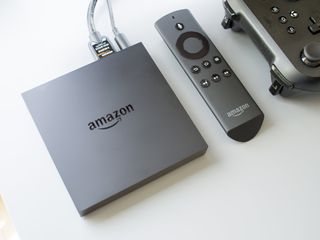 If you have yet to pull the trigger on Amazon's Fire TV — now is the time. Amazon is offering a $15 discount on their streaming set top box, bringing the price down to just $84 with free shipping. The offer is only good for a limited time (though we're not sure how long) so get in while the getting is good.
If you haven't checked it out before, Fire TV offers a huge selection of TV shows and movies, music, games, and much more streamed right to your TV. You can view channels from services like Netflix, Hulu, Showtime, WatchESPN, Pandora, and Vevo. Prime users can access Instant Video with just a few clicks, and new content is being added all the time.
Planning to pickup a Fire TV during the sale? Drop a comment and let us know!
By day, Adam is a writer for multiple Future Publishing brands with over fifteen years of experience. He's expertly researched and written hundreds of articles ranging from mobile phones to mobile homes to baby mobiles. By night, he's a gadget geek, avid disc golfer, 80s nerd, cord cutter, cook, husband, dad, and memory collector.
I bought one when they were $79. Not a bad purchase, but I find myself using chromecast more.

Bought one to replace my Chromecast because I could not for the life of me get it to work with my Comcast provided router. I like it better than the Chromecast for my needs.

Which Comcast router/gateway do you have? Chromecast works only on 2.4 GHz WiFi and I've got 3 working just fine.

Good to know, I have a Comcast router as well that has given me fits. I'll have to check my settings to see what I've got it set to now.

Good luck (no pun). I have their dual band Cisco Gateway 2 and so far no issues. Yes, it doesn't offer much in terms of customization but it will have to do for now. I have both 2.4 and 5.0 GHz WiFi running concurrently and have the Chromecasts, iPads, and Fire TV working just fine.

Comcast routers are a joke. I couldn't get my iPads or my Chromecast to work with it on a consistent basis. I ended up getting my own netgear dual band router and it works perfectly.

this one. Not at home so not sure the exact model. http://media2.comcast.net/anon.comcastonline2/support/help/faqs/wireless... Aaris.

Interesting... I have the same router and my Chromecast works great! Have you tried login into to the router and tweaking some settings? Posted via Android Central App

Tried everything possible. I am very familiar with router settings as well. I did some research online and it is about 50-50 with the chromecast and that router, either it works fine or does not work at all. So I just gave up and bought a FireTV and I really like it.

Oh that sucks! I have the exact same router/gateway and like I mentioned earlier, have three Chromecasts and a Fire TV working just fine. At some point, when I have the time, hope to get my own modem and router to play with. Cheers.

Make sure UPNP is turned on.

@dbcmaster Trust me. That is the first thing I tried.

The router that Comcast provided to me is such a piece of garbage that I turned its wireless signal off and use an external wireless router instead.

I can top that, I got one of their modem/wifi units and once I found out that the customization of the unit was practically nill I asked to put the unit into bridge mode so I could use my own router. they tried for 2 hours over the phone and were completely unsuccessful. I ended up buying my own modem and using that instead which was a LOT faster. also no more $8/month rental charge, the modem paid for itself in under a year.

Works with everything I have now, but the $8 a month rental charge is a joke. If I have any future issues I will return it and get my own equipment.

Bought one when they came out and use it all the time. Don't use my Chromecast or roku 3 hardly at all anymore. Streaming sends to be better on my fire. Posted via Android Central App

Best $99 I've ever spent.

Lies Posted via the Android Central App

Ha why? I would put it up there with some of my better $100 purchases.

I agree with this. I love Roku, I had 3 of them, but Fire TV outshines it big time. I have a Chromecast and a Raspberry Pi too. Fire TV is my go to box Posted via Android Central App on my VZW Note 3

I'll still wait for an Android set top box. Though, this is tempting. Posted via Android Central App

I'm waiting for Android TV as well to make a decision.

Right now my old Roku and my Chromecast do enough. I'd love some light gaming, but don't want to be stuck with Amazon's ecosystem. Posted via Android Central App

As tempting as it is, chromecast really took care of my simple needs.

Great price. But it doesn't really offer me anything compelling over my Roku 3.

I can access Netflix, Amazon, ect. on my Sony Blu-ray player. Does this box do anything different? Added content or just the standard 1980s movies that are available for prime subscribers? Posted via Android Central App

Gaming and maybe a few niche apps. Posted via Android Central App

With a smart TV, Xbox One, and a Chromecast, I have no need for this. Though it will be great for many, it was too late for me to have a need for it. I did think about it just to play with (tech junky), but decided to pass.

If I didn't just pickup a Roku Streaming Stick, I would jump on this. Although the wife does want another Roku for the living room.......

Just wait for an Android TV box. Posted via the Android Central App

My Chromecast, and Ouya cover this area perfectly well, I do not need another box.

I am tempted to get this and turn it into an XBMC machine, however not enough people have experimented with it, so it will be quite the project. I think that whatever google puts out as an android box will have to be just as powerful if not more powerful and more hacked by the community, so I will just wait.

XBMC works perfectly fine on Fire TV without rooting the box or turning it into an XBMC machine per se. I sideloaded XBMC Ouya (SPMC) onto my Fire TV and installed the XBMC Hubwizard. It works great. It took no time at all to set up. So, now I have the best of both worlds. I can either stream videos using Amazon's setup or go through XBMC for videos. It plays nicely on the Amazon box without messing up the original setup.

I will have to look into spmc. Are you using the supplied remote or have you tried to bring your own ir remote.

Just using the remote that came with my Fire TV.

I don't want to reward amazon for not releasing an android app. Posted via Android Central App

Why pay for something where you got to pay more for something... Posted via Android Central App

What on earth is the purpose of this thing??? Other than amazon prime video, what can I do with this that I cannot do with Chromecast or a miracast dongle??? Posted via Android Central App

Fire TV is cool. But I still like my Roku 3 and Chromecast better; they both have more to bring to the table.
Android Central Newsletter
Get the best of Android Central in in your inbox, every day!
Thank you for signing up to Android Central. You will receive a verification email shortly.
There was a problem. Please refresh the page and try again.