Amazon Echo gets friendly with local businesses thanks to Yelp integration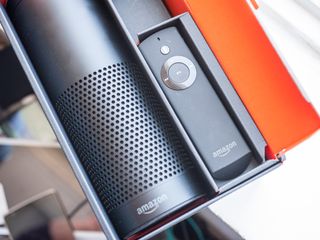 The Amazon Echo continues to add to its capabilities, and it can now tell you where to find exactly what you're looking for. Now featuring integration with Yelp, Echo can give you the name of the top-rated local pharmacy, or the hours of the closest pizza shop.
In order to use the new Yelp integration, you'll need to set up your location with Amazon's Alexa app. In the navigation panel of the app, select Settings and find your device. Select Device location, then Edit, and enter your full address and hit save. Once that's done, you can search for nearby restaurants, top-rated businesses, get the full address for phone number of a nearby business, and find hours.
The Alexa app can be found on the Google Play Store (opens in new tab) right now, and you can pick up an Echo speaker directly from Amazon for $179.
$179.99 from Amazon (opens in new tab)
I'll pass on the buggers and cum! Posted via the Android Central App

??!! Posted from my Nexus 6/Nexus 7 2013/Surface Pro 3

Well that escalated quickly! Posted via the Android Central App

Haha I wonder if illiterate people get the full effect of alphabet soup

South Park... Posted via the Android Central App

Would anyone recommend this product? I have a non-tech-savvy family member asking me about it as an idea for a Christmas gift. Any thoughts? I assume it wouldn't be for someone like me who operates 100% through Google, but frankly I don't know enough about it. EDIT: It would be for my in-laws, who have Android phones and a Prime account I believe.
Android Central Newsletter
Get the best of Android Central in in your inbox, every day!
Thank you for signing up to Android Central. You will receive a verification email shortly.
There was a problem. Please refresh the page and try again.