Amazon Echo Dot review: An inch and a half of Alexa may be all you need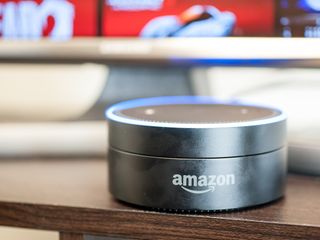 Don't overthink the Amazon Echo Dot — particularly if you already know Alexa. Echo Dot is what you get if you lop off the top inch and a half of an Echo. You keep the brains, of course — the voice recognition that makes Echo so powerful and Alexa so friendly. You keep the connected nature of the device — it still connects to Wifi. But you lose the decent speaker that make up the other seven inches of the Echo.
And ... That's it, folks. That's Amazon Echo Dot. It's a much smaller Alexa-powered connected device that does everything its big sister does.
OK, there's a little more to it. Here's our Amazon Echo Dot review.
About this review
We're writing this review after a few days with the Amazon Echo Dot, which we purchased. While generally we'd say that's nowhere near enough to review something like a smartphone, Echo Dot essentially is a smaller Amazon Echo, which we've reviewed not just once, but twice over the past year or so.
There's not a whole lot to figure out there. Nothing really subjective to get a feel for.
I've used it in a bedroom. I've used it in an office. I've used it a kitchen. My kids are fighting over who gets to have it in which room.
Awwwwww, it's a baby Echo
Amazon Echo Dot hardware
Amazon Echo is nine inches of black, cylindrical speaker. It's not huge, but it's sizable. Echo Dot is not. And it's tempting to think that a smaller Echo isn't as capable. But Alexa hasn't lost her smarts at all. In fact, that's maybe the most important thing to remember about Echo. It's the rare product that you can buy today, knowing that it actually will get better over time. Nary a week goes by where Amazon doesn't add some new under-the-hood functionality. (And the best part that it's done entirely without you having to manually update the Echo.) Echo gets smarter. Echo Dot gets smarter.
It's got the exact same look and feel as the full size Echo. Same LED ring at the top (though ours has a little bit of sharp edge) that glows orange during setup (which takes all of 1 minute to do) and blue when Alexa is doing her thing. (It's also a part of the volume ring.) You've still got the mute and action buttons. New this time around, however, are a microUSB port for charging, and a 3.5mm jack for audio out. There's still a built-in speaker, too, but the end result is more the quality of what you get in smartphone. (Which makes sense in this case.)
Also new is the ability to steam audio out from the Echo Dot via Bluetooth to another speaker.
So you've got three options when it comes to how good Echo dot sounds.
The tinny, built-in speaker. Works fine. Won't impress anyone. But doesn't take up any additional space.
Use the 3.5mm jack to plug in to another speaker. But that means more wires all in once place. Or maybe into a receiver — but that requires being on the right input, and then you'll have Alexa getting piped through a full stereo system.
Bluetooth over to another speaker.
The bottom of the Echo Dot has that rubberized footing that keeps things in place when you're turning the volume ring — though you could just, you know, ask Alexa to raise or lower the volume. The power LED on the back, 4-foot audio cable and 5-foot microUSB cable make up the rest of the hardware.
More: Why you should sign up for Amazon Prime
Let's talk ...
Amazon Echo Dot software
There's not a whole lot to say about software for Echo Dot, either. You'll set it up via the Alexa app (available on Android as well as on iOS. (And your Echo Dot is waiting for you in the app already, because Amazon is smart and went ahead and added it to your Amazon account, which you use to log in to the app.) It's the exact same app you use for Amazon Echo. It's great at walking you through the brief Wifi Direct setup process to hook into Wifi, and then that's it. You can use the Alexa App as a companion if you want — and it's fun to see it update with information in real time as you talk to her. You can manage timers and alarms and music and books and your smart home connections.
Or you don't have to do any of that. I've had an Echo for more than a year now and almost never open the app. Once you get a feel for what Alexa can do, it really does become that sort of pseudo-personal relationship. It's sort of a matter of how much you use your Echo — and this is how I tend to use it).
On its own, it's damned powerful. And it only gets better if you actually use the app alongside it.
But Alexa isn't perfect. If you've used an Echo for any length of time you'll pretty quickly realize that she's smart, but not brilliant. She struggles with obscure questions far faster than Google Now does. Ask Alexa how long it'll take to drive to, say, Los Angeles, and she'll give you the distance. Google actually answers the question.
On the other hand, Google Now kinda sucks at adding things to your Amazon cart. Or playing back from Amazon Music on demand.
And perhaps most important: I can ask Alexa to "Play the Android Central Podcast," and she'll fire up the latest episode via TuneIn. No downloading any other apps, no having to subscribe to feeds. It just plays in all its podcast glory. (Maybe that'll change when Google adds podcasts to Google Play Music.)
Image 1 of 5
Shut up and take less of my money
The bottom line: Buy this!
Like we said at the outset, there's not a lot to figure out with the Echo Dot. It's a smaller Echo, with additional Bluetooth and 3.5 connections for external speakers, should you want something more than the tinny built-in speaker. Functionally, it's exactly the same as the full-size Echo — and just as good. It's just as responsive across the room as its larger, older sibling. it just doesn't sound as good out of the box.
But on the other hand it's only $89 — some $90 less than the full-size Echo. That's a pretty good price for Alexa, especially if you've got an old speaker laying around that you want to put to good use.
Want an Echo Dot? There's a catch
Amazon Echo is way cool. And the idea of a smaller, cheaper Echo is one a lot of folks can get behind. But there's a catch. Just as Echo was difficult to purchase at first — the waiting list was quite long — you can't just go to Amazon, add an Echo Dot to your cart and have it the next day. First, you have to be an Amazon Prime member. Then you'll need to use your voice to order a Dot either from an Echo, or through Amazon Fire TV or the Amazon app. (In other words, you can't just go to the website.)
Echo Dot also isn't really in mass production yet — current shipping times after the initial wave are now in late July.
Get the Android Central Newsletter
Instant access to breaking news, the hottest reviews, great deals and helpful tips.