Amazon announces second-gen Echo with better audio, new design, and lower price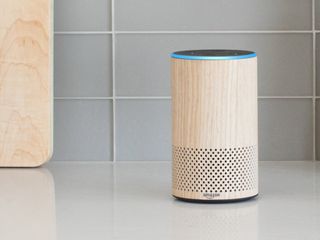 At a surprise press event on Wednesday Amazon revealed a new and improved Amazon Echo smart speaker. The device features an upgraded audio system and an updated design.
See at Amazon (opens in new tab)
The second-generation Echo touts immersive sound thanks to an all-new speaker architecture that packs in Dolby processing, a dedicated tweeter, and a 2.5-inch down-firing woofer. It also has Amazon's second-generation far-field technology, which means it's going to get a lot better at understanding you. Here's what Amazon says about the new voice technology:
Interestingly, the shorter, wider device also features interchangeable "shells" in six different finishes — charcoal fabric, heather gray fabric, oak, sandstone fabric, silver, and walnut — so you can choose a design that best fits with your decor. This is similar to the Google Home, which also features removable bottom covers that change the look of the speaker.
Alexa, Amazon's intelligent voice assistant, is also getting a couple updates that'll make having an Echo all the more irresistible:
Alexa Routines: Routines combine a series of actions into a single voice command. You can, for example, say, "Alexa, good morning!" and your Echo will turn on your bedroom lights, raise the blinds, turn on the TV, and raise the thermostat temperature. Essentially, routines are a way to combine Alexa's smart home integrations into one simple action so you're not forced to bark out a bunch of individual commands for the lights, blinds, TV, and thermostat. Amazon says you can also schedule routines:You can also create Routines based on the time of day – for example, you can create a Routine that has Alexa turn on the kitchen lights, start the coffee maker, and read the weather forecast at 6 a.m. every weekday and at 9 a.m. every Saturday and Sunday.
Improved smart home groups: Trying to tell your Echo to turn on the overhead light in the kitchen when the device is in the kitchen can be a little annoying. You'd think you could just ask it to turn on the lights. With improved smart home groups, you can!Now you can place your Echo and smart devices into smart home groups, which enables Alexa to act intelligently on your request, making your interactions with your smart home more natural and effortless. For example, when you walk into the kitchen, you can now say to your Echo "Alexa, turn on the lights" rather than "Alexa, turn on the kitchen overhead lamp."
Call anyone with Alexa: Amazon's Alexa calling and messaging service, which lets you call or message others with Alexa-enabled devices, is getting an update. Now you can call phone numbers in the U.S., Canada, and Mexico for free. Calls to 911 are not supported.Just say "Alexa, call Mary's mobile," and Alexa will call Mary's mobile phone from your smartphone's contact list. Alexa can also dial phone numbers that you speak to her so that you can reach people or businesses that aren't in your contacts.
The new Echo goes on sale today starting at $99.99 and will start shipping out to customers next month. Amazon says it'll also be selling a three pack of second-generation Echos with a $50 discount.
See at Amazon (opens in new tab)
Android Central Newsletter
Get instant access to breaking news, the hottest reviews, great deals and helpful tips
Mikah Sargent is Senior Editor at Mobile Nations. When he's not bothering his chihuahuas, Mikah spends entirely too much time and money on home automation products. You can follow him on Twitter at @mikahsargent if you're so inclined.
Reminiscent of the Tap with the shorter height.

Looks like the 3 pack isn't $50 a piece but $50 off the order... So 3 for $250 not $150

Thanks! Noticed that in Amazon's pressers after the event. Think reporters in the room misunderstood 'em.

At this rate Google Home will never catch up with the portfolio of products Amazon has introduced today.

Whatever, alexa will never catch up Home Assistant quality I have both and after month sell stupid Alexa away.

Wow. this got updated after I posted this morning-- the ability to finally group an Echo to a bunch of devices is going to be huge for me-- I've got Dots in almost every room, and lights all over the place. I have to have a cheat sheet for my roommates so they know how to turn the lights on and off. The free calling is going to be awesome also- I'm still on the T-Mobile $30/month pre-paid plan, so not having to use my 100 minutes a month when I'm home is going to really help out.

Reminds me of Echo Silver Edition from the SNL sketch. "Eliza, what are them kids doing out in the street?"

Question: You've featured the smaller of the new Echos. I would be more interested in the full sized model. Can't find the deets on it, other than from Amazon. You have any? Like to have an independent review of it. Just checked at Amazon and found that the remote must now be purchased separately. I've been very happy with my Echo, but the one thing that would be the best improvement is tone control. It doesn't appear the new model has it either.
Android Central Newsletter
Get instant access to breaking news, the hottest reviews, great deals and helpful tips
Thank you for signing up to Android Central. You will receive a verification email shortly.
There was a problem. Please refresh the page and try again.