Alcatel's 17-inch Xess tablet looks to bring the family together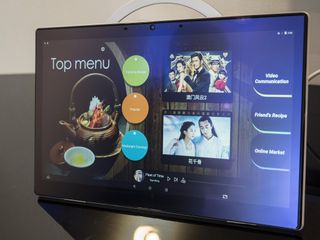 The idea of a tablet playing a central role in a family's day-to-day life isn't exactly a new one. We've seen any number of manufacturers give this a shot, to varying degrees of success. Now it's Alcatel's turn, with the 17.3-inch Xess. Yes, you read that right, it's a 17-inch Android tablet. But it's also decently thought out, even if we're in the early days on execution.
Let's take a quick look.
The Xess — that's pronounced "excess" — is a big tablet, sure. But Alcatel has done well to make it both portable and standable thanks to a unique adjustable stand and handle on the back. The bottom half folds so you get any number of angles with which to elevate the tablet (or none, if you really want to use this thing as a tablet), and the carrying handle telescopes back down below the bezel so it's out of sight when not in use. Or you can leave it extended — it actually looks like a nice little accent.
The back of the Xess also is where you'll find a decent pair of 3-watt speakers — they get pretty darned loud — a stylish stylus and hidden USB ports. The charging port is tucked away back here, too, and it's very much like one of Apple's MacBook MagSafe charging ports. (So much that it's called a MagTouchPort.)
The display is 1080p resolution — that's about 127 pixels per inch at this size, which mostly works given that you'll be viewing this thing at a distance. What suffers — and you'll no doubt notice this in our video — is graphics performance. This is unfinished software on prototype hardware, but we've got to hope that the MediaTek Processor (MT8783T) and 2 gigabytes of RAM will perform better than this when the Xess goes on sale later this year. Alcatel also plans to offer a version with a blue light film over the display to mitigated the purported ill effects of electronically-generated blue light (it has the unfortunate side effect of reflecting back a lot of blue light from the environment too).
Image 1 of 17
Image 2 of 17
Image 3 of 17
Image 4 of 17
Image 5 of 17
Image 6 of 17
Image 7 of 17
Image 8 of 17
Image 9 of 17
Image 10 of 17
Image 11 of 17
Image 12 of 17
Image 13 of 17
Image 14 of 17
Image 15 of 17
Image 16 of 17
Image 17 of 17
The Xess is running Android 5.1.1, and Alcatel has a few tricks up its sleeve for this sort of "gather-'round-the-tablet" experience. There's a family mode dashboard that plops things like the weather and time and notes and multimedia — and it's got placeholders for things like home webcam video feeds and fitness trackers. (Presumably Alcatel's smartwatch will work, but we'd love to see something like this pull in other manufacturers' data, too.) There also is a kitchen mode that brings meal suggestions and recipes front and center — and you can control them (and media playback) with hand gestures, so you can still control parts of the Xess without cleaning up first. It's a neat trick, for sure.
The big questions we have concern price, which hasn't been set yet but likely will be somewhere around $800. And for that kind of money we're going want to see much better performance than what we experienced in the prototype. (But, again, prototype.) Still, the idea is solid. It's the execution that's going to be what we look for later this year.
ComiXology. Walking Dead. Nuff sed. (OK Netflix, Hulu, HBO Now, Google Play Games, Books, and Movies, Chrome, and maybe Amazon Prime. That's more than enough said) Posted via GS6 Active - aka GS6 M.E. (Manly Edition)

Hey look, it's a Slablet! Posted via Android Central App from a beautiful Ebony backed Original Moto X or the amazing Nexus 10

That's huge! I'd get a notebook before I'd get this tablet. Posted via the Android Central App

More like Xessively big. Am I the only one who feels like Alcatel is the red headed step child of the Android world? Posted via the Android Central App

Red headed step child with a brother from another mother..... Posted via Android Central App from a beautiful Ebony backed Original Moto X or the amazing Nexus 10

Tvablet! New Word. I want one. Ta-vablet. Tv+tablet. Posted via the Android Central App

IPad Pro has pre killed this terribly executed good idea Posted via the Android Central App

You mean the 12 inch ipad that is way smaller than 17 inches and copies the failed Samsung note pro (that is basically the android version of what apple is about to do but came out years before)?

Why on earth would they put the speakers round the back?

Hp slate 17 all in one! Also do a 21 inch version Posted via the Android Central App

This is not going to sell well. Families don't want to gather around an electronic device except a TV set. I really don't see this working for private use, only for office work maybe. Posted via the AC App on SM-N910F

The only use I see for something like this is in a kitchen, so you can browse recipes, watch videos, set timers, and entertain yourself while you cook.

The specs are underwhelming to say the least. Posted via the Android Central App

This could be a viable idea and the physical design has nice touches. Unfortunately the price, plus a lack of resolution and the lack of effective productivity features - would make me consider some kind of Widows based device (even a 17" laptop) instead. The Alcatel design team don't seem to have given this device enough thinking time. Most of these critical issues should have been jumped on in the first meeting. Had this been a truly versatile device (or half the price) it might have worked.

ch0ice is a beautiful thing..right faPple boys? oh sorry...i forgot...

$800? Come on now...you could pay an awesome laptop for that price. I'd much rather get a Surface than this.
Android Central Newsletter
Get the best of Android Central in in your inbox, every day!
Thank you for signing up to Android Central. You will receive a verification email shortly.
There was a problem. Please refresh the page and try again.