Pre-order the Acer Iconia A700 tablet today - 1080p, Tegra 3, 32GB for $450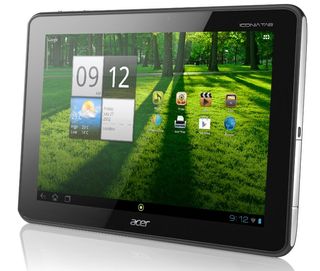 Acer has announced that the Iconia Tab A700 will be available for pre-order today online and at "national electronics retailers" across the US. The 10-incher comes in two models, black or silver, both checking in with 32GB of storage. In addition, this is one of the first devices we've seen to officially support 64GB microSD cards (many others will, but don't "officially" support them) for a grand total of 96GB of storage. You'll likely be using that storage for a video or two, as the A700 is sporting a 1080p display with a 16:10 aspect ratio, 800:1 contrast ratio and a 178 degree viewing angle. Underneath, NVIDIA's Tegra 3 and 1GB of RAM should deliver the content very well.
We had a look at the A700 back at Mobile World Congress, and were rather impressed with both the screen and how thin and portable the tablet felt. If you've been waiting for the 1080p tablets to come, you might want to have a look at this one. In the meantime, we've got a slew of images and the press release after the break.
Acer Debuts Iconia Tab A700 Tablet with Full HD 1080p Display
SAN JOSE, Calif., June 13, 2012 – Acer America today debuts the Acer Iconia Tab A700 tablet with a premium 10.1-inch full HD 1080p display.
The Acer Iconia Tab A700 presents high-quality images in a new level of clarity and realism with a remarkable 1920 x 1200 resolution that delivers 55 percent higher pixel density compared to 1280 x 800 displays. This results in sharper images and greater details in everything from websites and text to photos and video. The bright and detailed visuals are further enhanced by Dolby® Mobile 3 with 5.1-channel home theater surround sound capabilities.
Powered by an NVIDIA® Tegra™ 3 quad-core processor and running Android 4.0, the Acer Iconia Tab A700 delivers industry-leading performance and responsiveness for running multiple apps, smooth HD video, fast web browsing and console-like gaming. The tablet can be used as a central part of a digital life, as it can be expanded to other displays and devices via its micro-USB and HDMI ports. Plus, consumers can enjoy additional content with the convenient SD card slot.
"Consumers have embraced their tablets as a mobile hub for their daily lives, and the full HD display on the Acer A700 will give customers a fresh new perspective on the apps, games and digital media they enjoy," said Paul Tayar, director of product marketing for connected devices, Acer America. "Customers looking for a no-compromise tablet will get the features and performance they want in the new Acer A700."
Visually Stunning Display Paired with Incredibly Rich Sound
The Acer Iconia Tab A700's full HD 1080p LED backlit display allows customers to enjoy a visually rich experience: 1080p videos and photos look more vibrant and realistic, and social media networks and online shopping will be enjoyed with more clarity and precision. Many of the most popular Android apps – such as 3D games, reading and digital media – already support 1080p, so they can be enjoyed in greater detail on the new Acer A700 tablet.
Ensuring an optimal viewing experience, the Acer A700's display has a 16:10 aspect ratio, 800:1 contrast ratio and a wide 178 degree viewing angle. Plus, the display is a 10-point touch capacitive screen, so it delivers a remarkable degree of accuracy and responsiveness.
In addition, customers can share video stored on the Acer Iconia Tab A700 with other devices via the tablet's built-in micro HDMI port. The new tablet also supports dual-displays, so customers can share videos and photos on an external display. Plus, the tablet can be used as a console to play the latest games on a TV.
The A700's display is complemented by the tablet's impressive sound capabilities. It comes with Dolby Mobile 3 and is 5.1-channel surround sound ready, so it can be connected via HDMI to an external sound system for a high-fidelity audio experience. The excellent audio can also be enjoyed through the stereo speaker.
The sound recorder captures audio in a variety of environments. Students can record lectures and panels discussions, since the Acer Iconia Tab A700 will record multiple voices while suppressing background noises. While in concert mode, the tablet can record sound from further away such as a children's school performance. Sound capture is also improved for video conferencing, so friends and families feel like they're nearly face-to-face.
NVIDIA Tegra™ 3 Quad Core Processor, Features for Performance, Power
The Acer Iconia Tab A700 features the industry-leading NVIDIA Tegra™ 3 Mobile Processor that provides a unique Super 4-PLUS-1™ Quad Core CPU design with a fifth Battery Saver Core.
The processor dedicates up to all four cores to demanding tasks such as watching video and playing next-generation graphics-intense mobile games. Plus, the high-performance 12-Core GeForce NVIDIA GPU delivers incredibly detailed graphics and imagery, while the tablet's full 1GB of RAM(2)contributes to its fast mobile performance. As a result, the Acer A700 is incredibly responsive, delivering smooth video playback, fast navigation and console-quality gaming on-the-go, with performance rates that are 2.6 times faster and graphics that are three times faster compared to previous generation processors.
The fifth Battery Saver Core handles less demanding activities, ultimately using less power and improving battery life. Plus, the 9800 mAh battery extends the tablet's battery life for all-day usability of up to 10.5 hours of video playback, or nearly 8 hours of web-surfing(1). Customers can use the integrated GPS and e-compass to enjoy location-based services and maps. The tablet easily connects to Wi-Fi networks with reliable Acer 802.11 b/g/n wireless technology.
Connections Make it Expandable, Feature-Rich
The Acer A700 comes with 32GB of flash storage integrated into the tablet, so customers have extra room to store games, photos, music and videos.(2) Plus, additional content can be accessed from the Micro-SD card reader that supports up to 32GB Micro-SD cards.(2) The micro USB 2.0 port can be used to transfer data and files on and off the tablet, and can also be used to charge it.
The Acer A700 has two integrated cameras: the 5MP rear-facing camera is auto-focusing, and provides the ability to take snapshots while recording HD video, while the 1MP fixed-focused front-facing camera is great for video conferencing, as it features an improved zoom. Customers can capture video and photos, enhance them on the go, and then conveniently store them in Google+ and upload to other social networks.
Suite of Extras Boost Productivity
The Acer A700 tablet comes with the apps that make it a productivity booster. Polaris™ Office 3.5 allows customers to read and edit documents on the go. The tablet also comes with Evernote, a personal assistant that lets customers easily capture and save web pages, photos, ideas and documents and then store them to the cloud for access from other devices. Printing from the tablet is seamless with Acer Print, which is compatible with 87 percent of brand name printers in the market and supports a wide range of printing formats (doc, pic and browsers). In addition, the tablet features integrated Bluetooth 2.1 + EDR (enhanced data rate), so it can connect to a variety of other devices, such as headsets and printers.
Intuitive Experience with Android™ 4.0, Acer Ring and clear.fi (opens in new tab)
Running on Android™ 4.0 OS, the Acer Iconia Tab A700 delivers many benefits, such as intuitive navigation, fast browsing, as well as enhanced app and folder management options. The unique interactive Acer Ring interface is a welcome addition to Android 4.0, as it can be customized by users to launch favorite apps, programs and websites through a single one-touch button. Additionally, the Acer Ring's screenshot feature can be used to capture images of an app, web site and even photos from a video conference.
The chassis' soft-touch finish has a patterned texture that makes it comfortable to hold. It easily fits in a purse, briefcase or book bag, as it weighs just over 1.47 pounds and measures 10.23 (L) x 6.89 (W) x 0.43 (H) inches.
Available in U.S. Starting at $449.99
The new Acer Iconia Tab A700 is available for pre-sale starting today in two models – the Acer A700-10s32u (silver) and Acer A700-10k32u (black). The tablets are available at http://us-store.acer.com/ (opens in new tab) and at national electronics retailers in the United States at a manufacturer's suggested retail price of $449.99 USD.
Customers can purchase the portfolio case to protect the Acer A700 tablet. The sleek design prevents slipping on surfaces and also allows convenient access to the connectors and ports. It is available through Acer at a price of $39.99.
About Acer
Since its founding in 1976, Acer has broken barriers between people and technology, enabling users to explore, create and grow. Acer ranks No. 2 for notebook PCs globally.(3) The Acer Group employs 8,000 people across the globe, and revenues for 2011 reached US$15.7 billion. Acer's channel business model is instrumental to the company's success, while its multi-brand approach integrates Acer, Gateway, and Packard Bell brands in worldwide markets. Acer designs environmentally friendly products and, with its vendors, has established a green supply chain. Acer is proud to be a Worldwide Partner of the Olympic Movement. That includes supporting the Vancouver 2010 Olympic Winter Games and London 2012 Olympic Games. More information is at www.acer-group.com (opens in new tab).
Android Central Newsletter
Get instant access to breaking news, the hottest reviews, great deals and helpful tips
Senior Editor — Google Ecosystem
Jerry is an amateur woodworker and struggling shade tree mechanic. There's nothing he can't take apart, but many things he can't reassemble. You'll find him writing and speaking his loud opinion on Android Central and occasionally on Twitter.
Me too. But good luck finding it.
Nobody has it for pre-order yet, even though every blog is carrying this same press release. The Acer store has it listed as sold out.

OMG. I just bought the A510 for USD450 last week!!!

Is the current A510 going to be EOL'd or receive a price drop? I still have yet to see a 510 in person and now this thing is official at the exact same $450 MSRP! Personally, I would like to see an Acer lineup consisting of the A110, A210, A510, and A700, as that would covers all of the possible Tegra3 buyers and pricepoints.

Looks nice. Will wait on reviews and see what Google unveils at IO then decide.

Google will feature a 7 inch tablet, also built by Acer.

Yup, my bad. Asus. Which is too bad, because Asus has never been able to keep up with demand.

Looks nice but I'm still wondering how current tablet apps will look on high res tablets. Google really needs to release a high res nexus tablet at this screen size and not the rumored 7". Personally I will never buy a 7" tablet and don't really see the use for one.

7" tablets are more comfortable for e-book reading.
Your wrist gets tired holding a big 10" tablet...even the 7" gets tiring after a while. Hope the A700 does well...if this were released last year before Apple's iPad3 Retina display, it would have done really well :-(

Sure, but the best tool for e-book reading is...an e-book. Especially now that a good one can be had for $79, it's worth it to have an e-book for reading and a tablet for things that benefit from a backlit color screen.

The whole point of a tablet is to have a go-to device that meets most of your needs. A 7" is more portable and as mentioned also does books better than a 10". There are currently strong markets for both, depends on your priorities. So yes, an ereader does work even better, but then you have another device to carry around, manage content on, charge, etc. Personally, I used to like the 7" size and bought a Nook Color. But now my phone at 4.3" is big enough, powerful enough, and good enough for reading that I hardly touch the Color or my original e-ink Nook anymore, so my next tablet will probably be bigger. With new phones getting close to the 5" mark, I'm thinking the 7" market will start to wane.

I still hate reading books on a phone, or tablet, or any back-lit device. Their battery life with screen on is miserable. Spend any time reading, and you end up having to charge in order to be available for phone calls. I still use my Nook Simple Touch for reading every day. Charge it once every two weeks, (it will actually last 3 weeks) and leave wifi turned off. I go on trips and never bother to take the charger, and it fits in the pocket of cargo shorts. When I travel, its the Tablet that gets left home.

I charge my phone everyday anyway and bring its charger when traveling. Not a big deal. I do like e-ink best for reading, but not enough to bother with it most of the time. That said, I have found that my phone has several advantages, including reading at night, better contrast, better resolution, ease of handling, and convenience. It's my primary reading device these days, e-ink is relegated to lazy weekends when I have time to read an hour or more. Which between the kids and the job is pretty rare these days.

What I like the most is a micro-usb connector for data and charging. No special cables like the transformer.

I agree, but I do love my tf300t with the keyboard.
Ideally Asus will one day make their tablets with micro usb for charging and docking.

Isn't the problem that Micro USB standards can't supply enough power to charge a large battery quickly? I thought that was the case. If so, a new standard will be necessary because power requirements are only going to go up.

You can handle up to 2 amps on a microUSB port, as long as the cable or the charger is wired to signal to the charge controller that the data lines are dead. That's actually better than the standard charger that comes with the A500, which is 1.5 amp.

Hey guys help us stop corporate greed, sign our petition and spread the word! https://www.change.org/petitions/verizon-wireless-lower-pricing-let-cust...

Hey guys...help us stop spamming and off-topic posts. Spread the word!

Vote with your wallet for f**k's sake! Nobody needs data plans. Buy phones unlocked at full price and use them via WiFi and as PAYG, that's the best way to teach telecoms a lesson. I've been doing this for four years...

I like turtles!
Just as on topic as your comment.

Wow, I'm surprised at the price point, I'm not going to buy one, but the price seems reasonable.
Hopefully this will put more downward pressure on price for 1280x800 tablets. I'm sure this high res is nicer, but for the price difference and increased battery drain that beautiful screen will deliver I'll stick with the lower res for a year or two.

Definitely has potential. I just wish Asus would release the TF700. When I saw the headline, that's what my brain first saw. :(

Same here. I was going to jump all over the TF700 at that price point. I was half way through the article when I thought it was a little fishy there was no mention of the keyboard dock when I took a closer look... Acer A700, ASUS TF700. Too similar sounding for me I guess.

Looks really good, I've been waiting for an 8" tablet with full HD, but might jump the gun...

Where can I get 1080p movies. The digital downloads that my blurays come with are not even HD. What is a good way to purchase/acquire 720p or 1080p high quality movies to play on these new awesome tablets

Ripping blu rays in a tedious task but it's really the best way to get 1080p quality. Rip them as .mkv and copy to the tablet. I don't know how the tablet will handle them but it should be okay.

Yeah, but I would need to get an external bluray player/writer for my laptop plus some kind of software that i'm guessing would not be free.

Actually, makemkv is free for now. But you would need to spend on the blu-ray drive.

1080p is not all the same. Netflix streams some content in 1080p, but it doesn't looks as good as the Bluray counterpart. Bit rate is just as important. If you look at the Dark Knight on Blu ray, it's 35GB.
http://www.dvdbeaver.com/film2/dvdreviews43/the_dark-knight_blu-ray.htm
So, whatever movie you get will make a compromise in quality vs file size.
Personally, I'm waiting for the Directv app to stream content from the DVR while at home.

Almost perfect. Add an active pen and I'm buying

Quick, write them an email. I'm sure they will delay their launch and reengineer the device to make it "perfect" for you.

July 27 date shown on the image??
Significant? I'm signing up for this. It sounds like they made a lot of improvement in the microphone, which was the sore point of the a500 tablet.
Acer has quietly led the way on features since their first tablet, and still gets little respect.

Ahhhh! It sold out before I got out of work!!!!!

Where did you try to buy it? I have an order in at TechDepot. I called today. The CSR checked their inventory and supply system was showing "plenty" of stock on the black a700.

Its easy to have "Plenty" ins stock when you are selling pre-orders.

acers website. Might have to check out techdepot, sucks they are charging ~488 though. I really need a tab tho ever since my TFP return bonanza.
Android Central Newsletter
Get instant access to breaking news, the hottest reviews, great deals and helpful tips
Thank you for signing up to Android Central. You will receive a verification email shortly.
There was a problem. Please refresh the page and try again.