AC on the Road: Anker Astro2 8400 mAh external battery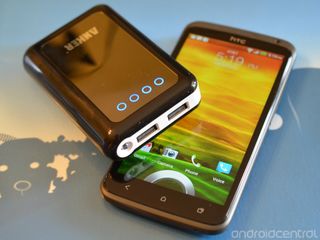 We talk a lot here about travel because, well, we travel a lot. And in the past few months we've been talking a lot about keeping our phones charged, as more manufacturers are switching to non-removable batteries. And so with meetings on the left coast this week, I've got a new today. That's the Anker Astro2 8400 mAh external battery. It's not small. It's not light. But with that sort of capacity, you wouldn't expect it to be. And, perhaps more important, it's got some output power at 5V 2A or 5V 1A. It ain't subtle, and it won't be trickle charging anything. (And, as you can tell, it'll charge two devices at once.)
Wanna hear the scary part? There's a 10,000 mAh battery available, too. And it's all pretty affordable. I got this one on Amazon for $47 (opens in new tab). The 10,000 mAh version isn't much more (opens in new tab), either. (Mine also has a flashlight -- just in case.)
Got a little video after the break if you're interested, and stick around as we all find out how it performs.
Android Central Newsletter
Get the best of Android Central in in your inbox, every day!
Stupid companies making stupid non-replaceable batteries. Though for theoretically quadrupling your battery life...the price is certainly right.

Check out the Anker 5600.. Its about the size of a usb stick. With external batteries getting smaller....I think I would take that over spare batteries.

I don't know. I got a battery charger with two replaceable batteries ($20). I NEVER have to plug in my phone. Ever. So between zero downtime and much less of a pocket profile, I still prefer the batteries. I admit this is a great option for travel, but battery swapping is much more convenient for heavy, on-the-go use.

Sorry, but you can't have zero downtime when swapping batteries...

Not true, Palm Pres were hot-swappable :-P

MY Palm Pre was not (and neither is any Android). If you took the battery out- wham, it will crash.

Exactly....but you might can with an external battery....lol.

Those batteries can't really be that great if you got all of that for $20.

It is a lot larger than a usb stick. Maybe four USB sticks combined. But it is a lot smaller than the reviewed unit above. Has great reviews, lots of power, and cheap.

5600 mAh = 4.2 oz
8500 mAh = 12.0 oz
10000 mAh= 19.2 oz = 1.2 POUNDS! I don't need to jump start my car. I just need some phone juice until I can plug in again.

Instead of making huge ass batteries like that why don't they just put bigger batteries in the damn phones?? I do not understand the companies that design phones, I could design and build a better phone then anything I have seen this year. If Motorola can do it why not HTC and the rest of them. I think it is pretty damn sad that we can put a man on the moon but can not build a bigger battery to put in a lousy phone.

If the MAXX sells well, I'm sure that other companies will copy the idea. Or you can just buy Motorola and tell HTC to screw themselves.

Phil, can you create a thread in the forum if it's not already been done? I'd like to know more about it for sure. And BTW - can you gift one away? SMILES!!!

I bought a 2200 mAh external battery from Monoprice for dirt cheap. Since I'm always near a power outlet to at least charge that, it's more than enough to get through the day.

Any recommendations for one with similar functionality but about half the physical size? I only need about 2,000-3,000 mAh and would rather have something more pocketable.

Here are a bunch of them for you to check out. They vary in features, physical size and capacity. I'm trying to figure out which one I want to buy as well. Hopefully other users will have more recommendations. http://www.meritline.com/cell-phone-backup-battery---c-14684.aspx

Thanks for the link. Now I have too many choices to pick from! :)

I got 2 of these for $30. Smaller and slightly thicker than an iPhone. Now I'm looking for a single 10000mAh device with dual >=1A outputs. The Anker will do!

http://www.meritline.com/newsearch.aspx?SearchTerm=10000mah+external+bat... 10,000 mAh
2 1A outputs
1 500mA output You may be able find it cheaper elsewhere though.

Where did you find 2 of those for $30? That link to buy.com shows 1 for $60, which I think is way overpriced. 2 for $30 sounds like a good deal though.

http://www.amazon.com/Anker-Walkpower-Colorful-External-Battery/dp/B005X... I don't have one but it looks pretty small.

The 5600 is half the size.

Anker makes a smaller battery that's around the size of a pack of gum. http://www.amazon.com/gp/product/B005K7192G/ref=pd_lpo_k2_dp_sr_1?pf_rd_...

If you look at the picture in the person's hand, I wouldn't describe it as a pack of gum, it is about 5 times that size (twice as wide and twice as thick and longer too). I have a Duracell model that is half the thickness (and weight) of the above, but it is only 1150 mAh and unfortunately uses miniUSB instead of micro. Doing some quick research, it looks really hard to beat the size/capacity/price combination of what you posted, though! http://www.ianker.com/products_astronew.html

Yeah, it beats tearing your phone apart and rebooting right in the middle of a conversation. You can just plug into this and keep right on talking, or playing those angry birds on your 15 hour flight to Australia. When you add up the cost of a spare battery, some place safe to carry it, some external charger to charge it, one of these devices for 47 bucks makes a lot of sense. You can charge two different TYPES of phones with dissimilar batteries from one device. (Even at same time). That's two less batteries to buy, carry and charge.

Exactly. Especially the last sentence. I almost bought a spare battery for my Droid X1. After seeing that small Anker..I'm glad I didn't

Oooh. I like the looks and size of this one for those times when I know I'm going to be away from an outlet all day. Also, this one http://www.amazon.com/Anker-SlimTalk-External-flashlight-Motorola/dp/B00... looks good for carrying around just about any time when I don't need an "all day" charge but still need a boost.

I second the smaller anker battery pack. It's about the size of two packs of gum (10 pieces). And I think it will fully charged a phone two and a half times. I use it all the time

Careful with these cheap lithium batteries. They are sensitive to all kinds of things such as overcharging, temperature, etc.

The 10,000 mAh version looks impressive, but I think I'd rather go for 8,400. It appears that the 10,000 version requires special adapter to charge. I like being able to charge on just about any USB port even though it's slower. Even so, I think I'd go for another brand, if only for the fact that I really, really hate it when Amazon and eBay sellers try to cram every last search keyword that they can into the title of their product: "Anker Astro2 Dual USB Output 8400mAh External Battery Pack and Charger with Flashlight for iPhone 4/4S/3GS, iPad, iPad 2, ipod touch , ipod classic, iPod nano (require your own cable for Apple); Motorola: Atrix 2, Verizon Droid RAZR, Droid X2, Droid Bionic; Samsung: Galaxy S II S2 i9100, T-mobile T989, AT&T i777, Skyrocket SGH-I727; HTC: Sensation, Sensation XE EVO 3D, ThunderBolt; Blackberry Bold 9900, Sony Ericsson Xperia Arc S, Nokia N9 - Black" wtf?

What's great is that, with the 2A capacity, you can charge your Nook Color as well as your phone. It will be interesting to see how well it performs over time. I'll be needing this over the summer, if it performs well.

Make sure to check your voltage requirements if you are thinking about getting one of these for a tablet. It will not work for something like the transformer prime.

Nice device for people stuck with smartphones with nonreplaceable batteries. I think that extra batteries will always be a first choice for most of us as most of us are smart enough to swap out a battery long before it reaches a level where we can't take a long phone call. With class 4 or higher memory cards, the reboot time isn't a factor. The cost of extra batteries is literally down to $5 for my Samsung Epic 4G(1500mAh) and they're tiny and easy to stash. I do have my little USB charging brick that I pack in my briefcase as a last resort for those extra long trips and days where I might run into trouble. Interestingly enough, after getting extra batteries for my smartphone, I have not used it but have loaned it to fellow travelers with dying iPhones (LOL). Interestingly enough, it's easier and faster for me to pop in a new battery than mess with hanging a charging brick off the end of my phone while I'm using it...

OEM batteries cost more than $5. Quality can vary greatly on the cheap 3rd party batteries.

Ebay. I got five batteries for my Epic 4g for $40 with shipping. Not quite $5 but pretty close. Knock off batteries have always been problematic for me.

Glad it works for you, but there are many other user scenarios where replaceable batteries won't give a satisfactory experience. And there's no way I'm sticking a $5 battery in my pocket.

I'm hoping Seidio will make a Surface Plus battery case for the E4GLTE. http://www.seidioonline.com/apple-iphone-4-surface-plus-case-p/pbqiph4-b...

I'm a two 1500mah per day user with my trusty EVO 4g. I'm pretty well sold on the E4gLTE with my only hesitation being nonswapable battery. I am looking for something small enough to fit in my wallet like my current spare. This is the closest thing I have found so far http://www.amazon.com/Mojo-Power-Card-Wallet-ThunderBolt/dp/B007SDKCCI/r... ...the search will continue until I get my new best friend.

Same here. The battery is about the only bad thing I currently see with the E4GLTE. Nice to see that there are other options to get around the battery situation.

Nice. That looks like it might be useful for my daughter who doesn't normally need additional power but wants to keep it on-hand for those unexpectedly long days.

My first Android was the G1. (well it was the Behold but let's not publicly admit that... :p) I was all too concerned about how long the battery would last. Since I was in T-Mo and had $ to spend, this is what I picked up: http://www.amazon.com/T-Mobile-Portable-Battery-Charger-Cable/dp/B001W47... I love(d) it dearly. It was (and still is) a cell phone life saver. It was $35 back then and well worth every penny. I'm a lady so size was not an issue with this battery pack as it tucked neatly in my purse or carrying space. The only thing is is the charger for is it is not micro in size when charger the unit itself. That being said, it never stopped being a top performer for my almost dead battery needs. I've traveled to NY and all over MD, VA, WV, PA, NJ with my pocket spare. One day I spilled water on it while driving. GASPPPPPPPPPP. So, I immediately went over to Ebay and Amazon to see who had the cheapest nearly a year later. And 2 years (give or take) later, it's all I've ever used. I do like the one reviewed and will check back on follow-up info.

My replaceable batteries allow me to run to the car/hotel when needed, put a full battery in the phone, take the dead one out and connect it to a charger, so when I come back I have yet another new battery. You just can't beat this kind of mobility with anything... What do you do when your main battery runs out? You connect the phone to that thing and then you can just make phone calls with that thing hanging by your ear? And then take the phone with you to the beach, in your pocket? And slide that thing in another pocket?
It all sounds too silly to even think about it...

I find it hilarious honestly that people are all ready to dismiss the Asus GPS dongle but are all ready to sign up for what amounts to a battery dongle to charge their new htc device because the engineers didn't have the foresight to realize putting a NON replaceable battery in their new phones was a big fail. This coming from a company that amongst Android vendors is notorious for awful battery life. These external chargers are great though but I wouldn't consider one for something like my smartphone.

More and more phones are going to be like that in the future so things like this are going to become a reality...that said from what I have seen the One X's battery performance is much better than many of the other Andriod devices out on the market so a "full day" is really a non issue for most users.

"It's got LED notification.... thingies...." Try to keep the technical jargon down would ya... really gets over my head sometimes.

I noticed that the nexus is the only phone listed as compatible. Can it be used with other phones? I have a E4G Touch and would love to have this for when I run out of battery on the road.

That looks pretty awesome. My question is how long does it take to charge the charger?

Might actually order the Astro2 8400 mAh is optimal and it would be perfect for travelling with my existing EVO 3D, Asus Transformer or my new EVO 4G LTE when that comes out. Like most I'd prefer a removable battery but this is a decent 2nd choice.
Android Central Newsletter
Thank you for signing up to Android Central. You will receive a verification email shortly.
There was a problem. Please refresh the page and try again.