The 8bitdo Zero is an excellent Bluetooth controller that fits on a keychain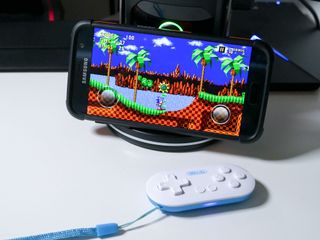 It's called the Zero and it's from a company called 8bitdo, which is based in China and produces a lot of modern takes on old, retro gaming hardware. If you want a Bluetooth version of an original SNES or N64 controller, or perhaps want to use a wireless controller with an original NES system, chances are 8bitdo can take care of you.
The Zero isn't a modern take on a classic, though. It's an insanely small game controller that you can carry on a keychain and doesn't suck.
And it's only $17.
When connected to an Android device, it has full gamepad support, and if a game supports controllers, the chances are good that the Zero will work. On the packaging, it lists "Android games and emulators," without much more in the way of detail.
The 8bitdo Zero is quite a remarkable thing. It sits in the palm of your hand while still packing in a D-Pad that isn't a lot smaller than the one on an Xbox One controller, along with four buttons, select and start and two shoulder buttons.
Inside is a 180mAh battery, which is rechargeable over Micro-USB and offers an advertised 20 hours of gameplay between charges. This seems pretty accurate in my experience, and since it's such a small battery it doesn't take long to have it back up and running. There's a teeny tiny cable included in the box, just in case you don't already have hundreds of cables lying around.
What's most surprising about the Zero, given its size, is just how usable it is. If you have giant hands you may struggle, and you're gripping it more with your fingers than your entire hand, but it's remarkably comfortable for something so small.
The build quality is excellent, and the 8-way D-Pad is responsive while there's a very satisfying click when you press any of the other buttons. The shoulder buttons have very little travel but a sharp, responsive action and can easily be pressed from anywhere along their length.
As good as it is, there will still be games you wouldn't be playing with it. Something like Modern Combat 5 won't benefit much from the Zero, but if you're a fan of more casual or, better yet, retro titles you're in for a treat.
Compatibility with games seems mostly good, though I did come across some that weren't fully compatible. Sega's newly released Phantasy Star II, for example, was a no-go, but Sonic 1 works just fine. I also tried it with a couple of emulators and again, compatibility wasn't much of an issue.
The combination of all factors makes the 8bitdo Zero a great little controller for on-the-go Android gamers. Pairing with Android is simple, since you just have to turn it on and connect it in your phone's Bluetooth settings (other platforms require different button combinations to trigger). There's even a mode where you can use it as a remote shutter for the camera on your phone.
For $17 though, it's hard to say no. It's a small price to pay for a good controller and to avoid having to use on-screen controls.
Sign up for Black Friday email alerts!
Get the hottest deals available in your inbox plus news, reviews, opinion, analysis and more from the Android Central team.