5 ways Android 11 is better than iOS 14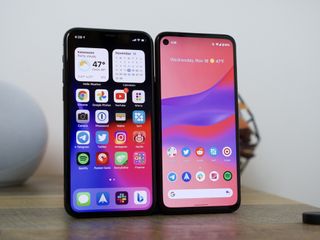 (Image credit: Joe Maring / Android Central)
Android vs. iOS is one of the most hotly-contested battles in the entire mobile tech space, and chances are, that won't be changing any time soon. There are some people that absolutely love Android, others that can't use anything but iOS, and that creates a lot of back-and-forth.
We aren't here to definitely say that Android is objectively better than iOS in every single manner, but we do want to take a closer look at the most recent updates with Android 11 and iOS 14. The former offers minor improvements here and there on top of a familiar foundation, whereas the latter introduces a complete makeover that makes iOS more similar to Android than it's ever been before.
iOS 14 is an impressive bit of software that does a lot of things really well, but if you ask us, there are certain things that Android 11 continues to be better at. To explain what we're talking about, here are five reasons why Android 11 is the better operating system compared to iOS 14.
1. Notifications are infinitely better
One of the biggest arguments people make in Android's favor is how it handles notifications. Notifications on iOS have been really mediocre for a while now, and with Android 11, Google took an even bigger lead than it already had.
Android 11 breaks up your notification tray into three distinct sections, ranging in priority from Conversations, Notifications, and Silent. Notifications and Silent already existed in Android 10, and with the introduction of Conversations, it's now much easier to see things like texts and Telegram messages compared to everything else that's pinging your phone. Things that are classified as Conversation notifications get pushed to the very top of your notification tray and show the profile picture of the person that messaged you (along with an indicator of which messaging app the message came from).
It's a small change, but as someone that carries two phones daily — one with Android 11 and one with iOS 14 — I always feel like I do a better job of staying on top of notifications with the Android phone. Things are distinctly organized, I can quickly see if there's a new message waiting for me, and I generally feel like I have control over what's going on.
Those aren't things I can say about iOS 14's notification management, which continues to be a jumbled mess all these years later.
2. Chat bubbles help organize multiple conversations
Speaking of conversations, another big addition to Android 11 are chat bubbles. When you're looking at a Conversation notification, there's an icon on the notification that will expand it out of the notification tray and into a floating bubble on your home screen — aka a chat bubble.
Tapping on the chat bubble shows a preview of that ongoing conversation, allowing you to scroll through previous messages, type a new one, etc. Tapping it again minimizes it back to the bubble icon, which can be moved anywhere on either side of your display.
Source: Android Central
Chat bubbles work with a variety of messaging apps, including things like Facebook Messenger, Telegram, Google Messages, and others. You can have multiple conversations from different apps bundled in one chat bubble, making it easy to hop back and forth between conversations no matter where they're taking place.
Chat bubbles can seem a bit gimmicky at first, but if you're someone that does a lot of messaging on your phone, they're a legitimately great way to keep things organized and within reach even if you have a ton of other notifications pouring in throughout the day. iOS 14 doesn't offer anything similar to chat bubbles, and that'll likely be the case for the foreseeable future.
3. Permissions are ultra-powerful
Taking charge of your digital privacy is always something we'll advocate for, and one of the best ways to start doing this is by gaining control of application permissions on your phone. It's far too easy to just allow all permissions when installing a new app, but the fact is that most apps don't need access to everything they ask for.
To its credit, iOS 14 has very good permission controls. You can look at permissions for any app that's installed via your Settings, with there being toggles to quickly enable and disable permissions as you please. When you open a new app that's asking for something like your location, you'll also be asked if you want to allow access just that once or any time you're using the app.
Permissions were a big focus for Google with Android 11, with them seeing a couple of key updates. The first brings Android up to feature parity with iOS, with Android 11 now allowing you to grant location permission to an app only once. Android goes a step further, however, by offering this one-time feature for microphone and camera requests, too.
Something else that's only found in Android 11 is auto-resetting permissions. If you've allowed permissions to an app that hasn't been used in a few months, those permissions will automatically be revoked. You can re-grant them the next time you open the app, but it's a way to ensure forgotten apps don't have access to things they don't need.
4. Smart home controls are just a button-press away
Whether it be light bulbs, your thermostat, or a wall outlet, chances are you have some smart home equipment in your house/apartment. Being able to control your lights while you're on vacation or kick on the heater on your way home from work is incredibly convenient, but juggling a bunch of different apps to do all that is anything but.
Both Google and Apple have done a good job at bringing all these controls into one central place between the Google Home and Apple Home apps, but Android 11 makes things even better by letting you add your most-used controls right in your power menu.
No matter what you're doing on your phone, holding down the power button will reveal the revamped power menu. You still have the usual power controls, but Android 11 now uses this place to also showcase your preferred card for Google Pay and any smart home controls that you want. Now, turning on the kitchen lights or adjusting the temperature can be done by just holding your power button and tapping the shortcut you've added.
My Google Home app is kind of a cluttered mess thanks to how many things I have connected, so having quick access to my most-used controls this way is so much better. iOS 14 also offers fast access to smart home toggles with the new shortcuts in your quick settings, but that still requires turning on the screen and then swiping down. Being able to press the power button at any time, regardless of whether my phone's screen is on or off, is a much better experience in day-to-day use.
5. Android is still more customizable
Without a doubt, the highlight feature of iOS 14 is its expanded customization. You can hide home screens you don't want to see, there's an app drawer to view everything installed on your phone, you can set default apps, and we finally have widgets that can be placed on home pages next to app icons. It's one of the biggest changes we've ever seen for how iOS operates, and the execution is pretty darn great.
Apple deserves a lot of credit for everything it changed in this regard, but even with everything that's new, Android 11 continues to offer more customization options — and by a long shot.
Take default apps, for example. iOS 14 now allows you to change your default web browser and email app, but that's it. If you want to change things like your default navigation or camera app, that's not possible right now. Furthermore, if you ever turn off/restart your phone, you'll need to re-enable those default apps as Apple resets everything back to its own stuff. Compared to the default app setup we've had on Android for years, it's a much worse experience.
Custom icons are kind of a thing in iOS 14, but it requires you to create a Siri Shortcut for every single app you want to change the icon for. And, since you're creating a Siri Shortcut and not actually changing the app icon, you won't see your custom icon in the app drawer or anywhere in the system outside of the home screen. Compare that to Android 11 or any previous version, where changing an app icon is as easy as installing a custom icon pack and diving into your launcher settings.
On that note, you still can't use a different launcher on iOS 14. You can move your apps around and add widgets, but that's it. Android has seemingly endless third-party launchers that can transform your entire home screen in the blink of an eye, allowing you to really make your phone just the way you like it. No matter if you have the best Android phone or not, everyone on Android gets these expansive customization options.
Which operating system do you prefer?
This is a question that'll likely get a lot of heated responses, but we want to know — do you prefer Android 11 or iOS 14? Both platforms bring a lot of good to the table, and we're curious what features from either one you find most useful.
Keep it civil, polite, and we'll see you down in the comments.
Pure Android
Google Pixel 5
Android 11 at its very best
There are a lot of things that we like about the Pixel 5, with one of those being its software experience. The Pixel 5 offers a clean and uncluttered take on Android 11 that's both easy to navigate and incredibly functional thanks to the genius software goodies exclusive to Pixels. The Pixel 5 is also backed by guaranteed updates, meaning you can look forward to Android 12, 13, and 14 as the years go on.
Joe Maring was a Senior Editor for Android Central between 2017 and 2021. You can reach him on Twitter at @JoeMaring1.
I will always go Android.
I am willing to give up the cohesiveness of the Apple ecosystem to keep my freedoms.
I'll never buy my computing devices from a company that believes I don't own the hardware I bought but rather purchased the right to use it.

One of the ways it's better is not being IOS 14...

I purchased the iPhone 12 first day returned it after two weeks it was the first iPhone I had since iPhone 4. I was using a note 10 plus before the iPhone 12 been using a note starting with 8 upgrade yearly I also have a pixel 2 XL. I was surprised at the iPhone 12 I was expecting more, the pixel 2 XL is as smooth and fast as the new iPhone 12 and the iPhone 12 don't compare with the speed smoothness and ability to do things of the note 10 plus. The Apple iPhone and iOS for sure has not advanced as far and as fast as Samsung with note an S phones and OneUI. I am now using Note 20 Ultra.

Yeah, that's a complete crock that the 2XL is as smooth and fast as the new iPhone 12. I've got a 12 Pro Max as my daily driver, and my 2XL sits in a drawer as a backup device. The 2XL is a slow, stuttery affair, while the 12PM is fast and responsive. That's to be expected, of course, as the 2XL is a 3 year old phone, and the 12PM is a week old.

I just had the 12 not pro max your pro max has six gigs of RAM where as the 12 just has four which is what the pixel 2 XL has. The two weeks I had the 12 it seemed like it needed iOS update, I think you got one now. I set the 12 up just like the pixel 2 XL same apps and used same way and the 3-year-old pixel 2 XL running 11 was smoother and faster.

Stop crying 😢 like babies. Grow up

I have an iPhone 12 and a Note 10+ and I couldn't disagree more. The Note 10+ feels really slow and clunky in comparison now. Main advantage of the iPhone is apps just work better, even the Google ones apart from maybe maps and YouTube.

I'll just go down the list starting with number one. Having spent a decade plus as an Android user before moving to iOS, i can confirm that notifications are far, FAR superior on Android. It's surprising that Apple allows iOS notifications to be so bad and useless. This is one area where they should shamelessly copy Google. I ditched Android before chat bubbles were a thing, so i can't say how good they are or aren't. All i can say i probably wouldn't use them. The permissions system, in my opinion is a draw. Both OS's have a solid system in place, and are virtually identical to one another. Personally, i don't like the idea of having smart home controls in the Power menu. Smart home controls on iOS are easily reached by swiping down from the top right corner on my 12PM, and tapping on the Home icon. I can turn individual bulbs/devices on and off just as in Android's power menu, without having to deal with a cluttered interface, or accidentally turning my device off. Customization is an area that Android has an edge in, but it's not something i do as much of now compared to when i was rooting/ROMing, and buying dozens of icon packs. I can customize my 12PM to look and operate exactly the way i want it to, and that's good enough for me.

This mirrors my experience pretty closely. I also always used Android for almost 10 years, until last year ( I now use an iPhone 11 Pro Max). I have a really similar user experience as what you mention. For me, critically, battery life is so much better than any Android phone. And yes, iOS is smoother than Android. It just is. I never wanted to admit it , but it really is. Also for me, the smooth integration with my Apple TV, with my iPAD (via AirDrop), and generally just being able to use AirPods Pro worry free is somewhat liberating. The Apple ecosystem actually is a seamless experience, and has not been just words. I quite enjoy iOS 14 for the most part and have no intention right now of going back to Android.

I switched to an 11PM last year, and after a month or so of using and adjusting to it, i too realized that i likely would never go back to Android. I received my 12 Pro Max last Friday, and i'm loving it even more. The integration of Apple's ecosystem is unmatched by anything that Google, or any other Android OEM, can offer. I can easily AirDrop things to my wife's iPhone, or my son's iPad Mini. iMessage blows away everything Google has attempted in the messaging space, and the ease of use and communication between my 12PM, Apple Watch 6, and AirPods Pro are also unrivaled by anything on the Android side. At some point next year, i plan to replace my Pixelbook with a 16" MacBook Pro, and the only Google hardware i'll have is the Hubs that i have in various rooms around my house. Google certainly has the money and resources to compete with Apple, but where they fall quite short is in their overall vision and execution. Apple has a clear direction that they want to head in, and their products and services reflect that. Google, on the other hand, is very scattershot, and seemingly has corporate-wide ADD.

I went the other way, I moved across to Android in 2018 having used iPhones since the original one. I am currently using a Samsung Galaxy Z Fold 2 and it is, without doubt, the best phone I have used, I am now sold on folding phones. Previous to that I had the Pixel 3 XL. Both offer silky smooth operation. Hell, even Samsung's OneUI is decent these days. Some new features that you may be unaware of (sorry if you are) are Nearby Share (a blatant rip off of AirDrop but works really well) and battery life in Android 10/11 is much improved. I usually end the day after heavy You Tube usage (3-4 hours) and other apps with 40-50% battery left. But, I am a big fan of each to their own and would never tell anyone that their choice was wrong. I was a heavy Apple user with just about every device they made (MacBook Pro 15, iPhone X, Apple Watch 4, AirPods, Apple TV 4K, AirPort Extreme/Express, the Speaker (can't remember the name) and some other items.) They're all gone now, I felt I was too reliant on one company for everything. That's not to say I don't miss some things, iMessage for one, that has no equal even with Google's attempts with Messages. I do kind of like their implementation of widgets as well, they do look kinda cool!

I've been an Android user from 2009. Samsung Galaxy 2 and the first two Notes. Then the Nexus 4, 5, 6, 5X, Pixel, 2XL. 3XL. Then i switched to the 12 Pro Max. After a month, I couldn't take it anymore. I felt like I was in some kind of controlled environment. I hate how I was limited in how I could perform any task. The lack of true default app settings (if the phone is powered off all defaults will revert back to factory settings. I can only assume that was intentionally done to discourage resetting personal default changes). The battery life wasn't as good as on my Pixel 3XL. As for the ecosystem, I understand why people are impressed with it but I still prefer Google's ecosystem and how Google Maps, Chrome, Keep, Calendar, Gmail, Messages, Google Assistant, Drive, Duo, Photos etc etc all tie into and actually communicate with each other. Also, Android Call Screening app is a must have. It all comes down to preferences and what works for the individual.

i love android. it's fun. but every time i go back to android i remember why iOS is simply better.
either way. both systems are great and in 2020 it's just lame to be a hater/fanboy anymore. use what makes you happy. there is Not a bad choice here.

I prefer Android over iOS. Android gives you more choice and customization, to me it makes the phones a joy to use. I recently switched over to the iPhone 12 mini for the MINI size. I love small phones and Android phones are humongous. I know the Pixel 4a is the most compact phone available right now, however I like to have at least high specs and Apple delivered with the Mini. Its a great phone, love the size and battery, for my use its the ideal smartphone. I will definitely come back to Android when more smaller options are available in the market. iOS can be very frustrating for me with compatibility outside of Apple Ecosystem.

Im on OnePlus 6T + Fossil Gen 5 and im thinking about changing to Pixel 5 or iPhone 11 Pro + Apple Watch
WearOS is so laggy.

Ever try a Galaxy watch? Super smooth and snappy. I use one in combo with my Galaxy Note 10+. Both run buttery smooth and very great battery life.

Although I was an Android user who rooted my phones, I switched to Apple when the 2020 SE came out. My thinking was that at age 71 the reasons for rooting had diminished over time and the complications of masking root status (and even getting TWRP to function on Android 10) made the "it just works" walled garden acceptable - I lasted four months. Neither jailbreaking iOS 13.5 nor using iOS 14 beta provided the user experience to which I had grown accustomed. (What genius decided upper-left icon justification made sense. Creating blank icons as a work around was a time consuming joke of a process.) At any rate, I decided to go back to Android and try living with a non-rootable Note 20 Ultra when it came out in August and I don't hate it. While I can appreciate why those who only know Apple ecosystem (e. g., my wife) like it, it's not for me - the UI is still way too regimented for my liking.

I use both and have more iPhones than Androids, but Android is my daily driver. iOS 14 was a big step, but I laugh when I drag an app icon to the bottom where it's easier to reach, and it pops back up to the top. Apple widgets, although prettier in some cases, are less functional and buggy. I have the music widget on my iPhone right now (iOS 14.2), and it doesn't even work.

This again is not an Apples-to-Apples comparison (pun not intended...maybe) but rather it is an Apples to Bananas comparison. The main reason iOS works as well as it does is because the Apple ecosystem is ONE ECOSYSTEM! Now, if Apple were to somehow allow other manufacturers to build phones, watches, and tablets to be able to run iOS, then Apple would look just like Android...that is a fragmented convolution of glop. Now, if Android ONLY RAN on hardware that was made ONLY by Google (god forbid) then the Android ecosystem would look just like Apples does today! What makes Android "better" than iOS is the same thing that makes Android worse than iOS...the freedom to manipulate/customize the OS the way "WE" want it! Apple is never going to allow another company to build their hardware, nor will they ever "really" allow their end users the freedom to customize their OS because they do not want to lose control over their ecosystem...which in some ways is a good thing, while at the same time is a bad thing!

Beno, if you're out there, we need you on this one.

Beno has been AWOL lately, kinda boring here without his agitation.

He's happy with his iPhone 11 Pro, and I'm happy for him, though he did make things interesting here. Probably still saying iPhone cameras are the best and A series chips are two years ahead, lol.
Android Central Newsletter
Get the best of Android Central in in your inbox, every day!
Thank you for signing up to Android Central. You will receive a verification email shortly.
There was a problem. Please refresh the page and try again.