ZTE U988S images appear, could be world's first Tegra 4 phone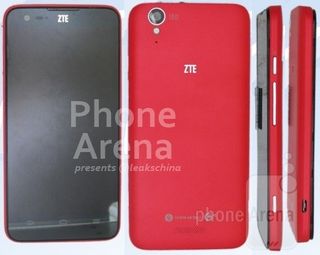 Familiar ZTE styling with the latest internals from NVIDIA make good on previous promise
If rumors and leaked images (shown above) are to be believed, ZTE is set to launch the U988S as the world's first Tegra 4-powered handset. While ZTE and NVIDIA announced a partnership to make the Chinese manufacturer the first to bring Tegra 4 phones to market this year, it was unclear up until this point what the phone would look like or what its final specs would be. We've got our hands on a bit more info now, with both leaked images and purported specs. The outside is clad in a solid plastic shell somewhat reminiscent of other 2013 ZTE devices, with capacitive buttons on the front and coming in at about 9mm thick.
On the inside, we are expecting a 1.8GHz Tegra 4 processor accompanied by 2GB of RAM, a 1080P display, 13MP camera and SDcard support. Rumor has it that the device is running Android 4.2, which we would expect for a phone launching in mid-2013. We don't yet have any specifics on the final naming or availability of the device, but we don't have high hopes for it to hit U.S. shores any time soon, if ever.
Source: PhoneArena
Andrew was an Executive Editor, U.S. at Android Central between 2012 and 2020.
FIRST!! But on a more serious note... I want a Tegra 4 device to hit American shores sometime shortly after "mid-2013"

What's up with that chassis, so many sharp edges on the front rim.

Never owned any ZTE phones, but if the specs were what I wanted I wouldn't mind giving them a shot.

I really want a Tegra4 phone with physical game keys, like Sony did with the Xperia Play. That would be awesome for gaming.

chOice is a beautiful thing...

Could not have put it better.
The second half of 2013 is looking like an awesome year for phone users of all OS's with the wider choice come from Android and their manufacturers. Can't wait for Tegra 4 v Snapdragon S800 device comparisons or
ZTE U988S v LG G2 Speed is good but real world usability, for me, means more

Speed is good, usability is good, but market saturation is the deciding factor for me once those things reach the "good enough" level. The S4 and ONE are definitely good enough for me in the speed department. Hell, the Note2 doesn't even really lack anything for speed in most cases. Jellybean 4.2 is more than good enough in usability regardless of which (major) manufacturer's skin is on it. I'm not going to buy a phone just because everyone else has it, but once the playing field reaches a certain level, I'll always prefer a phone with a larger user base.
Android Central Newsletter
Get the best of Android Central in in your inbox, every day!
Thank you for signing up to Android Central. You will receive a verification email shortly.
There was a problem. Please refresh the page and try again.