You can pick up a new 32GB Nexus 5X for only $269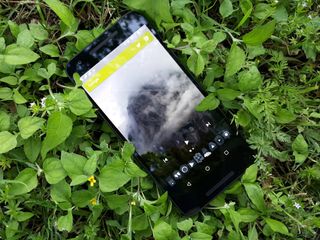 Should you be on the hunt for a new smartphone, Daily Steals has the Nexus 5X available for just $269 (opens in new tab). The LG handset launched in 2015 and is still a capable phone for those seeking a premium experience. We gave the Nexus 5X moderate praise in our comprehensive review too, but noted that you should probably look elsewhere at full price.
The interesting part bout this offer is it covers not refurbished units, but new and sealed handsets. It's worth reminding that this isn't an outstanding handset, but it'll still perform well for those who are on a budget and aren't looking for a flagship device. The price covers the 32GB Nexus 5 in black. Head on over to Daily Steals to check out the successor to the popular Nexus 5.
See at Daily Steals (opens in new tab)
Seems like a solid deal. 33% off buying it from Google.

Not a bad deal, but I think I'm waiting for the 0P3. If the N5X had 3GB of memory, I'd probably already have gotten one, but I like to be at least somewhat future-proof (still using my N4 - so I guess I'm already living in the future, circa 2013... ;-))

Seems like a great deal and also doesn't appear to have sales tax. If I needed a second or backup phone I'd jump on it. Posted via the Android Central App

Not bad at all Posted via the Android Central App

I have a 6p and at this price I'm tempted to pick this up as a backup... Posted via the Android Central App

As a user of the 5x, not worth it as a primary phone. Really wished I went for the 6p instead.

Would you consider it an upgrade for someone coming from the original Moto X?

Definitely.. My wife had an og Moto X. Just got this, absolutely loves it Posted via Techmology

I've had 3 Moto Xs. I shattered one and dropped one in water. I loved that phone, but it's showing its age.

I really like my 5X. It's pretty underrated imo. What don't you like about yours?

I bought the 5X for it's screen size. Even though it's underpowered and not a very good Nexus 5 successor the 6P is about as desirable as buying a two year old Verizon phone to me. You'd actually want to use what is essentially a small tablet as your phone?

I Paid $274.99 yesterday. I've been robbed!

Lol from eBay? Me too, got one for my mother in law.. Posted via Techmology

Yep, I bought that, some USB C cables and adapters on Amazon, and took advantage of the $5 discount Google is offering on the chromecast.

Wow, same here. Picked up the cables from Amazon and a CC Audio for my father because of the $5 discount.. Posted via Techmology

Bought mine for $195 a few weeks ago :) Posted via Nexus 5X

A new, 32gb US model? I doubt it. Posted via Techmology

$195 for the 32GB model is a stretch. But it's been selling for $249 on Google's Project Fi site for like 2 months. That price requires service activation, but the service is no-contract prepaid. So you're looking at a 1 month, $20 obligation if you prefer another carrier.

Interesting.. Think I'll do that on this year's nexus Posted via Techmology

Just got a new x2015 for the same price. Not having any buyers remorse is nice. Posted via the Android Central App

From where did you get that deal? Posted via the Android Central App

eBay. Exact price was $278 Posted via the Android Central App

Bought it in October for $429; price began dropping very shortly thereafter.
BIG time buyers remorse...

Performance or just the drop in valuation? Posted via the Android Central App

Actually both. The price started dropping almost immediately; the stuttery performance still rears it head from time to time.

I look at this as a way to clean Nexus 2015 inventory.
I am so tempted but my Nexus 6 is still working great

I'd never choose this phone over the 6. Posted via the Android Central App

i just purchased this! It will be my first Android phone (coming from WP!) Hoping for the best!

Same here. I have a 5X I got to replace my 950. So far so good and I'm on the latest Android N beta. Posted via the Android Central App

hey curious if it arrived yet- and if so the condition. I just ordered the phone too but i'm seeing some stuff about this site now that has me kinda freaked out. Things about them selling refurbished phones as "new" and overall lousy customer service.

Anyone know what the icon pack is in the picture?

Swappa swappa swappa XDA: Shayneflashindaily

Looks like a good deal, if I recall, the Nexus 5x at launch had issues , but recent updates have fixed them, then there's the fact you're getting a phone with great specs (not AMAZING, like an s7), camera and software updates, if I had waited longer instead of buying a moto g 2015, I would be rocking a nexus 5x (this doesn't mean I don't like my moto g3, I think it's awesome, and it has a micro SD card, which I like) Posted via the Android Central App

I have a 16GB Nexus 5x now. This price is tempting to get into 32GB but I want to get it from somewhere like Amazon so that if there are any defects returns would be super easy.

This phone is not worth for $170. No thanks

Are you stupid ? Cameras better than the S7E in terms of clarity and noise. Runs stock android, has a snapdragon 808 and decent battery life, will always get current updates and has zero bloatware. If this isnt worth 170, then sure as hell my nexus 6P or S7E isnt worth $790 and $500. Posted via Nexus 6P

Okay so this or Moto Pure (2015) for $299? Wish the 5x had expandable memory. Also wish To Moto Pure had fingerprint scanner. Need help! Which of the two I should get.

Same dilemma here. Let's hope that Moto X Pure will get a new reduced price after tomorrow's event. It worth to wait a day. Posted via the Android Central App

ROFL Posted via the Android Central App

I agree. I think Android Central gave the Pure the nod over 5x when they did an overall comparison.

I'm really longing for one....
Please please please please please please please please please please please please please please please please please please please please please please please please can I get one Android Central Posted via the Android Central App

Same price at B&H right now.

Any idea on warranty or support for this? I want to get this for my father, but I know Google doesn't cover phones sold by third parties.

Bought the 5X 32GB back in April. Sold it a week later. Performance on it was just terrible. I mean, I have a 2 year old Moto G (2014) that the 5X was neck and neck with in performance. I heard many theories that the full device encryption on Marshmallow was the culprit, but with no easy way to disable it, I had to give up. So sad though, because hardware wise (apart from the lack of sufficient RAM/CPU to run MM capably), it's a very nice phone. Good size. Not too big, feels great in the hand, good looking screen. I've heard there was a software update in May that might address the performance issues, but sadly I'd already moved on at that point.

You can get the 5X for $199 if you sign up for service with Project Fi. Check out store.google.com for the link to sign up. Project Fi is an even better deal with the addition of US Cellular as a partner, so it's a good time to check it out.

The 16GB version is $199, and the 32GB is $249.
Android Central Newsletter
Get the best of Android Central in in your inbox, every day!
Thank you for signing up to Android Central. You will receive a verification email shortly.
There was a problem. Please refresh the page and try again.