You no longer require an invite to purchase the OnePlus X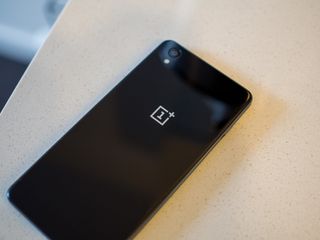 Have you found yourself in the position where you really wanted to purchase the OnePlus X as your next smartphone but have simply been unable to obtain an invitation? You'll now be able to place an order for the handset without having a special invite. As-of-today, OnePlus is scrapping the system for the OnePlus X.
This marks the shortest amount of time any smartphone released by the company has made it into the invite-free camp, at just 92 days after release. As well as making the OnePlus X available for everyone, the company is also offering 20 percent off select OnePlus 2 and X cases and covers. Lastly, if you're considering the Power Bank, do buy it now as the price will increase to $19 (€20) next week.
Source: OnePlus (opens in new tab)
Android Central Newsletter
Get the best of Android Central in in your inbox, every day!
Guess the flagship slayer got slayed even before it left its armoury...hahahahhahahahaha

This phone was doomed to fail in th U.S. From day one. Next.

I'm so over the invite system thing. They continue that strategy in 2016 and that'll be the end of em. Way too many choices to have to jump through hoops for a phones that isn't even all that.

I kinda remember the initial comments you and I had with the OPT. I wasn't all that impressed but you wanted one. Then, you got pushed back down the reservation list for invites and it left a sour taste in your mouth. In all of honesty, the OnePlus Two is a solid phone for the price. The "2016 flagship killer" tagline was utterly ridiculous IMHO (even though it did offer a compelling value proposition), but the rest of the phone is pretty dandy for the price. Well, minus the lack of NFC, which was somewhat big to me. The OnePlus X is actually a pretty good budget offering. Now that it doesn't require an invite, it does earn a small recommendation from me, but I would suggest buying another phone if you want to get one used and if you're on AT&T, since for some reason, this phone doesn't support LTE Band 17.

I use a OnePlus X every day and have pretty much no complaints about it. Few niggles but for £200 it's fantastic. And I don't have to care about AT&T in the UK, either.

Yeah, it's a good budget offering. But of course, some of us like to live a bit on the edge and get a used flagship or one from last year for the same price. :P But, if you want a new phone, the OPX is a pretty good one that doesn't break the bank. I actually like it more than the OnePlus Two. Mmmmm, Android Smores....

Hey Richard, you reckon the OPX is solid upgrade from the HTC One M7? Im still using my One M7 but considering a change but don't want to spend too much. Thanks

get a used Moto X pure for $300 or less

Get a nexus 6 or 6p, the 6 would be cheaper at 299$ great deal. Posted via the mighty Nexus 6P

I was interested in getting one until I found out it didn't have quick charge. I could've been first in the invite list, at that point I was out. I hope they learn their lesson though cause if consider getting one, so long as their customer service has improved, which I haven't really paid all that much attention to.

I hope they really come to their senses with the OnePlus 3. And maybe not overdo it with the "flagship killer" tagline? I know it has to do with price, but it does make some people expect more.

I agree. It didn't bother me as much as it did others, but the truth is I want to see every single one of these Android companies succeed. The better they do, the more money they put into the company, and the better product we see. I also think One+ has a lot of good ideas, and the phone has a lot of potential. But yeah, "flagship killer" just put unnecessary pressure on them. And they really need to figure themselves out as a brand. I mean, how do you have a phone with an 810 processor, solid battery, call it a flagship killer, then not have quick charge? people would've rather had paid an extra $50 and gotten what they wanted. And I don't think we need to discuss the invite system thing. I remember being set to buy one. The reason was I had been set to buy the M9 but was disappointed, then the S6 REALLY disappointed me as battery is such a big priority for me. The Moto X and Nexus were still a few months away, so it was a perfect time. As much as I'm rooting for them though I definitely have my doubts with the OP3. I recently grabbed the 6p and plan to replace me S4 with the S7 or M10, maybe the G5 if they do a few things with the software. If none of those pan out, and I can't imagine that happening a second year in a row, cause I'm honestly not that picky (but I do keep my phones 2-3 years so I try and get what I really like) then who knows, maybe I'll grab it. I will say if I'm dropping $600+ for a phone, when I can easily just grab another 6p or even your G4 for a lot less, it better hit pretty much all the check boxes. Battery, camera and the more I think about it, USB-C (since my 6p has it and I don't want to use separate chargers) are musts.

The OnePlus 2 did get quite a few things right. It brought good hardware (even if its SD810 processor is still throttled), refreshingly light software, a good camera (especially in its price-class) and of course, the price. It also had USB Type-C, even though the cable and wallwart weren't actually designed to work with anything other than the OnePlus 2. But they did get some things wrong, some of which killed the hype almost completely. The lack of NFC was odd, but not a big deal to some, the lack of quick-charging is also a pain for many who use their phone heavily and need a fast way to top-off the battery and yes, that invite system, which backfired this time for them. Honestly, the only reason I see this as a "flagship killer" is because it is priced at a lower MSRP than most flagships while offering similar hardware, and as for its abilities, it's actually no better than many of the current flagships. I also think calling it a "2016 flagship killer" is a little much because we can already see that the flagships of 2016 are going to be packing serious punch. Unfortunately, it also arrived at a time where top-end phones are getting cheaper in price. Clearly, the invite system isn't going to help there. I hope OnePlus understands this, gets their heads off their butts and actually work out to deliver a compelling phone at a compelling price that stands on its own as a very worthy flagship alternative without requiring unnecessary walls to get the phone in the first place. And really, they need to think of a better tagline, because I actually asked some guys what's the first thing that came to mind when I say "flagship killer", and many of them said they expected something to be better than a flagship. AC readers like you and me know that when OnePlus says "flagship killer", what they actually mean is that their phone is priced lower than other flagships while offering similar hardware, but I'm not so sure your average-minded folk would think the same way.

They should really consider ditching the invite system once and for all in 2016. The OnePlus Two didn't sell so hot, as a significant reason was that invites weren't all that easy to come by and the launch of the OPT also failed. I already had enough of the "We don't have enough manufacturing capacity" crap.

Too late for them. Posted via the Android Central App

How long is it valid for?

They screwed themselves out of a customer with that stupid invite. I was ready to buy this but I couldn't. Now I'm glad because I got a much better phone since the Nexus 6 went on clearance on Amazon. Imagine how many more potential buyers went with a competing product because of the inability to purchase a OnePlus device. Posted from my Nexus 6.

True, when the original 1+ came out I wanted it, but I couldn't be bothered with the invite system. I bought the Nexus 6 a month after release and I have no regrets. Posted via the Android Central App

They shot themselves in the foot! Now come up with a new system! Posted via the Android Central App

I sold my OPT think I may have broken even on it. I hope OP3 is gonna be a great phone. Hell charge 450 to include nfc fast charging micro SD slot 2k screen. They sacrifice too much in order to be cheap. Posted via the Android Central App

Because of the ridiculousness that the company has shown multiple times (invite system and bad advertising comes to mind), they have lost a lot of their fans and at the same time not gained any new fans. If they try to dip into the $450-500 range, people will just buy a Nexus. They will have to stay in the cheap range and thus they will have to sacrifice components to do so. tl;dr version: Cheap company will have to remain cheap

One of the worst things a company can do at the start is be cheap. I started two businesses, and the smartest thing I did was never sell my soul for a sale. Sure, there are some sacrifices you have to make sometimes. But a cheap product results in cheap customers and cheap referrals. A mid range offering is one thing, but a cheap product is another. Even worse, a company that's perceived as cheap by its customers is a death sentence. Once you go down that road it's almost impossible to reverse course. I'm not sure One Plus is at that point, but they're pretty close.

Yawn. Who in their right mind would ever support a lame company who will not just simply sell their phones in the first place?
Plus, a Nexus 6 is far better for the same amount of money.

Keep seeing oneplus xs all over the place and they are the nearest thing I've seen to an iPhone from an amdroid manufacturer in terms of finish. These things might be a pile of crap but they look and feel bloody premium. So brain says no but balls say maybe Posted via the Android Central App

Invite to buy a phone, oh wow how exclusive Data_theNew_Greed

thank god , the only thing keeping me from getting this gay phone was the lack of an invite
Android Central Newsletter
Thank you for signing up to Android Central. You will receive a verification email shortly.
There was a problem. Please refresh the page and try again.