You can now use electronics on takeoff and landing — so long as it's Delta's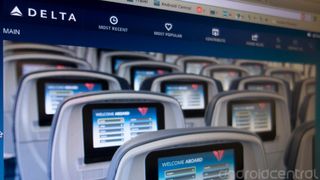 An interesting piece of news today out of a U.S. airline. Delta (which happens to be who I fly), announced that you'll now be able watch TV and movies and listen to music while you're on the ground, and on during takeoff and landing — but only if you're using Delta's seatback in-flight entertainment system. Still no movement on our own portable electronic devices.
I'm still OK with shutting down for a few minutes each flight (OK, a lot longer than that depending on where you're flying out of), but this is an interesting move on Delta's part.
Source: Delta
Android Central Newsletter
Get instant access to breaking news, the hottest reviews, great deals and helpful tips
Not sure if this is new? We've been allowed to do this in Canada for at least the past couple of years (i.e. allowed to use earbud headphones in the seatback entertainment system below 10000 feet).

American flight companies have been really anal about this stuff since 9/11

Ok Phil, the title is completley misleading. Makes it sound as if you can use any electronics...and not just their "in-flight entertainment system"

The possessive "Delta's" implies they are referring to Delta's electronics. I don't think you should criticize Phil's writing just because you don't know how to read.

The title is vague, the possessive form of Delta could be referring to Electronics or to Takeoff and Landing.

I was able to do this in First Class all the time. It was only while flying Coach that they turned them off.

But it's Delta, so your likelihood of actually taking off is somewhat diminished.

And if you do, you can be sure they'll serve you video ads on those screens. #boycottdelta

Just flew on Virgin Atlantic, they have same rule but only if you use their headphones. I guess it is because they are not over the ear, so you could always hear verbal commands, in case of an emergency.

I have also been able to watch DirecTV on United flights (former Continental aircraft) that have them. Also, on United international flights that have the seat back entertainment systems I have been able to play music and watch TV shows and movies. I don't remember if they were ever restricted since the touch screen ones were installed several years ago.
Android Central Newsletter
Get instant access to breaking news, the hottest reviews, great deals and helpful tips
Thank you for signing up to Android Central. You will receive a verification email shortly.
There was a problem. Please refresh the page and try again.