You can save up to $600 when you trade in your old phone for a Galaxy Note 10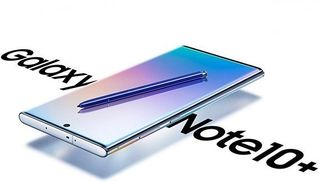 What you need to know
The reservation page for the Galaxy Note 10 is now live.
Samsung is offering up to $600 on trading in a Galaxy Note 9, Pixel 3, or an iPhone XS.
Reservations will remain open until August 7.
Samsung has started accepting registrations (opens in new tab) for the "next generation of Galaxy" in the U.S. Reserving the Galaxy Note 10 will not only ensure that you get it first — with early access to pre-order the phone — but you will also be eligible for special trade-in values for select devices. Additionally, Samsung is offering a $50 instant credit that can be used to purchase devices and accessories from the company's website.
If you own a flagship smartphone manufactured by Samsung, Google, or Apple, you will be able to save up to $600 when trading it in for a Galaxy Note 10. Eligible smartphones that will fetch you $600 on trade in include the Galaxy Note 9, Galaxy S10, Galaxy S10+, Galaxy S10e, Pixel 3, Pixel 3 XL, iPhone XR, iPhone XS, and iPhone XS Max.
Even if you have an older device from Samsung, Apple, or Google, you will still be able to save at least $200. Samsung is offering a $200 trade in for the Galaxy S7, Galaxy S7 Active, Galaxy S7 Edge, Galaxy S8, Galaxy S8 Active, and Galaxy S8+. Google's Pixel and Pixel XL phones are also eligible for the same trade in value. However, it is important to keep in mind that the final trade-in discount will depend on the condition of your device. The Note 9 sells for around $680 (opens in new tab) on Amazon right now.
The Galaxy Note 10 and Note 10+ are slated to debut at an Unpacked event in New York on August 7. In addition to the 4G variants that will be sold via all major carriers in the U.S., Samsung will also launch the 5G-enabled variant that is expected to be exclusive to Verizon. A recently leaked promo confirmed that the Galaxy Note 10+ 5G will be available on Verizon first. Those who pre-order the device on Verizon will get a standard Galaxy Note 10 free.
Samsung Galaxy Note 10: News, Leaks, Release Date, Specs, and Rumors!
Android Central Newsletter
Get instant access to breaking news, the hottest reviews, great deals and helpful tips
Beware of Samsung trade-in. I have personally been ripped off by a Samsung trade in as well as many others. Search reddit for some nightmare stores. I've been trying to get $500 back from Samsung they stole from me for a while now. Some stories include Samsung telling the customer they sent in "a keyboard" or a "locked phone" etc etc. Even if they don't accept your phone you cannot even get it back. Horrible. I always hand down my phones to family or sell on Swappa.

Those cases are likely due to unscrupulous employees at the receiving end. Far more success stories than those like yours. Take pictures/video, document numbers, track everything as a precaution. I've never had an issue with Samsung trade-in.

Samsung tradeins are worst, no guarantee u will grt your full $600, they do scams pn spme% if you are unlucky.

Last time I traded in my old phone Samsung gave a me full credit

Even I didn't have issue when traded my note 5.

I took photos, shipped well, and was rejected on a trade in that was practically brand new and fully functional in every way. Samsung trade-in is a total scam. Their customer service is absolutely awful. Their financing, which required for the trade-in redemption, is equally bad. MONTHS pass with many emails and calls with NO RESPONSE. They make a good product but they are the absolute worst company to deal with.

I traded in a Galaxy S9+ toward my Galaxy S10+ when they were having the $550 trade in offer. I got the full amount and didn't have a negative experience. I am sorry for your inconvenience.

Not a fan of Samsung's customer service either. Tha having been said, my only good experience came from a trade in back in the days of the Note 7. Not only did I get my money back even though I did not have a receipt, I also got 50% off of the Note 8. But in general I don't like these trade in programs. Last one I did with Verizon and what a fight that was!

Well the reason they didn't question anything with your Note 7 was because it was having severe battery issues and was overheating and could combust or explode. So yea they were doing right by everyone on that phone.
And I never do trade ins with Samsung. I prefer to go to Best Buy because they work with Samsung and will honor any promotions they have going on. I could have got one for the S10 if I had preordered one of the S10 phones.

Unfortunate. But I've never had an issue. They or BB are usually the best offers.

I always do my trade ins via Best Buy and never had a problem. And I am glad that I would be eligible for a $600 tarde in

That is unfortunate for the issues. I personally never had an issue with Samsung trade in. I refuse to trade i through any rip off carrier. I say go through Best Buy as they honor and work directly with Samsung. Best Buy also tends to offer further bonuses for trades in along with Samsung. I got 600 for my Note8 when I t red aded it for my S10 plus. And they do 12/24 month 0 interest financing.

How much is a Galaxy S9 trade in?

$300 I believe, that's what I saw on the site.

Actually it shows $400.00. But you can always call your carrier or a local Best Buy and they can tell you. But that is what I just found online.

This is great, bought my used Pixel 3 for 700 and now I can get 600 for it. Traded in my S9+ for my S10+ and I got the full credit for it. No issues. Hopefully my Pixel trade in will be the same..
Android Central Newsletter
Get instant access to breaking news, the hottest reviews, great deals and helpful tips
Thank you for signing up to Android Central. You will receive a verification email shortly.
There was a problem. Please refresh the page and try again.