Comcast's Xfinity Mobile wireless service is now available in the U.S.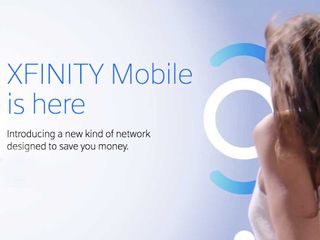 Update: The base pricing has now risen to $15 instead of $12.
In early April, Comcast quietly launched its own mobile network, aptly dubbed Xfinity Mobile. The service offers an unlimited data plan or you can pay by the gigabyte. It's only available to those with existing Comcast internet service, however.
Xfinity Mobile began its nationwide rollout this week, with availability for existing Xfinity internet customers. It's typically $65 a month for unlimited data access, but Comcast is currently offering a promotion at $45 a month. Speeds will be reduced after 20GB, however, which might not make it the best option for large family plans. The alternative is to pay-as-you-go at the $12 per gigabyte rate, but that option becomes quite pricey if you're using more than four gigs a month. The subscription also garners you access to Verizon Wireless's network, as well as access to Comcast's Wi-Fi hotspots in the U.S. and its TV streaming service.
All this this not without its caveats. Xfinity Mobile is available to Comcast's internet customers only, so you'll have to pay for internet in addition to the mobile service. And though the $45 a month rate will continue to apply to existing high-end X1 plan subscribers, that quickly adds up when you're paying for the whole suite of offerings. You also can't bring your own device to the network — at least not yet — though you can pick from a Samsung Galaxy S8 (opens in new tab), Galaxy S7 (opens in new tab), Galaxy S7 Edge (opens in new tab), or a low-end LG X Power (opens in new tab) at typical prices.
Advertisement
But for light data users who maybe don't rely on their smartphones outside of the home as much as the rest of us do, Xfinity Mobile (opens in new tab) could be a convenient add-on when a tethered internet connection is already getting the most use. Just as long as you don't mind being entirely beholden to Comcast.
Florence Ion was formerly an editor and columnist at Android Central. She writes about Android-powered devices of all types and explores their usefulness in her everyday life. You can follow her on Twitter or watch her Tuesday nights on All About Android.
Can't bring my own device? No thanks. If I have to only use the crappy carrier devices that service is useless to me.

I was slightly interested until I read no byod.. F that

If you want that nice Samsung Galaxy S8 Plus, this is the best way to go. I'm loving it right now! :-)

Service is just starting yeah would of been nice but already complaining when theyve barely set their foot on the ground.

Probably want their own devices to ensure quality. Hopefully they open up later on.

You must be one of corporate social media trolls that go around and try to make the company look better.

So when exactly are we allowed to start complaining about a Comcast service?

Having experienced Comcast's veil cable brown shirt squad they like to call Customer Service, I would NEVER place my self in the position of being under their boot heel again. ANYTHING would be better.

Sounds like they didn't roll out a nationwide network, but started a Verizon based MVNO, they have tried different promos with VZW for quite while. Not impressed.

I have Comcast, and no, it's not a good deal. No byop? Too much in-house stuff, can't be beholden to them like that.

They have the 7/7 Plus, 6s/6s Plus, and SE available.

Wow, nice of this article to point that out in the interest of complete, "impartial" information. Good job, AC! /S Thanks for your input, that evidently, simply doesn't exist in their myopic world 🌎. LOL 😂

This sounds like a new 8th layer of hell! NO ONE wants to voluntarily talk to or deal with Comcast. I moved in the same town two years ago from a house with Comcast service, to a house that already had Comcast service. It literally took more than 20 phone calls and a visit to the local store to get things straightened out. I even own my own cable modem and CableCard device. I have the calls recorded, I just need to sit down and put them all together.

You sit on a throne of lies!

Wonder if they cap the speeds like other MVNO's?

No. I ran speed test this morning and it was 56.35mbps up and 11.21 down. Ping was 37ms. Using the s8+ . Since I already ise their internet and cable service, I'm saving money compared to cricket. The phone is a verizon phone without the verizon bloatware. It does have 5 xfinity preinstalled apps though. So far so good. Have had comcast for 8 years so I have seen the good and the bad of the company. Hopefully this ends well. Also, included in the phone package, I received a $50 fandango coupon for being an early mobile customer. The service itself is prepaid, but if you don't pay full price up front, you pay 35 dollars a month for the phone.

Yea how about a big ball of NOOOPPEEE.

No frakin way. Comcast is already the ONLY game in town when it comes to Internet and cable TV around here, and its product offering don't give much bang for the buck. I'd do anything to leave as a customer but there are simply no viable alternatives yet.

I once got a job at comcast just so I could learn how to fix my own cable at home. Still less time than spent waiting on hold with them. If their cable is any indication of that, I assume this will fail.

WOW! I thought having to deal with them for cable TV and internet was terrible enough. No way I'd get near them for my cell phone service.

😂 hahaha! You are sooo right! X1000!

I can't see why anyone would want to deal with Comcast customer service unless they have to. I have found that mobile phones/service require more support discussions than TV and internet, but so far have taken far less of my time than calls on TV/internet. I had to diagnose a Comcast service issue on my own because they couldn't understand it, I identified the point in their network where the problem was located, and when they were having issues. This was with a simple PC-based tester. After eight field calls over two months, they escalated it and eventually a VP called to thank me for finding the problem. I have Comcast now but it's through a wired building and I haven't had to deal with the issues but we're getting Google fiber in a year and it's bye bye.

They don't offer phone insurance as well. The rep told me they don't have it yet but to sign up with Samsung Care 😥😥😥

Their website says it's 20gb per line. That wouldn't be a bad deal once they allow byod

Am I the only one astonished that they are still throwing Mint ads into everything?

Right below the big picture of Xfinity too, lol. Mint is a better deal than Comcast, just about anything is a better deal than Comcast.

I wouldn't sign up to be a Comcast customer if they paid me, and I live in the city of their headquarters. It's the cable company in my neighborhood, so I have Direct TV and Verizon DSL. Now Verizon is installing gigabit service and that's what I will get. Never ever going over to Comcast for any service and certainly nothing involving my phone service.

I wonder, if you have a phone from Verizon, and stick a Comcast sim into it, would it work? Somebody should try it and see.
Android Central Newsletter
Thank you for signing up to Android Central. You will receive a verification email shortly.
There was a problem. Please refresh the page and try again.