Why you should avoid those cheap Apple Watch & Fitbit knockoffs on Amazon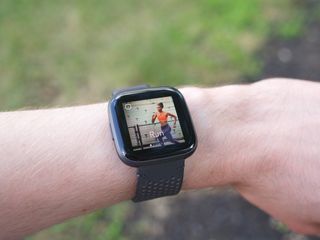 (Image credit: Joe Maring / Android Central)
We've all been there. You're mindlessly scrolling through Amazon and you're forced to do a double-take at a shockingly low price tag on a smartwatch. This is especially true during Black Friday when Amazon is constantly tempting you with all of those limited time deals that will be gone before you know it.
It's safe to say that everyone is a fan of a good deal, but it's important to remember that a good deal doesn't necessarily mean you're getting a good value. Confusing a low price with great value is one of the most common mistakes you can make when buying a fitness tracker or smartwatch on Black Friday.
While these copycats might resemble the likes of Fitbit and Apple, they're far from the real thing. If you're like most prospective smartwatch users, you want a wearable that will provide efficient performance and reliable accuracy. These are just a few of the key reasons why you should avoid those cheap Apple Watch and Fitbit knockoffs on Amazon.
Subpar performance
When you search "cheap smartwatches" on Amazon, it's almost alarming how many knockoffs you'll find. You'll see some genuine options sprinkled in but, for the most part, it's a whole lot of look-alikes. Not to mention that you'll even see nearly-identical photos used for products that are supposedly made by entirely different brands. Don't be fooled, it might look like an Apple Watch Series 6 or even the Fitbit Versa 2, but the performance certainly won't live up to your expectations.
It's easy to clone a design, but when it comes to smartwatches, it's what beneath the surface that truly counts. Unfortunately, these cheap knockoffs cut corners when it comes to some of the most important aspects of a wearable. No matter how much money you save, it's not going to be any fun using a smartwatch with poor performance.
For example, don't expect to have a massive app ecosystem, a user-friendly operating system, or even decent haptics. More often than not, you're going to receive laggy performance, poor response time, and an underwhelming app selection. You get what you pay for, after all. Spending a bit more on a wearable will go a long way.
Lack of sensors
Nowadays, more and more smartwatches are coming out with sensors that allow you to monitor key aspects of your health and fitness. While this isn't always the main reason to buy one of these wearables, they're nice features to have.
You can monitor your heart rate, sleep stages, blood oxygen levels, and blood pressure with a good smartwatch. Some newer models are even offering an electrocardiogram (ECG) sensor that can detect irregular heartbeats that are often associated with more serious health conditions.
You won't find advanced sensors on a cheap smartwatch knockoff, though. At best, you'll get GPS and a heart-rate sensor with basic sleep tracking. Having additional sensors might not be high on your priority list when you first start shopping around, it won't take long for FOMO to set in when you realize what you're missing.
Poor accuracy
Another thing to keep in mind is that cheap knockoff smartwatches won't provide the same reliable accuracy that you get with brand-name watches. Whether you're tracking your route while you're out for a run or you're closely monitoring your heart rate zones during a cardio workout, these watches tend to offer the bare minimum when it comes to accuracy.
Something as simple as step counting and floor climbing can even miss the mark. If you're buying a smartwatch for accurate health and fitness tracking, you'll want to make sure you get the real deal.
Privacy concerns
When you buy any piece of technology these days, it's not uncommon to wonder what the company is doing with your data. You'll get an occasional message on the app or watch itself notifying you that it'll be using your data in one way or another. This is a lot more clear-cut when you're working with a well-known company in the wearable world. It's never going to be perfect, but there will certainly be a lot more question marks when you're dealing with a cheap knockoff smartwatch and a little-known company that only exists on Amazon.
With that said, it would be a good idea to do your research before you decide to spend money on a random smartwatch just because it has a low price tag. You'll always be sacrificing some level of privacy when you agree to the terms of service associated with wearable products, but it's still worthwhile to know what you're getting into.
You'll be happy to know that Black Friday is one of the best opportunities you'll have to get a fantastic smartwatch at a low price. You don't have to give in to the temptation of a low price tag that results in a bad purchase. This is the time to get the smartwatch you really want at an amazing value.
Whether you're interested in Fitbit, Apple Watch, or Samsung, there's plenty of options to choose from. These devices will be available at reduced prices for a limited time. Make sure you keep up with our Black Friday smartwatch deals so you don't miss out on the deal you're looking for!
Buy this instead
Samsung Galaxy Watch Active 2 | $179.99 at Amazon

The Samsung Galaxy Watch Active 2 already has a great Black Friday deal dropping to a new low price at Amazon. We love the design, display, capacitive bezel, and battery life. This $70 discount makes it an even better buy.
Fossil Gen 5E | $169 at Amazon
Fossil's Gen 5E smartwatch offers all the essential features that you expect from a smartwatch in 2020. It comes with a vibrant AMOLED display, 5 ATM water resistance, music storage, a PPG heart-rate sensor, and rapid charging support. This is an $80 discount.
Fitbit Versa 2 | $129.95 at Best Buy
The Fitbit Versa 2 offers six-day battery life, heart rate and sleep monitoring, and Amazon Alexa access at a better price than ever before. Even with the newly-announced Versa 3, this is still a great smartwatch at a fantastic price.
Get the Android Central Newsletter
Instant access to breaking news, the hottest reviews, great deals and helpful tips.
Courtney Lynch is a freelance writer at Android Central. She's obsessed with all things health, fitness, and music. At any given time, she can be found checking out the latest and greatest gadgets while simultaneously petting her dog and sipping iced coffee.