Five mistakes people make when buying a fitness tracker on Black Friday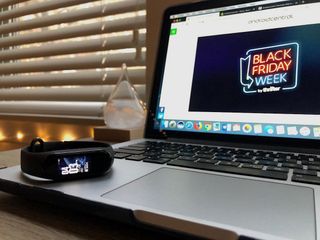 (Image credit: Courtney Lynch / Android Central)
Most people know that Black Friday is one of the best times of the year to score a great deal on just about anything. However, it's important to remember that a great deal is about more than finding the lowest possible price tag, especially when it comes to fitness trackers and similar gadgets. Whether this is your first Black Friday purchase or you already consider yourself a deals expert, there are some key mistakes you'll want to avoid.
1. Prioritizing price over value
This is easily the biggest mistake you can make when buying a fitness tracker on Black Friday. Look, we're all guilty of it. Everyone loves a good deal! But if you place more significance on finding the cheapest product than on the value of the product itself, you could end up wasting your money. As you start shopping around, you may already have a clear idea of what you want from your device. Whether you're set on buying a specific brand, or you're seeking a certain set of features, this is an ideal time to find it at an amazing value.
With that said, if you're simply browsing without anything particular in mind, it can be easy to fall for a low price tag on a product that may end up being a dud. You should do some research in advance so you can discover what you're interested in. This will help you better determine if it's a worthwhile purchase and if you can get a sweet deal on it during Black Friday 2020 sales events.
Keep in mind that you can get a cheap fitness tracker at any point during the year. It's easier than you might think. Cheap fitness trackers can be found just about anywhere, but you have to remember that cheap doesn't translate to good quality. When shopping for a fitness tracker on Black Friday, your goal should be to find a high-quality product that you'll love at a much better price.
2. Not doing your research
On that note, you should take some time to do your research before the big day arrives. You want to be aware of any recent price changes for the fitness tracker you've got your eye on. Websites such as CamelCamelCamel can be tremendously helpful with this. All you have to do is drop the Amazon link to the product you're watching, or you can search for it by name to see the price history. When you start your Black Friday shopping, you'll know if that appealing price tag is actually a good deal or not.
Your research shouldn't stop there, though. If you're someone who wants to have the latest and greatest tech on your wrist, you'll want to be aware of upcoming upgrades before you make a purchase. After all, fitness trackers are constantly being updated to new editions by their manufacturers. Without proper research, you could spend a pretty penny on a tracker that's due for an upgrade soon.
You'll be happy to know that some popular fitness trackers have been released within the last few months include the Fitbit Inspire 2, the Garmin Vivofit Jr. 3, for kids, the Fitbit Charge 4, the Amazon Halo, and many more.
On the other hand, if you're not worried about having the newest device on the market, this can work in your favor. In fact, this is a perfect way to save even more money on Black Friday. The previous editions of newly released products will typically see some major discounts. You could even score a smartwatch for a fraction of the price if you really want to get your money's worth. If you're already determined to find the best value, and you stumble upon a smartwatch deal that is within your budget, you may want to consider it.
3. Overspending
Another common mistake when buying a fitness tracker on Black Friday is overspending. This one is fairly simple. As long as you do your research, you should be able to steer clear of spending too much money on your device. It's not uncommon to get carried away, especially if you're shopping for multiple items. Whether you're getting a head start on your Christmas shopping or looking for the best deals on big-ticket items, you can avoid overspending by setting a budget and sticking to it.
If you're determined to stay within a specific price range for your fitness tracker, it can help to have a set limit in mind before you start shopping. You should also consider making a list of must-have items. As you can imagine, overspending is a mistake that is not exclusive to fitness trackers. If you know that there is a list of specific items that you want to buy on Black Friday, you should make a point to stick to that list. At the end of you're shopping, you'll feel much better knowing that you stayed within your budget. If you have some wiggle room, you can splurge on that one miscellaneous item that caught your eye.
We all know that 2020 has been quite the doozy, so many of us will be shopping online from the comfort of our home in our comfiest pajamas. You can expect to come across plenty of tempting deals that weren't on your list to begin with. If you have the willpower to stick to your budget as well as your list, you can avoid overspending on a fitness tracker — and other items — on Black Friday.
4. Not setting "Watch Deal" alerts on Amazon
We're living in unprecedented times. Naturally, it's becoming more and more popular to stay home and shop online for deals. Rest assured, you won't see nearly as many lines snaked around the perimeter of big-box stores this year. Not to mention the convenience of having it delivered right to your doorstep. It's also the easiest way to compare prices and find the best deal on fitness trackers, so you can't go wrong.
Not surprisingly, Amazon is one of the leaders in this area. You can stay in the loop on all the deals that are happening on Black Friday. Even better, you can plan ahead, so you're prepared when the day comes. You're able to view upcoming deals and set alerts for the ones you want to take advantage of. You'll receive a notification when the deal starts so that you don't miss out. Don't forget that these deals last for a limited time, so be ready to pounce!
While Amazon is undoubtedly one of the major players when it comes to the best Black Friday deals, we also see some incredible discounts from other retailers, including Best Buy, Walmart, Target, and more.
5. Forgetting about Cyber Monday
Finally, don't forget about Cyber Monday. This could end up being a gamble for some deals, but it just might be worth it. With all of the unbelievable discounts being thrown at you as Black Friday approaches, you may be tempted by FOMO and want to snag the first deal you see. Trust me when I say there is plenty more to come.
While Cyber Monday is mostly for online shopping, it's an excellent opportunity to redeem yourself if there were deals you missed out on. Of course, you should still do your best to scout for deals on Black Friday as many of them will only be available for a limited time and while supplies last.
That's all there is to it. With a bit of patience and practice, you'll be well on your way to scoring an incredible deal on a fitness tracker this Black Friday. What device are you hoping to get a discount on this year? You just might find it.
Remember to keep up with all things Black Friday right here on Android Central!
Get the Android Central Newsletter
Instant access to breaking news, the hottest reviews, great deals and helpful tips.
Courtney Lynch is a freelance writer at Android Central. She's obsessed with all things health, fitness, and music. At any given time, she can be found checking out the latest and greatest gadgets while simultaneously petting her dog and sipping iced coffee.