Why do you like OnePlus phones?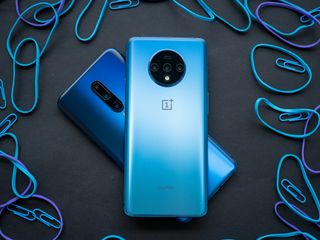 (Image credit: Android Central)
Next week is going to be an exciting time for the Android space. On April 14, OnePlus will finally be unveiling its highly-anticipated OnePlus 8 series for the world to see.
OnePlus phones are always fun to look forward to, as they tend to deliver top-of-the-line specs and great software at an incredible price.
Some of our AC forum members recently got to talking about why they're so fond of OnePlus, saying:
What say you? Why do you like OnePlus phones?
Android Central Newsletter
Get instant access to breaking news, the hottest reviews, great deals and helpful tips
Joe Maring was a Senior Editor for Android Central between 2017 and 2021. You can reach him on Twitter at @JoeMaring1.
Oxygen OS and Developer Community
Excellent Hardware

I used to like the focus on power, functionality and the way they were built. I've stopped caring about them since they've become just another phone. I liked my 5, but the design went downhill from there with a brief spike of interest in the...7? Due to the pop-up front camera, but then they went back to cutting holes in the display like everyone else and lost my interest again.

I don't. They are chinese.

That's a highly uneducated opinion but you do you

If the Pixel phones were not an option, I'd be looking at OP. Some reasons why I don't prefer OP:
-Curved screen edges
-Mmk camera reviews
-Pop-up camera
-Large size
-Software+Hardware relationship only Google and Apple can achieve (je ne sais quoi) Reasons why I like them:
-clean OS
-excellent specs
-excellent price
-listen to customers
-solid hardware

Yeah, I'd agree with that list. They always top Samsung in performance, but the camera keeps me away.

I don't really, but when compared against the next option for me, the Pixel line, they've been less for more. Camera leaves a LOT to be desired when compared, but the 7T has been adequate so long as I limit using it to outdoors.. Macro mode is really nice. Will probably pick up a 4a because I'm tired of switching camera apps depending on whether I'm inside or out.

Do you also buy cameras based on their signal reception and 5G performance?

This is my 3rd OP device (3T, 6, & 7T). I love the software, battery life is great, and the price is right around what I'm willing to spend. I also love the commitment to timely updates, especially security.

Simple. OnePlus is a premium phone with a mid-range price. It's not loaded with bloatware and duplicate applications. I currently have the T-Mobile version of the 7t which is my second OnePlus phone.

It's not a mid-range price, that's what flagships used to cost before price gouging kicked in...

Well they once had a mid-range price. Not anymore.

Zero unnecessary bloatware, and their oxygen OS launcher is closer to buttery smooth performance than of Googles vanilla launcher

They're very reliable and efficient with great quality for a low price. Had my OnePlus 5T for 2 years now and it's amazing.

I used to like them when their phones were affordable, when they used an LED notification light and when they used displays without notches or holes. The OnePlus 3T is right up there as one of my favorite phones. Now, I no longer like them because all of those things changed. Change isn't necessarily bad but it does mean I've moved on from OnePlus.

Phones are still affordable compared to Samsung phones and iPhones when some Samsung phones are costing $1,500 a $900 phone is still very comparable inspects and in a much lower price.

I like OnePlus phones because of the clean and fluid software and the great specs on offer for half the cost of their more illustrious rivals and Oxygen OS is by far the best Android akin I've ever used with the smoothest animation on My Android phone.

Price, hardware, software, features. I love OnePlus phones
Android Central Newsletter
Get instant access to breaking news, the hottest reviews, great deals and helpful tips
Thank you for signing up to Android Central. You will receive a verification email shortly.
There was a problem. Please refresh the page and try again.