Google Home Max is now on sale, here's where you can buy it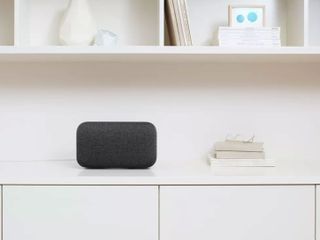 At Google's October 4 hardware event, one of the more surprising announcements was the Google Home Max – a beefed-up version of the regular Google Home with two 4.5-inch woofers, custom tweeters, 20 times the audio power, and a whole lot more. A listing in late November suggested that the Home Max would be released on December 11, and that appears to have been quite accurate.
The Home Max is now available for purchase online at Best Buy (opens in new tab), the Google Store (opens in new tab), Verizon Wireless (opens in new tab), and Walmart (opens in new tab) for $399, and no matter which retailer you choose to shop at, you'll be able to get the smart speaker in either Chalk or Charcoal color options.
Delivery estimates vary from store-to-store and based on which color you pick, but it looks like shipments are going out rather quickly with some delivery dates being as soon as a couple days out.
If you want to pick up a Home Max for yourself, check the button below.
See at Google Store (opens in new tab)
Joe Maring was a Senior Editor for Android Central between 2017 and 2021. You can reach him on Twitter at @JoeMaring1.
$400!!! YOU HAVE GOT TO BE KIDDING ME!!!

you have not seen price of sonos?

For that money you can basically buy two JBL Links 300. I would assume that JBL has a better sound than Google just due to their higher expertise in the area. I think Google really tries to bite more than they can chew xD

Don't he JBLs tweak the audio to match acoustics? If not it will probably sound good, just not as good as the home. Now comparing two speakers to one the JBLs might fill the room more at more decibels, but if you had two Home Max, vs two JBLs the sound might be noticably better on the Max. I wouldn't mind seeing the comparison.

You can get two Sonos One's for one Home Max. They are currently Alexa built in, and is supposed to have Google Assistant functionality in the near future.

The Home Max is meant to fill a larger space than the Sonos One, though. I think it's a more apt comparison to the Play:3 or Play:5, which are in the same price range. It's a moot point for me, though, since my home just doesn't have anywhere to reasonably put a speaker like this.

i can buy 2 google home for one sonos.. see what i did there and what u have been missing

Hopefully the max sounds good because Sonos 1 doesn't.

Heard a play one on the weekend and it sounds horrible. Hopefully the max is far better.

It is back to COMING SOON on Best Buy's website.

I ordered one from Google store this afternoon.

Another overpriced Google product.

Overpriced compared to what?

Compared to practicality.

I would be more more likely to consider it at 299, but 399 just makes me say wait for a sale.

Agree. As I will be pairing two in the living room.
Android Central Newsletter
Get the best of Android Central in in your inbox, every day!
Thank you for signing up to Android Central. You will receive a verification email shortly.
There was a problem. Please refresh the page and try again.