Where did the Gallery go after the Lollipop update?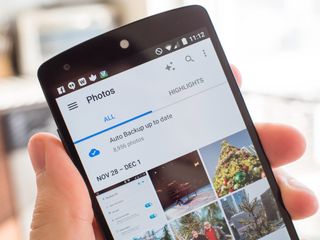 The Gallery is gone, but that's probably a good thing
To put it lightly, Google has had a tough time communicating its photo handling strategy on Android. Depending on the Nexus or Google Play edition device you have and its OS version, you have the Gallery app, the Photos app, or sometimes both. Now with the Lollipop update hitting phones, Nexus 5 and Nexus 4 owners are noticing that their options have been trimmed down to one — Photos is now the default (and only) choice for photo handling.
So what does that mean? Well, mostly it just reduces confusion by giving you one default option rather than two.
More: Read our Android 5.0 Lollipop review
The Photos app is actually just part of the Google+ app (and therefore part of the Google applications suite) with its own icon in the app drawer. It identifies itself as a photo-handling app and can work with whatever camera app you have installed. Photos has also been updated far more often than the Gallery app has as well, meaning you're more likely to have updated design and features.
And just like before, if you don't like the pre-installed gallery app options you can always download one of your choice from the Play Store. The one big issue with this change is that unlike the Gallery app of old, you still can't disable the Photos app without also disabling Google+, which many people want to keep around. So if you do choose to pick up a new third-party gallery app, you'll be sitting with two ways to handle photos — the app you installed, and Google+ Photos. But at least you don't have a third app, Gallery, to mess around with as well. Small victories.
Now of course this all just applies to the Nexus devices that are going from KitKat to Lollipop. Other manufacturers have chosen to create their own gallery apps independent of what's available in the Google+ Photos app and in the AOSP Gallery app, and you can expect those to live on after they receive Lollipop. For people buying phones with manufacturer-customized software, expect to see Photos right alongside the other gallery app of choice from Samsung, HTC, LG or whoever made your phone.
Is it a perfect solution for handling photos on Nexus and GPe devices? Hardly — but at least in Lollipop there's one less app pre-loaded on phones to confuse users.
Get the Android Central Newsletter
Instant access to breaking news, the hottest reviews, great deals and helpful tips.
Andrew was an Executive Editor, U.S. at Android Central between 2012 and 2020.