What's your favorite form factor for cases?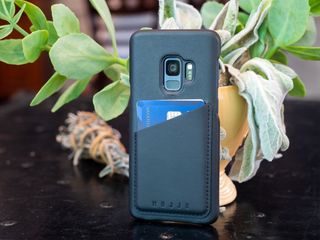 It's 2018, and that means just about every high-end phone — and even some budget devices like the Moto G6 — has a glass backing these days. They're beautiful, sure, and they allow for wireless charging, but glass is still a fragile material, and the last thing anybody wants is a shattered panel on their expensive gadgets.
The obvious solution is to put a case on your phone, but there are so many different types of cases to choose from. We've all seen the standard covers that wrap around the back and sides of your phone, but there are also folio cases that cover the front of your phone with a flap, cases with card slots on the back, full-protection cases like the Otterbox … the list goes on. So which form factor works best for you?
There are pros and cons to every different type of case, but I've always stuck with the tried and true cover-style case — at least when I'm not carrying my phone case-less, which I admittedly do more often than I should. I don't like adding a ton of bulk to my phone, so I love thin cases that protect the back of my phone from scratches and add just enough padding to take the brunt of most light drops. I've been using the Mujjo leather wallet case on my Galaxy S9 for a little while now, and before that, I used Samsung's Alcantara case for months with few complaints.
For those that need more protection, though, full-coverage cases from brands like Otterbox and Lifeproof are a better fit. There's a lot more bulk to these kinds of cases, but in exchange, you get far more protection from drops, scratches, and sometimes even water damage. A lot of these cases even provide a built-in screen protector as an added bonus.
Folio cases have also been extremely popular over the last few years. The added flap covers the screen when not in use for protection from scratches, and they often include card slots on the inside for extra convenience. Folios like the Galaxy S9's LED cover also interact with your phone to display notifications through the case without having to turn on your phone's entire display. The downside to folio cases? When you're using the phone, the flap can tend to get in the way — even more so when you're trying to take a photo or video.
What's your favorite case form factor? And going a step further, what's your favorite case you've ever owned? Let us know in the comments below!
Get the Android Central Newsletter
Instant access to breaking news, the hottest reviews, great deals and helpful tips.
Hayato was a product reviewer and video editor for Android Central.