What's the most you'll spend for the Galaxy Note 20?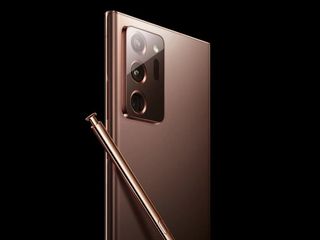 (Image credit: Samsung)
The Galaxy Note 20's announcement date is quickly approaching, and leading up to August 5, the rumor mill has continued to churn out new information about the phone. Most recently, we were tipped off to the Note 20's pricing in Europe.
According to this latest leak, the baseline Note 20 will start at €999 in Europe while the Note 20 Ultra will start at a whopping €1349. In other words, these are expected to be very expensive phones.
Some of our AC forum members got to talking about these increased prices, saying:
Now, we want to hear from you — What's the most you'll spend for the Galaxy Note 20?
Joe Maring was a Senior Editor for Android Central between 2017 and 2021. You can reach him on Twitter at @JoeMaring1.
The Note 20 Plus or Ultra will be a great phone.... But so is my Note 8. I'm not upgrading. I'm waiting at less five years, so 2022...and I'll buy that a year later. Lap top prices for phones is silly. Buying Any phone within the first year of its release is the dumbest waste of discretionary income you can do. Within five years, I envision the mobile phone market walking back from rediculous asking prices. How much will I pay for a Note 20? Not giving it a chance.... It's a want, not a need.. And the Note 20 does not scream $2000 🇨🇦 as a worthy replacement to my Note 8. The dumbest articles written on AC are the ones which argue positively for upgrading a phone annually. Ie. Should you upgrade from a Note 10 to a Note 20..... Heck no! The Note 10 was arguably the best phone of 2019.

Would a phone last you 5 years? I admit I do things differently to you I do upgrade every year but sell last year's handset pretty much as new and add abit to get the latest one, however I'm talking about £100 I buy new from eBay not a shop RRP a month or two after launch that way I stay recent for a little output each year.

I have the Note 8 as well... still running OK. No reason to upgrade to the Note 20 with a hole in the screen and no headphone jack.

Fair play I'm certainly not knocking anyone for holding onto their devices longer, if anything I should be doing the same. Is your battery etc still holding up ok on the Note 8?

I would pay up to $1000 for the regular Note 20 device if it was perfect for me; Note 20 max height 150mm (~6.3" display), flat display, QHD+, 90/120Hz, good quality 3.5mm audio jack, IR blaster, min 3800mAh battery (or one day battery life), same camera setup, low latency stylus like the Ultra, with a nice matte finish. Don't care about gaming or 5G. There's no way I'm paying anything over $700 if I have to compromise. Would rather get a prev-gen flagship phone at a cheaper price.

I'd rather spend a few hundred more & instead of the note ultra the Zfold2 is more of my cup of tea? Killer specs, 120hz display, a tablet phone, yep I think this phone will be a hit, even though it's very pricey. I've been saving my pennies!

I am currently using the "regular" Note 10 and tbh it has been great. For my daily use, I think Samsung did not cut substantially compare to the Note 10+. 256gb storage is more than enough for me, size is just right for me, personally I cannot notice the difference between 1080p and 1440p with this Amoled screen and with a pair of galaxy buds I don't miss headphone jacks anymore. I was actually hoping for the same with the regular Note 20 but it sounds like they are cutting it way too much for me to upgrade. I may end up getting Note 20 Ultra instead but the bigger size might be an issue for me. If this is the trend Samsung is going to take it might be the end of my run with the Note series since I first purchased the very first Note.

I am very happy with my Note 10+. I generally update every 2 or 3 years. Personally I don't see any reason to consider a new phone. I will probably keep my Note 10+ for at least two more years, maybe longer. I have zero need for 5G to run speed tests and I am not a gamer so the higher refresh rates only use for me would be to lower my battery life.

1500 max
Either way I'll be trading in my S20 Ultra so I'll end up paying $600-800

I wouldn't spend a penny on any Samsung phones.

the big question for me is whether the UK version is going to have the decent fingerprint reader or are we going to have the same old crap that we have on the note 10.

Who cares? Nobody will pick the Note 20 over the iPhone in the UK as Apple is the number smartphone vendor in the UK.

$1100 is the maximum price (taxes not included) I'll spend for the Note 20 Ultra. The absolute MAX! If the Ultra costs more than that, my Note 10+ runs just fine and is the best phone I've ever owned. It can easily last another year.

I generally use "Premium flagship" phones (mostly the Note series - since 2011), and if I was in the market for a phone, I'd not pay more than $700. So, T-Mobile or Samsung will have to do a BOGO before I'd consider giving them $1000+ for a phone. My Note9 is still an excellent phone in 2020, and the moment it stops receiving security updates (I'm guessing in 2023), I'll purchase the Note22.

Just my right kidney.. Not a drop of blood more!
Android Central Newsletter
Thank you for signing up to Android Central. You will receive a verification email shortly.
There was a problem. Please refresh the page and try again.