Samsung Galaxy Note 20 tipped to start at €999 in Europe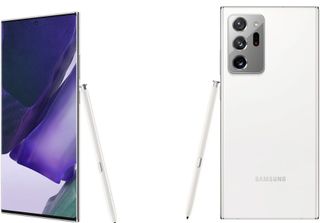 (Image credit: Ishan Agarwal on Twitter)
What you need to know
A new leak has revealed European prices for Samsung's upcoming Galaxy Note 20 and Note 20 Ultra phones.
The Galaxy Note 20 will apparently start at €999 in the old continent, while the Note 20 Ultra 5G will start at €1349.
Samsung's Galaxy Buds Live true wireless earbuds are tipped to be priced at €189 in Europe.
Earlier this month, a report out of South Korea had claimed that the Galaxy Note 20 and Note 20 Ultra phones will be more affordable than their predecessors. However, a new leak suggests both the upcoming Note 20 series phones will actually be more expensive than expected.
According to tipster Ishan Agarwal and MySmartPrice, the Samsung Galaxy Note 20 will start at €999 in Europe for the 4G-only variant with 256GB storage. The 5G variant of the phone with identical storage will apparently cost €1,099. Samsung Galaxy Note 20 Ultra 5G, on the other hand, is tipped to be priced at €1,349 for the 256GB variant and €1,449 for the 512GB variant. For reference, Samsung had launched the Galaxy Note 10 in Europe for €949, while the Galaxy Note 10+ started at €1,099 for the 256GB variant.
While the rumored Galaxy Note 20 Ultra prices aren't shocking, the €999 starting price of the Galaxy Note 20 is definitely a shocker. Unlike the vanilla Galaxy S20, the Note 20 isn't expected to be a "true" flagship phone. Although it will be powered by the same Exynos 990 chipset in Europe as the Note 20 Ultra 5G, the vanilla model is rumored to feature a 60Hz display, a plastic back, and a less impressive camera setup.
The latest pricing leak also claims that the Galaxy Buds Live will cost €189 in Europe. Samsung is expected to unveil the Galaxy Buds Live alongside the Galaxy Note 20 series and three other new products at its virtual Unpacked event on August 5.
Get the Android Central Newsletter
Instant access to breaking news, the hottest reviews, great deals and helpful tips.
If we get 1449 Euro price tag for the 512gb version here (Ireland) then it is 130 quid less than the S20 Ultra 512gb

I wouldn't spend my money on any Android over £200 let alone the Samsung Galaxy Note 20, which just can't justify its price for such poor software support and with all of Android's shortcomings such as poor software support, apps not being optimised along with being more complicated to use. Only Apple will get my money when it comes to spending over a grand on a smartphone.

So why on earth are you even reading ANDROID Central?

I won't be reading Android Central for much longer and the only reason I'm still browsing on this pathetic website is because there's not much going on at iMore.

Beno, tell me im genuinely curious as you've mentioned this a few times? which bit of Samsung phones is complicated to use?

The edge function and anything beyond the basics are complicated on Android. Even a Pixel is harder to master than am iPhone.

Too funny. He says that Android is too complicated. With Android, you can get to your settings and among other things hella quicker than iPhone. Guess it is true, iPhone is dumbed down for the illiterate. With Android, you actually have to think of how you want your phone to function and make it the way you want it. Where as apple, you do what apple says. Sheep just follow with no questions. But got to admit, apple is actually finally catching up with some interesting features that Android long had.

He was the biggest Pixel fanboy and now he's anti android. Pay him no attention.

"He was the biggest Pixel fanboy" was is the key word but I was (and still am) an iPhone fanboy and have always liked iPhones more than Android but I was just kidding myself that I could love Android like I love iPhones, and feel I wasted 2 and a half years on Android. I just wish it didn't take me this long to realise that iPhones fit my needs better than Android ever could..so yeah I'm an iPhone fanboy and will always be, you can keep your nerdy, unoptimised, fragmented and insecure OS.

It's a bloody phone, I shouldn't have to think about it, geez you Android nerds infuriate me. I'm so glad I'm switching back to iPhone in a week on Friday now and I won't be browsing on Android Central anymore and the only reason I'm keeping my Android phone is because of the TV shows I watch, that's it.

I was but in truth, Pixels can't hide the shortcomings of Android, poorly optimised apps and fragmentation and while the Pixels are the most secure Android phones, they're still not as secure an iPhone and iPhone is still easier to use beyond the basics because iOS is about the user experience and ease of use.

Apple, design over substance, style over engineering, the Red Bull of consumer electronics...

Apple is ease of use over worthless specs and user experience and features to make the lives of consumers easier over gimmick features most consumers will never use.

You really need a reality check

No you need a reality check, Android is a money losing, insecure, fragmented, complicated, hot mess of an OS platform and always will be

Disappointed in screen and price. I'd been hoping to update from my Note 9.

No way I'm spending that much if it has an Exynos 990 - the Tab S7 is supposed to have the Snapdragon 865+ but not the Note 20 Ultra (in Europe) - very sad if true

Not hard to see why these phones will cost more than expected. We are still in a Pandemic. Prices are up across the board for Consumer Goods. For example, My local Grocery store is paying their staff hazard pay. The idea being, they'll continue to come to work with the extra incentive. But the customer is subsidizing that added employee expense via higher food prices. Imagine the manufacturering of a phone and it's supply lines. Is there not an added cost to doing business right now? Sure there is and we the Consumer will have to pay for it. Simple.

I presently own Note 10+ andwill sell it privately and buy the 256 GB version of the Note 20 Ultra. I'm 70, have more money than I need, so I'm not all that concerned about the price. Having bought my first computer in the early 1990s, the technology in these phones is amazing. I'll sell this Note 20 Ultra next year when the next generation is introduced and buy the next variant.

Mr Dave I'd love to buy that S10+

Quite disappointed the rumored specs for the Note 20 , if its true I would stay with my Note 10+
The ultra version looks very interesting but under the rumored price is too expensive!

You only live once. I'll be pre-ordering the Note 20 Ultra ASAP.

These prices show how arrogant Samsung has become. Every Note since the Note 9 has been a degradation. The Note 9 had everything a user could want. One by one, features have been reduced while the price has been increased. Samsung has come to take their loyal customers for granted. Hopefully, there will be an LG V70 coming in the near future so I can leave Samsung behind. LG respects their customers!

Good Lord, they are making it really difficult for me to stay on Android aren't they? The Pixel 5 is going to have an underpowered chip, the Note 20 is gonna be hella expensive while STILL cutting corners, and OnePlus...well I just don't really care for OnePlus. I might seriously be switching to an iPhone this year and I NEVER would've expected that at the start of 2020.

I love my Note 10+ 512 GB. I also paid a lot for the phone. I have no intention of buying another phone anytime soon. My current phone covers all of my needs. I can easily see myself using the Note 10+ for at least another 2 years.