Which phone are you using right now, and why? [Roundtable]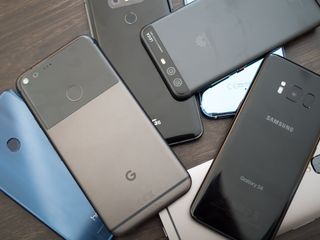 A perk of working for Android Central is that you get to use a lot of different phones throughout the year. Of course, we all have a favorite that we keep going back to or never want to switch away from. In that respect, we're just regular smartphone users like everyone else!
With 2017 almost half finished, see which phones the AC staff is using and why. Then let us all know which phone does it for you in the comments!
Russell Holly
I'm on the Galaxy S8 right now. The smaller one, since I don't need that extra tall mess in my life right now. The battery life is exactly what I need, the camera is exceptional, and while I'm not a big fan of disabling all the extra Samsung crud to get the experience I want, I found that process less tedious this time around. I love that I have wireless charging again, and once I found a "case" I liked for the phone it became the phone I reached for most often.
It's also a practical choice for work right now. The Galaxy S8 is soon to be the only Android phone with Gear VR and Daydream support, which means I can enjoy both and share those experiences with others. But if I'm honest, it's mostly because of the other stuff.
Jen Karner
I kinda fell in love with my Pixel XL back in December, and it's still my phone for the time being. Although, to be fair, the Samsung Galaxy S8 is definitely making me think that I might want to switch soon. The Pixel takes care of me in all the right ways, namely giving me access to Daydream, along with a great camera, and plenty of room for apps and games.
I haven't had any issues with my Pixel XL, and so far it hasn't let me down. I take most of my photos using my phone so having a device with an excellent camera is always on my mind. The big pull for me is really being able to use Daydream View with it. I always want to be able to access the best in VR, and for the most part, my Pixel delivers on that. Until the Galaxy S8 gets that feature, too.
Ara Wagoner
I'd love to say that the Samsung Galaxy S8 is my daily driver right now… but I can't put my AT&T SIM card in it, so I am dual-dailying right now. I keep the S8 for apps, music, gaming, and pretty much everything I do that doesn't require my personal SIM, which is in my HTC 10. I switched from the Pixel back to the HTC 10 for some irking little reasons, but now that there's an OTA beta for O out, I might stick my SIM back in there and dual-daily the Pixel and S8 so that I can play around with that.
I've loved the S8 so far, I'm even starting to get used to that stupid fingerprint scanner placement. My biggest issue with the phone so far are the weird bugs it's been having with Google Play Music, but I don't hold that against the phone… yet. Battery life has been steady, BT and call audio has been consistent, the camera is excellent. If I could stick my SIM card in it, it'd be the only phone I carry. And until it is, I'm gonna carry it around anyway.
Daniel Bader
I'm actually using a super secret phone that I won't be able to talk about until next week, but I really like it and I'm sure you will, too. Tease over.
Right before I switched, though, I was using the Galaxy S8+, which took over from the Galaxy S8 a few weeks back (yes, I have a problem). There are a few reasons I prefer the Plus, battery life aside: it feels like a small tablet, which means I have no issues at all watching TV shows, movies, and YouTube videos on the screen while traveling. I haven't touched a tablet since I began using it.
Ultimately, though, after all the nitpicking and minor criticisms over fingerprint reader placement and usability concerns with the curved glass, the Galaxy S8+ is just a competent smartphone. It does most everything well, better than the competition. I tried returning to the LG G6 for a few days after using the S8+ and just couldn't; it felt somehow incomplete and flawed.
I am not impressed that the Galaxy S8 series shipped with Android 7.0, though: I'd have liked to see 7.1.1 at launch. And I don't think the camera is quite as good as it could have been given Samsung's previous year-over-year improvements. But every time I stop reviewing it and start using it, I realize how much I enjoy using the Galaxy S8+, and that's a pretty steep hill to climb for a guy that uses dozens of phones every year.
Andrew Martonik
I've been using the HTC U11 since Google I/O last week. It's an "amazing silver" model that is, unfortunately, a Taiwanese review unit (network bands don't all line up with the U.S.), but despite a couple missing radio bands I've been sticking with it anyway.
After not really caring for the U Ultra earlier this year, I'm super happy with the U11 right now. The phone is beautiful and built with typical HTC solidity, and the company just continues to nail the basics like its build quality, buttons, haptics, fingerprint sensor, and speakers (no, I won't hear any more crying over not having the "old" BoomSound). The software is fast and responsive in a way that evokes memories of using the Pixel XL. And it turns out the camera is really good too.
The U Ultra's design feels a bit last-gen set next to the Galaxy S8 and LG G6, but that's not enough to put me off of a phone that's otherwise really great in daily use. I'll be sticking with it for a while.
Marc Lagace
I made the switch to the Galaxy S8 from the Pixel because new shiny things are awesome — though I'm tempted to switch back to the Google Pixel to check out the Android O beta. Samsung has sure made it tough to switch back to anything else, though, because the Galaxy S8 is the real deal. It's blazing fast, feels great to hold and the infinity display lives up to the hype.
Really, the only thing that's bothering me about using the Galaxy S8 is Bixby. I'd much prefer to use the superior Google Assistant, but I keep hitting the Bixby button on accident. I know there are apps and methods to remap the button, and Google Assistant is still accessible on the GS8, but I really fell in love with Google Assistant on the Pixel and really appreciate how Google built the Pixel's software around it.
Harish Jonnalagadda
I switched to the Xiaomi Mi 6 earlier this month, and I'm liking it a lot. The phone is a huge improvement over the Mi 5 in several areas, and the murdered-out black color option, in particular, looks great. With the Indian variant of the Galaxy S8 powered by the Exynos 8895, the Mi 6 is the first phone I've used that runs the Snapdragon 835. It definitely runs smoother than both the Mi 5 and Mi 5s, and the 128GB of storage gives me more than enough room to install all the apps I need.
The dual camera setup is a welcome addition, but more importantly, the main 12MP camera is leagues better than the Mi 5. The software situation has also been improved, with the phone running an MIUI 8 build atop Android 7.1.1 Nougat. The main drawback with the Mi 6 is that it doesn't have a 3.5mm jack, but I recently picked up a Sony MDR-1000X, so its omission doesn't annoy me as much as it used to.
Florence Ion
I still haven't switched over from the Pixel XL, but why bother? This phone has carried me through many a trying time, as well many an International trip. This thing is the second-most reliable smartphone I've ever carried — the first was the HTC Incredible, which lasted me a whopping three years of use. How apropos, then, that the manufacturing brains behind the Pixel XL is HTC.
Anyway, I know I'm kind of boring in my smartphone usage these days, but I've spent the last couple of years constantly switching back and forth between devices. And it's true that there are now more worthy Android-powered smartphones than ever, but when it comes to daily life, I just need something that's always ready to go when I am. Let's hope that Google's next smartphone release is just as reliable after eight months with it.
Jerry Hildenbrand
I'm using the BlackBerry KEYone. But because my "real" phone number is attached to Project Fi, I also keep my Pixel around. I'm just too busy lazy to port the number out and sign up for a new Fi number. That's like a lot of hassle and I'd have to do it because some of my people still (gasp) make phone calls. That's the number they have. It's cool tho, the Pixel is a really damn good phone too. #firstworldproblems
I just really dig everything the KEYone has to offer. Disable all the BlackBerry stuff (I just don't use it and hate to try new things) and it's close enough to plain-jane Android that I know where everything is and there's nothing getting in my way that I don't want. My needs in a phone are simple, yet I'm pretty picky and they have to be met: The phone has to have the latest software patch and not do secret things in the background that connect to some server from the company that made it. That's hard to find, unfortunately, but the KEYone does it.
And that keyboard. I'm a sucker for a good keyboard.
Your turn
You probably have a phone in your hand reading this! Jump into the comments and let us all know which one, and why you love it.
Get the Android Central Newsletter
Instant access to breaking news, the hottest reviews, great deals and helpful tips.
Florence Ion was formerly an editor and columnist at Android Central. She writes about Android-powered devices of all types and explores their usefulness in her everyday life. You can follow her on Twitter or watch her Tuesday nights on All About Android.