Which phone are you using right now, and why? [Roundtable]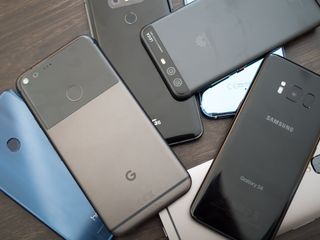 A perk of working for Android Central is that you get to use a lot of different phones throughout the year. Of course, we all have a favorite that we keep going back to or never want to switch away from. In that respect, we're just regular smartphone users like everyone else!
With 2017 almost half finished, see which phones the AC staff is using and why. Then let us all know which phone does it for you in the comments!
Russell Holly
I'm on the Galaxy S8 right now. The smaller one, since I don't need that extra tall mess in my life right now. The battery life is exactly what I need, the camera is exceptional, and while I'm not a big fan of disabling all the extra Samsung crud to get the experience I want, I found that process less tedious this time around. I love that I have wireless charging again, and once I found a "case" I liked for the phone it became the phone I reached for most often.
It's also a practical choice for work right now. The Galaxy S8 is soon to be the only Android phone with Gear VR and Daydream support, which means I can enjoy both and share those experiences with others. But if I'm honest, it's mostly because of the other stuff.
Jen Karner
I kinda fell in love with my Pixel XL back in December, and it's still my phone for the time being. Although, to be fair, the Samsung Galaxy S8 is definitely making me think that I might want to switch soon. The Pixel takes care of me in all the right ways, namely giving me access to Daydream, along with a great camera, and plenty of room for apps and games.
I haven't had any issues with my Pixel XL, and so far it hasn't let me down. I take most of my photos using my phone so having a device with an excellent camera is always on my mind. The big pull for me is really being able to use Daydream View with it. I always want to be able to access the best in VR, and for the most part, my Pixel delivers on that. Until the Galaxy S8 gets that feature, too.
Ara Wagoner
I'd love to say that the Samsung Galaxy S8 is my daily driver right now… but I can't put my AT&T SIM card in it, so I am dual-dailying right now. I keep the S8 for apps, music, gaming, and pretty much everything I do that doesn't require my personal SIM, which is in my HTC 10. I switched from the Pixel back to the HTC 10 for some irking little reasons, but now that there's an OTA beta for O out, I might stick my SIM back in there and dual-daily the Pixel and S8 so that I can play around with that.
I've loved the S8 so far, I'm even starting to get used to that stupid fingerprint scanner placement. My biggest issue with the phone so far are the weird bugs it's been having with Google Play Music, but I don't hold that against the phone… yet. Battery life has been steady, BT and call audio has been consistent, the camera is excellent. If I could stick my SIM card in it, it'd be the only phone I carry. And until it is, I'm gonna carry it around anyway.
Daniel Bader
I'm actually using a super secret phone that I won't be able to talk about until next week, but I really like it and I'm sure you will, too. Tease over.
Right before I switched, though, I was using the Galaxy S8+, which took over from the Galaxy S8 a few weeks back (yes, I have a problem). There are a few reasons I prefer the Plus, battery life aside: it feels like a small tablet, which means I have no issues at all watching TV shows, movies, and YouTube videos on the screen while traveling. I haven't touched a tablet since I began using it.
Ultimately, though, after all the nitpicking and minor criticisms over fingerprint reader placement and usability concerns with the curved glass, the Galaxy S8+ is just a competent smartphone. It does most everything well, better than the competition. I tried returning to the LG G6 for a few days after using the S8+ and just couldn't; it felt somehow incomplete and flawed.
I am not impressed that the Galaxy S8 series shipped with Android 7.0, though: I'd have liked to see 7.1.1 at launch. And I don't think the camera is quite as good as it could have been given Samsung's previous year-over-year improvements. But every time I stop reviewing it and start using it, I realize how much I enjoy using the Galaxy S8+, and that's a pretty steep hill to climb for a guy that uses dozens of phones every year.
Andrew Martonik
I've been using the HTC U11 since Google I/O last week. It's an "amazing silver" model that is, unfortunately, a Taiwanese review unit (network bands don't all line up with the U.S.), but despite a couple missing radio bands I've been sticking with it anyway.
After not really caring for the U Ultra earlier this year, I'm super happy with the U11 right now. The phone is beautiful and built with typical HTC solidity, and the company just continues to nail the basics like its build quality, buttons, haptics, fingerprint sensor, and speakers (no, I won't hear any more crying over not having the "old" BoomSound). The software is fast and responsive in a way that evokes memories of using the Pixel XL. And it turns out the camera is really good too.
The U Ultra's design feels a bit last-gen set next to the Galaxy S8 and LG G6, but that's not enough to put me off of a phone that's otherwise really great in daily use. I'll be sticking with it for a while.
Marc Lagace
I made the switch to the Galaxy S8 from the Pixel because new shiny things are awesome — though I'm tempted to switch back to the Google Pixel to check out the Android O beta. Samsung has sure made it tough to switch back to anything else, though, because the Galaxy S8 is the real deal. It's blazing fast, feels great to hold and the infinity display lives up to the hype.
Really, the only thing that's bothering me about using the Galaxy S8 is Bixby. I'd much prefer to use the superior Google Assistant, but I keep hitting the Bixby button on accident. I know there are apps and methods to remap the button, and Google Assistant is still accessible on the GS8, but I really fell in love with Google Assistant on the Pixel and really appreciate how Google built the Pixel's software around it.
Harish Jonnalagadda
I switched to the Xiaomi Mi 6 earlier this month, and I'm liking it a lot. The phone is a huge improvement over the Mi 5 in several areas, and the murdered-out black color option, in particular, looks great. With the Indian variant of the Galaxy S8 powered by the Exynos 8895, the Mi 6 is the first phone I've used that runs the Snapdragon 835. It definitely runs smoother than both the Mi 5 and Mi 5s, and the 128GB of storage gives me more than enough room to install all the apps I need.
The dual camera setup is a welcome addition, but more importantly, the main 12MP camera is leagues better than the Mi 5. The software situation has also been improved, with the phone running an MIUI 8 build atop Android 7.1.1 Nougat. The main drawback with the Mi 6 is that it doesn't have a 3.5mm jack, but I recently picked up a Sony MDR-1000X (opens in new tab), so its omission doesn't annoy me as much as it used to.
Florence Ion
I still haven't switched over from the Pixel XL, but why bother? This phone has carried me through many a trying time, as well many an International trip. This thing is the second-most reliable smartphone I've ever carried — the first was the HTC Incredible, which lasted me a whopping three years of use. How apropos, then, that the manufacturing brains behind the Pixel XL is HTC.
Anyway, I know I'm kind of boring in my smartphone usage these days, but I've spent the last couple of years constantly switching back and forth between devices. And it's true that there are now more worthy Android-powered smartphones than ever, but when it comes to daily life, I just need something that's always ready to go when I am. Let's hope that Google's next smartphone release is just as reliable after eight months with it.
Jerry Hildenbrand
I'm using the BlackBerry KEYone. But because my "real" phone number is attached to Project Fi, I also keep my Pixel around. I'm just too busy lazy to port the number out and sign up for a new Fi number. That's like a lot of hassle and I'd have to do it because some of my people still (gasp) make phone calls. That's the number they have. It's cool tho, the Pixel is a really damn good phone too. #firstworldproblems
I just really dig everything the KEYone has to offer. Disable all the BlackBerry stuff (I just don't use it and hate to try new things) and it's close enough to plain-jane Android that I know where everything is and there's nothing getting in my way that I don't want. My needs in a phone are simple, yet I'm pretty picky and they have to be met: The phone has to have the latest software patch and not do secret things in the background that connect to some server from the company that made it. That's hard to find, unfortunately, but the KEYone does it.
And that keyboard. I'm a sucker for a good keyboard.
Your turn
You probably have a phone in your hand reading this! Jump into the comments and let us all know which one, and why you love it.
Marc Lagace was an Apps and Games Editor at Android Central between 2016 and 2020. You can reach out to him on Twitter [@spacelagace.
Me too! Not a single complaint either.

OP3 here too .. my next phone will have a bigger screen though which most likely means not an OP5 ..

It's what I'm still using too, and it's looking less and less likely I'll upgrade... Hopefully something will pique my interest though... Or maybe I'll just upgrade for the sake of updates when it's all but abandoned next month lol.

Blackberry Priv. Been rocking this for two years and has been rock solid. Use the PKB heavily for texting, emailing and communication. Love having the slider form but the Classic and Bold 9900 were my faves. Will definitely check the KEYone out when it arrives. Not sure if I will be able to let go of my trusty Priv. Battery has lasted through a work day quite easily with lots to spare by end of day.

Me too...BlackBerry Priv.

OP3T, the best android phone so far...

Axon 7 - the OP3 for people who thought front-facing speakers would be cool. And they are cool indeed. Now if I can get over my OP3 software envy...

Same for me, I love this phone.

Been using Moto G5 Plus for a little over a month now , for the price I paid this phone is amazing .

Love that phone! It's like a flagship but at a budget price and Moto Actions are as always, the best.

OnePlus 3T. The things that stand out vs something like the Pixel would be that I like the fingerprint scanner on the front and the capacitive buttons. I also like that is isn't ugly and still runs mostly stock looking UI. It can also be easily bootloader unlocked and rooted which is a requirement of mine. It has WiFi calling on T-Mobile as well which is a must for me but seems to be getting included in a lot more unlocked phones now.

+1 One Plus 3T
Similar specs for less. I am now a firm believer on: Why spend $700+ on a cell phone when you can spend $439. That 1 feature it may be missing is not worth $300 - $400 extra. Remember, you're going to break or lose it anyways! And don't even get me started on the service plans. If you're not on a budget, prepaid, mvno, or similar plan, you might as well piss on another $500 per year. ITS THE SAME SERVICE!

Didn't they EOL it today? I know ROMs but still.

No, they're discontinuing sales, but it's not end of life, and apparently support will continue. Allegedly, at least... How many updates it will actually see after the 5 is released is questionable.

same here only got mine a month ago (I know the new one is around the corner) but love it! amazing bang for your buck phone! :)

I miss my Note 5. Currently using my regular #galaxyS8

Same here, Note 5 Dual Sim version, best phone I ever had

Moved from OP3 to Note 5 because of horrible camera on OP3. Note 5 rocks.

I dropped my Note 5 in water and it never recuperate. Until Note 8 goes on sale, I am using my Samsung Gear S. Poor Note 5, too many fall on concrete, it lost his IP67

Note 5 for me as well. Does everything I need and more.

HTC 10 ... Just one thing about it that I don't like is: capacitive buttons

One of my favorite features... I hate onscreen buttons and the way they move all over and disappear.

I love the on screen buttons on the m8, when I use it. But I'm ok with the 10s buttons, since it's HTC doing it.

I've been using the 10 since launch and I have been so pleased. I told myself, oh I won't need to upgrade for a couple of years. I love this phone. Then that damn U11 had to come out... Need I say more!

Also using HTC 10. Great audio and screen size for me.

Quintritto?! Years-old argument, but imho if you're going to have a chin like the 10's put it to use and stick the cap buttons there. Why waste screen real estate on buttons? The only advantage I see is being able to program button configurations, and I'd only use that feature on a Samsung. Now, if the lower bezel is too small liked the G6 and S8, then yes, you have no choice. Loving my HTC 10. I'm an engineer and it just appeals to my engineering mind: incredibly well-built, smooth operation, reliable as a tank. Form and function in balanced harmony.

The s8. The Infinity screen 5.8 looks beautiful running blackberry launcher/apps

Moto X Pure cause it was the cheapest replacement when we had to turn in our Note 7s. Have a BOGO offer waiting for when the Note 8 his this fall. Used to love Moto, then I used the Note 7 for a month, this has been a long year of using what isn't a bad phone, but not as good as what I would of had.

Yea I'm in the same boat pretty much. I'd still have the Note7 with out a doubt if I could, but unfortunately, boom and all.. I bought the OnePlus 3T to get the most bang for my buck until the Note 8 arrives. Although I really really miss a phone with a stylus, I am willing to let that go if I manage to get my hands on an affordable phone with great specs, but also a bezel-less front (every side of the phone being bezel-less...)

Honor 8. Cheap, good performance and (so far) more reliable than my old Samsung S7.

Same. I picked one up on sale for like $225 about two months ago (not long after the Nougat update that fixed nearly all of my biggest complaints about EMUI). I had been using an Mi 5, but the Nougat OTA from Xiaomi introduced a ton of showstopping bugs, so I just couldn't stick with it any longer. I was considering a OnePlus 3T, but at less than half the price of the 3T the Honor 8 was too good to pass up. There are certainly better phones out there, but not unless you want to spend $500-700.

Where did you find an honor 8 for 225?

G6 for me.. Curved edge screens need to go.

I'm with you. I've not likes one yet that I've held. I think it's the cool trend right now.

Add one more. I'm not an LG fan, but I'm loving the G6. Coming from a Moto X Pure Edition this thing seems more like a 5" phone with a big screen stuffed into it.

G6! Love this phone. But before clicking the article I said to myself it's gonna be an s8 suck off article.. bleh

So Daniel Bader is possibly using the OnePlus 5 or could it be Essential?

+1 on the OP5. And 3T daily for me!

Same here! The 3T is the best smartphone currently on Android when factoring in everything, including software and price IMO

Too bad I missed whatever you said.

brb, filing FOIA request.

Hopefully it's the essential. Don't care a bit about OP5.

Probably Essential, since 1+5 will probably hit later than next week

LOL. Oh hell no. You can do better :P

Nexus 6p. Takes phenomenal pictures and is great size. Holding out for Pixel 2.

I'm with you, can't find anything that is £600-£800 better than my 6P on the market.
Also just got Google to RMA it due to the dying at 45% issue so it's like new 😁

Yup same here. 6P all the way, especially after Google replaced mine outside of warranty too. No more dying battery issues

I might need to check into that, that's one of the reasons I'm looking for another phone.

Yep, I'm on 6p #2 as well after an RMA due to battery issues. Google was great about sending a refurb, and this phone has been rock solid ever since. I have been babying the battery by keeping it between a 20% and 80% charge most of the time. After 6 months of using the refurb the accubattery app still shows my battery to be in pristine condition, so I guess it's been worth the hassle. I haven't tried O yet, but I love knowing that I'll get it the moment it's available. The fact that the S8 shipped with only 7.0 is absurd. I'll never go away from a Nexus or Pixel phone at this point.

Got me a Nexus 6p with Pixel Mod! Who needs a Pixel?

It's still my main phone too. The camera quality is what keeps me from switching / upgrading. Heck of a value at $500 nearly 1.5 years ago.

Im using 6P and it is a complete garbage. Waiting eagerly for Note 8 to get rid of this trash. It is giving me headache with the crappy camera, random restarts and freezes! Im totally done with google and all its bullshit

Moto Z Play. Decent camera, virtually stock Android, good performance, Moto gestures, MODS and insane battery life. Very disappointed that Moto's 2017 offering of the seem is going the way of a much smaller battery...

+1. Best phone I've ever owned. It's a shame what they're doing with the 2017 version. Don't see me upgrading.

Everyone has priorities. My #1 priority is battery life. Z Play with a battery mod is a runaway winner for me. All of my secondary priorities are also met. I let others worry about what a phone "looks" like. I have a worry-free tool that does everything that I want...and does it for DAYS without charging.

Ditto. One of my favourite phones to date.

I really wish I'd picked on up last month when they were giving away a JBL speaker Mod with every phone!

I got it with the speaker and the leather backplate for only 410, taxes included.

I'm currently using the Nexus 5X only because my Nexus 6 finally conked out. Saving for a BlackBerry Keyone

N6 here. Still running fine, but battery life and lagging has exponentially increased the last couple months :/ Waiting until late fall to get a new phone. So many phones I'm excited for! Essential could be an awesome phone, or the 1+5 should be coming out soon. I'll probably wait until the mate 10 is announced to get a new phone

My Nexus 6 is still my daily driver. It still works and does everything I need. The Nexus 6 still has really good front facing speakers and I like the size of the screen.
The camera isn't that great and I wouldn't mind a fingerprint scanner, but mine still runs smooth. I'm also liking what I hear of the OnePlus 5, I'm just worried about software support. I'm also curious to what Google has planned for the Pixel 2.

Nexus 6 still running great duh, love it, i've been using it for 2 years, still fast, some lags once and a while but it's fine. Next up is a Oneplus 3T.

Nexus 6p holding out for U 11, Pixel 2, or One plus 5. Also the keyone is interesting, never had a QWERTY phone before.

The somewhat diversity in phones is interesting to read. I guessed before reading that most of you, if not all, will be using the S8s, aside from maybe Jerry.
But wait, what is Alex using? I would love to know that too. As for me, not even using an Android phone currently. Taking a break for a bit.

I'm still rocking the Nexus 5x. The first three months with the phone sucked because of driver issues. I had to get it replaced right before the warranty ran out because it had a boot loop. This new one runs great, though. I'm waiting for the new OnePlus phone.

Me too I'm using a 5x on Project Fi and for the money I have no complaints. Will upgrade when second gen Pixels are released.

Galaxy s8 plus nova launcher

Pixel w/Nova. Because it will outlast all other phones and is the most secure. I keep my phones for 3+ years

I'm still using my Moto Nexus 6, because why not? Other than the camera and lack of fingerprint scanner I don't feel the need to upgrade. Depending upon what Google does with the Pixel 2, I may wait until next year. I obviously hold on to phones a bit longer than most.

Moto X Pure w/Nova. My only complaints are battery life and a really picky USB port.
Oh, and the fact that they have yet to deliver on their promise of Nougat.

My wife is using the Moto X Pure w/Nova, a dozen persistent SSH tunnels, and a load of other software. She's on the phone 5 hours a day and reads books and news on it for hours. When she goes to bed, the phone still has 50% charge. You may have a misbehaving app, (or a bad battery). Also, waiting on Nougat.

Unlocked LG G6. I hopped to it since the B&H deal was too tempting to pass up and I wanted to move on from my iPhone 7 Plus. The G6 is a good phone, but there's nothing that really wows me about it. I'm already looking forward to moving onto the U11 once my preorder arrives.

Using the LG G6 for about a month! Picked it up on AT&T for 50% off. The excellent camera, solid build quality, and awesome battery life. The incentive of a free Google Home was too good to pass up. And with the improvements coming to Google Home in the next few months, its going to be a must have.

Same here, love the phone and the free stuff

Pixel XL. Fast, smooth and stable on Android O. Camera is still legit.

Mate 9 and LG G6.. love the Mate 9 battery and radio. I keep coming back to the Mate 9 for my daily driver.

Seems great, should be getting a new phone this year and if the mate 10 is as sexy on the inside and outside as the mate 9, could be my new runner

Love my Mate 9 that replaced my bootlooping Nexus 6p that replaced my bootlooping LG G4.

Mate 9 here as well. Brilliant phone. Fast, astounding 2 day battery life, also charges quickly. Fingerprint scanner works first time. Proper amount 64GB of storage, so no messing around with moving to sd card. Ideal sized screen, thin enough body. Nice weight. Came with fitted screen protector and case.

LG G6. Moved back to Android after 3 years with a Nokia Icon (don't judge...) Still trying to find a launcher I'm happy with (although I read that there was a way to bring back the app drawer, so I'm going to try that this weekend). The Wide Angle lens sold it for me. So happy with it!

Have you tried the Action Launcher? I use the paid version and love it.

That's on my list to try! I figured I'd mess around with a few over the holiday weekend.

Add Nova to your list. (that's from another Windows refuge)

If you go in your settings display home screen you can change to the LG option of home and app drawer. That is the one you want to get your app drawer back. If you don't see it then you have to update the LG apps and then you will be able to see it.

Thank you, that is very helpful. I'll try that.

Action launcher is great ;) convinced a friend with the v20 to try it out, she loves it

Lumia 730 still going good :P Waiting for Nokia 9 :)

LG v20 ftw and small pixel and axon 7 daily switching

Hell yeah for the LG V20!

I am also using the v20. Mainly for the DAC.

DAC O MATIC Geez , bought the V20 for removable battery and flat screen .. but stayed for the DAC and such . LG was ahead on some smaller things that round ..fingerprint sensor, buttons, dual camera ..oh and shipped with Nougat . Kenny

V20 has been great for me. If I have an issue with battery, I can always pop out a new one or even get an extended battery and case for it like I have on it now. Removable battles are unfortunately going away with the dodo bird, but I try to get a phone that has one. BTW, no boot loops either has been a big plus for me.

I am back to using my really blue Google Pixel after using the Samsung Galaxy S8 for a short time. For the the Pixel is just better overall.

I returned my GS8+ and went back the Pixel XL. GS8 was laggy as hell. Unacceptable for a 2017 bleeding-edge flagship.

That was my thought exactly. I do not the edge screen either.

That's Samsung for you. Touchpiss is still a bloated mess after all these years

I am still using my Nexus 5X, and waiting for the Pixel 2.

LG V20 and Nexus 6p: I've been using both these phone of and on for the past 4 months. The V20 has plenty of ram and storage space also the HiGh Dac sounds great with ear buds. As far as the Nexus 6p I use it to test out roms and the fact the phone comes unlocked which gives me the freedom to try out other cell carriers.

I've got the LG G6. So far it's been almost a month and I'm loving it. I've already used it underwater and it's great. Now I would like to get the Note 8 when it comes out but I'll wait until then

Nexus5 since day 1. I might get Pixel 2 when it comes out.

GS8 here. I've been an LG guy for years. This is my first Samsung device and I'm loving it.

Moto g5 plus ftw. This phone does everything u need for like less pricing than the fancy flagships

Unless what you need is reliable software updates.

Rocking the s8+ exonos model.. up from .. an s4😣

I have been using the Asus Zenfone 3 Zoom for the past week and a half. It's been great so far. I love not worrying about my battery. I do a lot of photos, emails for work and can go two days before I need to top off.

6p still does more than enough for me. Still a Great phone

Moto X Play, and it's been a good run - love the battery life and the Moto Display.
But I still heartbrokenly miss my Nexus 4 - best phone ever imo.
Later this year I might get the OnePlus 5

HTC 10, still smooth as day one and plenty fast enough. No reason to switch and pay$ just to be latest and greatest because the 10 is still the greatest in all regards for me.

Rocking a Pixel in Black b/c i don't like white fronts on my phones and the Pixel is exactly what i need. Great camera and very efficient processing. I wish i had spent the extra for 128GB, but i'll live. The Pixel checks all the boxes for me: manageable for 1 hand, great camera, a full days worth of power, updates, snappy, stock Android, unlocked, and fingerprint scanner on the back.

Galaxy Note 5, Android 7.

Nexus 5X because I can get the latest Android and it didn't cost a fortune. Android O beta running very nicely.

LG V10 user here. I'm ready to switch to the Blackberry KEYone whenever T-Mobile picks it up officially.

I have the v10 as well. I'm waiting to see what the OP5 or v30 has to offer. If you find yourself getting bored with the v10 you can do what I did: get a wireless charging back, wireless charger, a new case and a new icon pack. It feels like a new phone to me and my desire for something new has died down a lot.

I actually got a wireless charging back and the like when I got it. Now I've switched back as the attaching points have all broken off from tons of use haha. I'm going to keep my V10 as a backup phone for sure now that I've bought a fresh battery (my third).

I switched from V10 to KEYone on Monday and it's great!

Oh yeah?! Do you see much of a step down in camera quality from the V10 to the KeyOne?

3T and I love it. The 5 is going to have to do something amazing for me to upgrade. Which I doubt. If it is waterproof and has wireless charging, I'm in. If not, I'll stick with the 3T.

My first mid range phone, Axon 7, great sound, quick, satisfactory camera. Can't see me paying premium rates again.

This article probably has the longest byline I've ever since, wouldn't it have been easier to just put like Android Central or AC Crew or something like that? And I'm using a Pixel XL right now and a Moto Z

I tried :) In my notes to pass on to the tech team.

Note 4 holdout here. Still checks all my boxes, and since I'm out of contract I can change carriers all I want. Always $20 away from the "brand new phone battery life" feeling. Eventually it'll get too old but it doesn't feel like any time soon. :) I have to admit that the S8+ came close. As did the V20. If someone else combined a replaceable battery with a Wacom-quality stylus the rest would probably be all about shutting up and taking my money...

Galaxy Note 4, because I had two S8+ with the restarting issue and decided to return it for refund

Moto Z. Fast, snappy, awesome software.. and Mods.

Nexus 6p started dying out at 15-30% reported battery life, so I got a 5x to put my project Fi sim card and hold me until the next big splash (which I suspect will be a Pixel 2 or something). Other SIM card was in a Moto X Pure, but since that phone is never ever getting a Nougat update (AC was fooled by Lenovo into believing that it did, I switched out of frustration to one of the most hated devices out there, the HTC M9 (hey, at least it has Nougat).

I'm all about bang for the buck. I won't spend $500+ on a phone. Loving my ZTE Axon 7 Mini. Does everything I need of it.

S7, I've used this phone longer than any other. If Samsung doesn't release a flat flagship phone in the near future I'm getting an LG or Motorola next. I got this phone for the improved low light photography, water resistance, and it was smaller than my previous Notes. Was a good idea for summer time.

HTC 10, happy user, more than 3 hours at day of music, podcast and videos, good audio is vital for me, "small" screen and solid construction

Nexus 6 on a 7.1.2 custom rom because age hasn't dimmed its big beautiful display or slowed it down and because it looks better than ever with a Substratum black theme on it. Oh, and then there's its blunt instrument capabilities. Try boppin' a bad guy with one o' them shiny, skinny Samsungs and see where that gets you!

What ROM you running? Lineage here, and I'm getting quite a bit more lag than I'd like. Battery life also sucking

You should try Dirty Unicorns, it's a very stable and fast ROM (7.1.2) with great Substratum support
https://download.dirtyunicorns.com/shamu/

The only Marshmallow ROM I used for longer than a few days was DU, but with Nougat everything seemed vanilla and I had so much lag. I'll check them out again...

Nexus 6. Why? - I was looking for a phone to replace my Nexus 4 that I had been using for 3 years, and I found a deal for a brand new Nexus 6 for only $185. This was at a time when the Nexus 5x cost $350, and it was less than a year after the Nexus 6 debuted at a $650 pricepoint. It allowed me to move from T-mobile to Project Fi which gave me better coverage (due to the inclusion of Sprint and MetroPCS networks) and at the same time saved me about $10 a month on my bill. I'm seriously paying ~$25 a month for coverage and speeds that rival or beat Verizon and At&t in my area. And the initial price of entry was just $185, no contracts. Usually you'd be relegated to budget phones and spotty network coverage at those prices, so I'm pretty happy with the value.

I have a Moto Z Force Droid and love it! Sure, the name is too long and I guess it's just not cool anymore but these are the reasons I love this phone:
- The screen is not glass so it will not break like every other phone except the Droid Turbo 2.
- The battery life is excellent
- The camera is excellent, yeah, GS7, GS8, and Pixel are rated higher but not by much
- Moto Mods are great! I love my battery that I can slap on for any extra 2200mAH at any time and it adds wireless charging. I also have the car mount which is the best car mount I've ever used. It makes it very easy to mount and dis-mount the phone with one hand, with 1/8th inch stereo and charging connections too if you want to use them. More Moto Mods are on the way.
- This phone is fast! Very fast! I know, it's not a Snapdragon 835, it's not even an 821, but it's just fast. After I got it I did some searching. As it turns out it was about the fastest Android phone out there at the time it came out. It was notably faster than the GS7 - with faster graphics and faster flash storage even though it uses the same graphics hardware and flash storage chips. Moto was using newer graphics drivers which obviously helped it in that area but they (I think it was either arstechnica or anandtech) couldn't figure out why the storage performance was so much better.
- It has a MicroSDXC slot like all phones should
- Unlike Samsungs it supports Adoptable Storage like all phones should
- It was one of the first phones to get Android 7, not long after the Pixels and that LG V20.
- It supports DayDream View - first non-Pixel phone to do that
- The phone just works great! It's reliable, it runs my apps perfectly and i even thing it looks cool - maybe I'm the only one who does! :) I believe the Moto Z Force Droid is the most under-rated phone right now. I think it should be pushed as much as the GS8 or Pixel because for basically all practical use cases it will work just as well and you don't need to worry about a case or screen protector.
I have had number of Moto's before this, then an LG, then a Samsung for a short time. I'm glad to be back on Moto. This phone is great!

I agree that the Moto Z Force is an under-rated phone, the usability of the phone with the Mods is truly a game changer. Yes, the Mods are bit over priced, but that was off-set by the cheaper price of the phone. I have more fun with this phone. while never worrying about battery life- an awesome combination.

HTC One m8, Because I've been too cheap, and poor, to upgrade. Plus, it still works great on LineageOS.

Pixel XL for me. It's a great phone with build quality typical of hTc. It's super fast with a fantastic camera and Android O Beta seems to run pretty much perfectly on mine. That I get unlimited full-resolution photo and video storage is also a massive bonus (about 3000 photos and a couple of hundred video clips since release)!

I'm using a Xiaomi Mi Max because it's huge so I can read and type on it easily.
And it's cheap, so if it ends up taking a dive with me like the last one, I won't feel too much of an idiot.
It's a pleasure to use: fast (2xA72), looks good, has all the amenities (TouchID, FM radio, SD slot + 64GB Internal flash), long-lasting battery.

Moto z play verizon. Awesome battery! Not the best but good all around phone. Very simple and reliable I also love that the only photo gallery is Google photos since I have everything Google

My Lumia 520 becomes dead, so I switched to android and currently using samsung galaxy j7. Affordable and good. Running marshmallow 6.0.1

Rocking the LG G6, because i'll be damned if i pay almost twice as much for a S8! Plus it's a great phone.

Google pixel. Excellent phone, solid battery, awesome screen and super snappy performance.

I'm using Samsung S8+. Coming from an LG G3, it's a major change which is nice. All the new features is awesome!

Moto Z Play. Big screen and I will never, ever settle for a phone again that does not give me at least 2 days on a charge like this one does. Three days if I attach the Moto mod battery, which can also be charged wirelessly, even while not attached to the phone. That plus the turbo charge means that I rarely ever plug my phone into a wall charger. I have no patience now for phones that need daily charges or worse, multiple daily charges.

Isn't freedom from battery anxiety liberating?👍

BlackBerry DTEK60. I just want to feel secure, and BlackBerry does exactly that. Really loved my Passport, but we all know that BB10 is a dead end street. When I needed to upgrade end of last year, the KEYone wasn't (and still isn't) available yet here in the Netherlands. So I chose the all touch device that gave me the most secure feeling. And I have no regrets at all. Great device...

LG G6. Love the camera, not much of a Samsung fan, and stuck on JoD on TMo. Hoping for carrier variant of the KEYone because dat keyboard

Idol 3 for almost 2 years, still looking although I need an new phone at this point.

Google Pixel, because it has been the most solid for all of our IoT/Home Automation stuff. Geo-fencing with Nest, August, IFTTT, Wemo - all of it has been much more reliable on the Pixel than the other phones I've tried using.

Sony Xperia XZ. My HTC One M8 was nacked. Great battery and fast enough for me, the speakers aren't as good as the HTC.

Back to LG G2, cuz my LG G3 fried/died. I saved upto buy Oneplus 3T but it won't be the latest and greatest in a few days, so i'll buy a Xiaomi Mi 5 now to save me some money and then Buy the Oneplus 5 in a few months when it becomes available in my country. Win Win.

S8, proudly. Samsung just kills the hardware every time out. And the software is much improved. Great battery life and a futuristic design.

You call the soap bar look a futuristic design.

HTC 10. It does everything right, and sound quality is crucial for me. I'll wait to see what the LG V30/Samsung Galaxy Note 8/Apple iPhone 8 look like.

Thanks, I was wondering how they were holding up, I really want to pick one up.

No problem. Mine is holding up great - it's battery capacity has dropped to about 2,582 / 3,000 mAh, but aside from that, it's smooth and operates well. I've had it since last August.

I'm still using my Moto Nexus 6, because why not? Other than the camera and lack of fingerprint scanner I don't feel the need to upgrade. Depending upon what Google does with the Pixel 2, I may wait until next year.

Brave! I love my N6, but it's becoming old (surprised it's lasted this long) and I'm ready to move on

It still works and does everything I need. The Nexus 6 still has really good front facing speakers and I like the size of the screen. I'm also liking what I hear of the OnePlus 5, I'm just worried about software support.

Still using my 5 month old Moto G4 plus. Won't buy a G4 Plus because they reduced the screen size.

Still sledding with the HTC M7

One of my all time favorites!

OnePlus 3t! Love this phone.

Galaxy S7. No phone has felt better in hand for me than this phone has. It looks sharp and is running Nougat perfectly well for me. I plan on sticking with it throughout 2017.

Note 5 until the now 8 is released had to suffer threw this one because I had to return my Note 7 r.i.p.

I am currently using a Samsung Galaxy S7 Edge. I really do like this phone, but to be honest I prefer Windows Mobile. I had had Windows phones since the beginning.. My last phone was the Lumia 950XL. I lived it, but Microsoft crapped the bed on the OS.

Just switched two days ago from my Galaxy S7 to my new BlackBerry KEYone. Loving the mix of new school and old school!

Moto Droid z Force Edition using mostly because of Verizons rotten upgrade policy which make you use your update even when paying full price.

Moto X Pure Edition. Still not sure what I'm getting next though. I'm keeping my eye on the OnePlus 5 and the next Moto X news but hoping for something new pretty soon...

G6 not one complaint about it yet.

Using the Nexus 6P because of Project Fi. Can't bring myself to spend the big $$ on the Pixel XL. I will wait to see what the next Pixel has to offer. I wish Google would open up Project Fi to more smartphone brands. They could make some big money with more subscribers. BTW, I am currently running on the Android O beta and there are no battery issues.

Nexus 5X...because I can.

LG G4 that I've had for a year and a half now. I've never had the bootloop issue that other G4 users report. But it's battery life has been less than stellar considering that I'm a very light phone user. I got it because I had the G3 before and it was a decent phone> Verizon had a promo where they would forgo the remaining time on your contract if you were within a few months from the end so I traded up.

Got the same deal. Still on my G4 as well. Haven't really seen a phone that makes me feel any need to switch.

I just side-upgraded this week from an S7 to an LG G5 because I'm trying to leave Sprint and it got me out of my lease with the S7. To top it off Best Buy had the G5 stupidly cheap and it saved me $250and now I own the phone. Two things I like better than the S7. Battery life, both using and standby is better than I ever got with the S7. This G5 goes hours before it will drop a single percentage sitting unused. My S7 used several​percent an hour sitting unused. The other thing, less bloat. There's way less to disable on this LG. IDK if I'll stick with LG but getting last year's flagship for $170 new was a steal.

The pixel. I love my baby so much

I'm using the pixel because it's a stock android..its a powerful phone but what phone isn't lol.

Well, I regret to say that I am still using the LG G4 as my daily driver. After boot loops and lag, I want to be as far away from this phone as I can! Ha! Looking to upgrade to the Samsung Galaxy S8 within the next month or so...If I can get a good deal on it :)

My g4 was okay, but the software was ugly and buggy and when it bootlooped I was happy to get rid of it.

Axon 7. Gorgeous phone, fantastic screen, software is mostly great (running with as many ZTE apps replaced with their Google equivalents as possible), update frequency has exceeded expectations. It was just shy of $400, and performance wise if find circles around my buddy's S7edge. My only real want from the Axon 8 is water resistance, that would make it essentially perfect.

Still love the 6P and with Fi there really are no other options. I really wish Fi would expand the phone range so any phone could be activated on the network without compromise.

Currently using a Nexus 6p I had the note 5 previously but got the nexus for a change waiting on the Pixel 2 as the original Pixel did not pull me in

Still using S5 because it works, has ANT+, battery life is good and unlocked. Got note 7 for wife and waiting for Note8. Note7 still still kicking but without sim.

Daniel... might have the New Samsung Galaxy S8 Active..... Im still rockin an LG OPTIMUS G PRO, ...

MS 950, sold the XL.
Bought the MS 950 XL got the MS 950 thrown in.
Android started feeling like doing beta. all. the. time.
Switch to a Pixel for variety every now and then.

Xperia XZ
Lays flat so it doesn't wobble when I press on it. And nobody else I know has one.

M8, still. Got 3 potential replacements, went back to the M8 each time. U11 will replace it soon though :)

OnePlus 3 because it still rocks and probably, -most likely actually- I'll keep it throughout this year.

S8+ because my 6P battery issues and it's been impossible to get a Pixel XL. There are things I love about this phone and things I hate about this phone.

Axon 7. Great mid-range phone, good battery life. The one thing I don't like: Accessibility settings don't stick. (resets when you open from lock screen)

Moto Z Force Droid or Moto X Pure Edition.

LG V20. Big QHD screen, removable battery and amazing camera.

One of the best phones for your money right now. I rock a LG V20 as well. Not one complaint.

V20 is definitely one of the best I've ever owned. The audio is the best out there as well.

Galaxy S5 running LOS 14.1.

Samsung S8 Plus because the screen is great, the battery life is tremendous, sd card, water resistant and plain and simple the Samsung Galaxy S8 sets the standard for all to follow. Nothing comes close period!

I'm using the S8+ for the screen size and extra battery life. I absolutely love Samsung Pay and I cannot switch back to using the chip reader anymore after discovering Samsung Pay last weekend.

Samsung S7 Edge...holding out for a Pixel 2 or Note 8

Note 5, but will upgrading to S8 plus

HTC 10 best phone I've ever owned. Upgraded from the HTC one m8. As to the why, owned a lot of Samsung devices and I've was never happy. I'm always happy with the signal and any operation of my HTC devices. They never get slow over time. There software tweaks are just enough to keep them running smooth for years. I still use my m8 for music and surfing, when I kill the 10s battery, which is extremely hard to do.

Note 5 no reason to upgrade.

BlackBerry DTEK60...'cause nothing can beat a BlackDroid.

Still on the M8. I don't upgrade every year, but there was nothing that was compelling enough last year for me to fork out $600+. I absolutely have to get a new phone this year as the M8 is at life end. Based on initial reviews, the U11 will be an excellent choice. I thought of holding out to see what the new Pixel(s) will look like, but I don't think my phone will wait that long, nor my pocketbook afford the (anticipated) extra $150 - $250 premium over the U11.

Honor 8. Fits my hand, it works, and looks great.

OnePlus 2 because I had to spend the money I saved to finally replace it on a new laptop, but hopefully I won't have to suffer with it for too much longer. I'm waiting for either the Honor 9 or Moto X and will pick between the two based on pricing/reviews. Although, I've also considered waiting to see how low the price of the smaller Pixel gets after the follow-up comes out.

LG g5. I know it gets a TON of hate but I love the great optimization. Its camera is great, especially if your good with manual mode. I actually like the build when paired with a case that I use anyway. It's also not slowing down. It is faster then when I got it and I know a lot of people can say that like oneplus users but this flop treats me well.

Sony XA1... since I only use phone for pics, text, email and Facebook, no need to get a flagship, but I wanted a good camera. This fit the bill and didn't break the bank.

OnePlus 3T .....fastest Android phone I've ever used.

I forgot to mention why. It's because I wanted a bigger phone and this is the one I got and I really can't afford a newer one at the moment.

S8+ because it's the best phone available.

Samsung S7, as my BlackBerry Classic wasn't very good with Android apps, lol. However, the S7 will be relegated to my spare phone once I pick up my KEYone next week. After using BlackBerry phones at work for the past 15 years, I still really miss the keyboard and I'll get to use all the apps that were unavailable using BB10.

I am using the S4 because my Note 4 is at Samsung for repair. I am holding out for the Note 8. I had the Note 7 (2x).

I'm using the Pixel XL right now and I've been using it 95% of the time since it launched. I just haven't found a good enough reason to switch to another phone.

I'm still happy with my Nexus 6P! Running "O" beta.

I've been really enjoying my Motorola Droid Force for he past year, but I really, really want to switch to the Blackberry KeyOne when it comes out. I miss Blackberry!

Huawei mate 9 currently with Nova launcher to boot.. Switched from a Oneplus 3T to a Note 5 and now the Huawei... I've been pleasantly surprised by Huawei, like someone pointed out earlier, battery life is insane plus this phone probably the best RF signal of any phone that I've used in a while. EMU has its quirks and has taken me some getting used to, my next device will likely be another Huawei device and that says a lot

Nexus 5 still. Holding out for a long time. Waiting on OnePlus 5/"pixel 2"/Nokia to hit.

I'm using the LeEco Le Pro 3 with Nova launcher. It looks almost stock. Picked it up for 300. And the iPhone 5S. 99 dollar special from Wal-Mart.

Still using the note 5 I picked up off of ebay after returning my note 7. I like most everything about the 7 except for the fragile curved screen, no sd card, and software quirks. So instead of switching to the s7 I went for the flat faced note 5. I love having the stylus but the battery is starting to get a little weak. Pretty sure the chances of a flat note 8 are slim to none and I'm really excited about the U11, so I might pull the trigger on that soon.

It's a toss up between my Nexus 6 and Pixel XL. Just something about the 6 makes me want to keep using it

Yeah. Quad DAC is amazing

Pixel white 32GB, bought used from eBay. Had it a couple of months and really like it. Camera is much better than the iPhone 6s I had. I almost never use filters now to "improve" a picture. Battery life is good. As a phone, it can be a bit echo-y with some people, and I get a loud, brief staticky squeak sometimes when answering a call. A very close second choice would be Samsung S8 or Note, or maybe the new HTC, which supposedly has a great camera.

Note 5.......ughhhhh smh I at one time love the note series but at this point it's all I have n I hate every second of it....stupid update ruins every single note i owned......

S7 Edge. Mainly because it's a replacement from Note 7. Waiting for Note 8

LG G5, smooth as silk, and can slap in a new battery in 10 seconds or less although it lasts most days about 12-15 hours under moderate use.

HTC 10 (I also use an iPhone 7). I like the size, feel in hand, metal, audio, Sense themes, QuickCharge 3.0, and the front fingerprint scanner. I've considered the U11, but I prefer smaller displays, and I've had bad experiences with previous glass phones. I probably won't upgrade until next year. (Hopefully, the U12 will be more compact with the FPS embedded in the display and a bit less bezel.)

I switch between the LG V20 and the Motorola Moto Z Play. The Z Play for those long days that I need that battery life. The V20 whenever I feel the need to be more creative.

S8 plus as daily driver very impressed with the 8 will pick up Keyone as second device.

Huawei Mate 9. Fast performance, vibrant big screen, IR blaster, nice camera, SD memory, fantastic battery life / SOT, supports all the bands I need, and it was less than $600. Easy choice for me.

Same here....perfect size and camera!!!

Xperia Z2 only because the XZ Premium hasn't launched yet

I'm using an S7 which I've modified to look like a Pixel. Love the speed and camera quality on it.

Nexus 6p for me... Been eyeing S8 but really want to know how this Pixel 2 gonna turn out.. Need to bring back the front facing speakers. Hated the Pixel didn't have em.

S7 edge as my primary and BlackBerry Priv as my back-up

Nexus 6 for me! Ready to move on from Lineage, as it's lagging a bit and battery life isn't where it should be, overall a solid phone and it's lasted way longer than I've expected. However, keeping my eye on Essential, 1+5, pixel, mate 10...

HONOR 8, awesome performance and didn't feel guilty about the $400 price tag. Rocked Nexus 5 til it started laying down on me, been a Nexus guy from day one til the end. Now with a pretty nice camera, great performance and awesome battery life I'm an Honor man now.

S7 Edge. I really wish I had a note 7 though. That's what I was gonna get, but my decision was slightly explosive.

The Samsung Note 4 , because of the recall on the Note 7. There was not another phone I wanted at the time. So now waiting on the Note 8 this fall..

Honor 8. Can't beat the price to benefits ratio IMO. It does more than I need and the camera is pretty good. Fingerprint sensor is fast! Edit: mine cost me $300.

I just JUMPed into a Galaxy S8+ on T-Mobile because it seems like the best phone out there right now. I got all the accessories including the Gear S3 watch, Gear VR headset, a case, wireless charger, and a screen protector. I also returned my new ASUS Zenbook because like one of you guys said the phone is basically a mini tablet! I won't need anything new for a long while now!

Still rocking my S7 Edge, but when the Note 8 comes I'll have to decide between it or the KEYone.

Pixel XL for now with HTC U 11 on the way.

Still using my trusty Nexus 6, but it is starting to show signs of aging. Looking at the Pixel XL if any of the editors want to get rid of theirs 😎

Axon 7. Freezes on lock screen sometimes but I love it.

Using a Samsung Note 4. 2 years and still going strong.

Rocking the Note 4 on Nova Launcher. #Note8orBust

i'm using the galaxy note 7. No issues here, the people that said this phone is defective are clueless ... Just joking. I'm actually using a Moto G3 right now, to say this phone has aged well would be an understatement, battery life is solid, camera is GOOD for everything I use it for, display quality is acceptable, colors are very good, bezels are big...I wish it had Smaller bezels, I could have a bigger screen for no extra space at all. International Storage is Bothersome, good thing I have a micro SD. RAM requires proper management every now and then... Android marshmallow helps a lot here. Overall...Boy, I do not regret buying this phone!

Loved my Moto g3😍. I miss it, even though my Moto Z play was supposed to be an upgrade. The only things that made me move from my Moto g was the lack of nougat update which outraged me and my SD card reader stopped and o couldn't bring myself to live on the 8gigs I foolishly bought.

I am using the Moto G5 Plus 4G Ram 64G Rom, because this is the king of budget phones, and still has the same camera sensors as the s8 and in benchmark, it is right behind the s8 as well. I love it, and love Moto, as a developer, and beta tester 💯💯💯

LG G6. Had the Galaxy S8 Plus before it and the iPhone 7 Plus before that and find the G6 the best all rounder. Feels great in the hand, looks great, flat screen so it can be well protected on all 4 sides but with minimal bezels, always on display, double tap to wake, great cameras, good battery and you're getting a great deal on it just now.

Samsung Note 2
It still works pretty good.
Besides I would have to buy the next device outright to keep the current plan or pay about $22 more per month for one less GB

Huawei Mate 9. Cheaper than most other large flagships, but competes well with the best. Big, bright screen (and it's so good I had to admit that 1080p really can be good enough). Huge battery. Blazing fast processor and performance. Great camera. Tons of actually useful options and apps instead of the usual pure bloatware. Solid construction. I'll be keeping this one for a while.

I'm using the Samsung S7 Edge because they took my Note 7! I would get a Note 8 but couldn't do that for another year, because I will still be paying for the S7 Edge.
I really want a Note because of the S-Pen.

I am using Redmi note 4 with miui 8 running android 6.0 out of the box.

LG g5 because the price was right, and I couldn't be happier with it.

Honor 5x and an iPhone 5s

Moto Z Droid,
Super Fast.
Battery Mod with Wireless charging, all day long.
Daydream, love the VR.
JBL Speaker mod is next on my list. oh and above all, I dare to be different...

I prefer 2 cans and string. Just International calls can be a pain

V20 and running beautifully!

iPhone 7+ as primary, picked up a V20 today to use on my duplicated DIGITS line.

Still loving my Moto Z Play. it's battery life CANNOT be matched unless you've strapped 4 pounds of Mophie Juice Case on it

LG V20 right now, but have my wallet ready for the Note 8

Moto Nexus 6, because it's paid for, it still works great, it uses vanilla Android, and it's Project Fi ready.

I'm still using my trusty Note 4. I want a new phone but this one just will not quit. It continues to do everything pretty good. And, it has the removeable battery which I find really useful. If it ever dies then I'll most likely get a new Note, or, just begin to use the brand new Note 4 I purchased to replace this one, thinking it would die a graceful before now. Life is just hard when you have a phone that refuses to give up.

Still rockin my Samsung Galaxy S7. I had been upgrading every year since the S4 mainly for the improved cameras, screen size, and phone thickness. This year I am just not seeing a compelling reason to upgrade. Loving my S7.

LG G6 for me. Man, I just love this phone. Love the 18:9. Love that the screen is flat. Love the wide angle lens. Love the IP68 (throwing it around the pool with the kids, taking pics, video). Love its speed. Love the QC 3.0 and wireless charging. Love the gloss black backside (say that 5x fast). Love the knock-on/off. Love that I got it 50% off shortly after release. I do wish it had front facing dual speakers like my MXPE. But man, I just love this phone.

I like to swap between Pixel XL and OnePlus 3T. Tend to favour the Pixel XL purely for the camera

S8+ my first Samsung device. I had the Moto Z Play but I wanted a bigger phone. I had the Nexus 6 before and I was missing what a larger screen had to offer. I also wanted a good camera. After reading how horrible TouchWiz is I have to say I haven't had any issues. Usually I use the Google Now launcher but I've left the Samsung launcher in place. I switched to the Google keyboard and have Google Assistant available. Too bad they don't let you reassign the bixby button. I honestly don't mind the fingerprint sensor placement either. I have a Speck case on it and that makes locating it easier. I am getting a Spiegen Thin Fit case for it for around the house. The phone is almost too good looking to cover but needs something to add grip.
Very glad to have gone with Samsung. I have the option to trade up after a year. S9+?

Nexus 6. Because it's still a great phone going on 3 years old. Still getting security updates from mother ship Google.

Right now on my old G4 cause my 5X went to bootloopvile. A strong phone yes, Battery not so much. Want to go back to PJ Android but need funds for things to live. Hopefully later this year I can get something better. Bigger pain in the butt on Fi and the Sim card does work but not same. Going to look at new mvno to. A long year ahead. Oh well get saving.

My Galaxy Note 5
The note 7, while a great phone, proved to be unsafe to buy. Not really willing to give up android and lock myself down on iOS just for a great texting app. Except for a few hiccups here and there I haven't really had problems with this phone.
Problems being; screen would sometimes just randomly turn off during use, fast battery drain starting out of nowhere, fast charging stopped working for a week. All were fixed with "security" updates.

Well, I'm using the Note 5. It Swallows everything I throw at it. I've had S7's, S8's and they are not to much different in any respect to the Note 5. They are only split seconds faster then my Note, and the camera is only slightly less quality then the newer phones. I need the Note 8 to blow me away, if not, I will perhaps wait for the Note 9 in 2018. All other Android devices are inferior to Samsung's Note and Galaxy phones bar non.

Moto x pure edition. Waiting for the nokia 8 or 9.

Moto Z play here. Nothing really stands out about this phone but the battery life. My only.major complaints are that brightness maximum is low, the back glass is cheap and scratches, and updates are slow as hell. (I got nougat in May) Moto mods are meh, I still haven't bought them and they aren't the reason I bought the phone. I'd rather just have a phone with a built in good battery and speakers than pay $75-150 for those separately. Some small notes are, the taptic engine is very noisy and unpleasant sounding, the system sounds aren't stock for seemingly no reason, (and they're just as unpleasant sounding as the vibrations) and Motorola seems to have removed any traces of Android's stock Android ambient display to promote Moto display (a very bad move in my option, unlike their previous phones which at least have you choice between duplicated features) Overall, the phone is meh, but I think I'm going to go with a galaxy next. The little details really matter to me

Pfff...pixel XL for the win

I've been using the S8+ since launch and honestly no issue. It's in a OtterBox Defender case and I have a tampered glass screen protector. No issue with the fingerprint scanner as I have big hands.

Droid turbo. Still waiting for a compelling enough reason to upgrade. Probably the moto force 2 or pixel xl 2. If neither of those impress, may move on to an iPhone.

LG G4
Still love it after a single bootlooped replacement. Love the arc. Love the leather back. Love the buttons on back. Love the camera. Love the screen. Love the look and feel.
When I got my bootloop I considered moving to a newer phone, but they are all a bit disappointing compared to what I already have. Here's hoping the Pixel2 will be amazing.

Literally same, trying to hold out for the Pixel 2 also!

Moto Z with a custom kernel It's better than I ever thought it would be.

I'm using the galaxy s7 edge, because the note 7 was banned and the note 8 hasn't come out yet. Overall its a good phone dispite the occasional lag here and there. I like the s8+ but have held out to see what the note 8 has going for it. Hoping for an s8+ sized note 8 with more bells and whistles like notes have always had over the s series.

Axon 7. Can't really complain about this phone cuz you get so much for the price. Got a couple of my friends to get that deal for 330 so they lucked out

using iPhone 7 Jet black 128GB. waiting on Note 8
why?: because both iOS and Android are good operating systems, and I don't hate android because I like iOS, and I don't hate iOS because I like android.
iPhone works WAY better with my mac than android.
Even when I get the Note 8, I will keep the iPhone 7 and switch up or just carry both all the time.

Galaxy S8+. I don't mind that it's taller and really like the batterie life.

Xiaomi Mi6 Because the Mi5 made me a fan of their OS and the Mi6 just made me love it even more. Simplicity in the UI, amazing specs, gorgeous looking and a perfect camera are the reasons why I am gonna stick to Xiaomi.

Pixel XL ,bought the s8+ but it keeps having random reboot issues 8 to 10 times per day so went back to my pixel XL while I get it figured out with Samsung .

Really loving the KEYone- wanted one badly.
But ended up getting an S8, cos I didn't think the BB was worth that much considering the middle-ish specs.

Lenovo p2. 3 days battery life, 12 hrs screen on time with 15-20%battery life remaining. Super amoled 5.5 screen, 625 snapdragon 4gb/ 32gb minimal bloatware for 200 quid. What can the flagships do to justify 4 times the price.

I am using Huawei p10 because i have no dslr and dont like dslr for heavy weight always need a good camera in one hand use ..so huawei p10 is the best substitute mostly..its camera and performance is far better than any other expensive smartphone

I'm using the mighty note 4, because it's the mighty one. WITH A FRESH BATTERY. Sorry to anyone if those words are foreign to you

S7 Edge
Waiting on the Note8

Daniel Bader is using the OnePlus 5. Or Nokia 9. Or Honor 9. Not sure which one gets released next week.

S8+ here and very happy with it
Until the note 8 comes out

Huawei mate 9 on Straight Talk ATT and Samsung Galaxy Note 5 on TMobile

Sticking with my Nexus 6P for a while longer. May go Pixel in the future. The S8 also looks nice.

I checked out the S8 and S8+ and decided to stick with my Pixel XL. The Pixel's camera is better than the S8's, the S8's fingerprint sensor is annoying as hell while the Pixel's is almost perfect, and WTF is with that useless S8+ screen ratio? Samsung had its chance for 2017 and missed the boat, so I'm hanging out with my best in class Pixel XL while I wait for the next generation of Pixels this fall.

Moto Z Play with Incipio battery mod = 3 to 4 days of use before charging. Trade off is I get to use the phone for everything as long as I want without worrying about battery life in exchange for a thicker heavier phone with a lower quality camera.

Moto Z Force - not on Verizon however. After using the Huawei Mate 8 - I just want an effing big battery but a screen that won't break. The Z Force delivers. Forget battery anxiety - 5700 mah with the mod attached, which it is 95% of the time. it is a crime that most phone batteries are so small.

My lumia 950 died last month. Now I'm using Moto Z. It was a great deal (300€ new). Plus because I love the design.

I just switched from the nexus 6 to the lg g6, which is awesome! Gonna use the g6 until the Pixel XL 2 comes out later this year, then I will switch again. Can't beat that pure Android experience and the Pxl2 will be the best Android phone to come out this year and maybe the next too. Loving my new, beautiful, black lg g6, it's fast and fun to use, can hardly put it down!

Galaxy S8. Can't imagine being more pleased

Mate 9 FTW, the best phone i ever used, battery anxiety is no longer an issue, performance is top notch and my emulators and games runs perfect, something that wasn't possible on any galaxy before, the screen is BIG and beautiful, speakers are decent+, EMUI is not great but no bad either, also the machine learning A.I is great, the phone works faster as oppose to being slower as times goes by...

Samsung Note 4. And two weeks ago I payed a ridiculous amount of money (€190!!!) to get it fixed.
I could go as high as €500 for a new phone, even beyond, but there's just nothing to meet my needs. Stylus is a must for me, I love the interchangeable battery and the microSD card slot. Its camera is still well above average, its screen too and it's fast enough.
I know that there doesn't seem very likely to have all those features in one phone again, so I have to keep it alive as long as possible!

I'm using the Pixel XL. I've not been tempted by Samsung's latest offerings but I've got to say the HTC U11 is getting me twitchy. I've always loved HTC phones but this is the first HTC phone since the M9 that I've really wanted. I'm going to hang back until I see the pixel 2. Either way, my next phone will be built by HTC.

I'm on my second week with the LG V20. I replaced my LG G4 and couldn't be happier. I love music, so the DAC and expandable memory were the main reasons for buying this phone. The camera is great as well. Nice big screen and believe it or not, that second screen is very useful!

Midnight black Galaxy S8 here. The S8+ was just a bit too tall for my liking. This is my first Samsung device since the S5 and I have been blown away with performance, battery life and the camera is still superb!! Also when that screen is turned off and laying around it reminds me of my favourite looking phone ever which was the stunning Nexus 4. Good job Sammy 👌

Snapdragon 810 ? Come on "-" even feel outdated with my 820 , the 835 has a lot more features!

I'm commenting on an 805. Yup, last 32-bit processor in the 800 range. Funny thing is, iirc, the Nexus 6 came out after the 808 was announced. Running fine on most things, the only problems I come into are memory intensive apps like Snapchat

LG V20 blows everything away. - removeable battery
- IR Blaster
- FM-Radio
- Miracast working perfectly (Hello, Moto!)
- durability!!! Military Spec
- Camera and Video!!!
- QUAD Hifi DAC
- dual SIM PLuS memory card! and much more! Take that. Samsung, HTC, Apple , Google etc hahahhahahaha all that for 370$

V30 will be the new king in mobile going forward 2018

It's 2017. Nobody uses FM radios or replacement batteries these days

HTC Desire 825, would like to get a Pixel though.

Lg g5 superb wide angle camera and good battery life.

S7. Because I can't afford anything else right now

Galaxy S5, because (1) it has a removable battery and SD slot, and (2) when I fell with my S4 and killed it, the S5 was a "free" upgrade from my carrier. (*Really, it had me at removable battery and SD slot*). I installed Smart Launcher Pro (which has spoiled me for any other launcher), and the phone does what I need it to do. I find the screen size (5.1") comfortable, as well. Too, as of early this month, it was still getting security updates from Samsung, which is appreciated.

OP3T! One of the best balanced phones I've ever owned. Price, speed, features, camera, and support. Can't wait to see what the 5 brings to the table.

I"m a Xiaomi fan boy. Loved the Mi 5 last year but decided not to buy this year's Mi 6. I have learned that I don't need high-end features, also that I really like 5 inch phones best. Finally, that battery life is my number one criterion, something that is generally better on Xiaomi phones than many of the current flagships. I have just ordered the Xiaomi Redmi 4 Prime but using the Huwawi Nova at the moment - another 5 inch phone with nearly 2-day battery life.

Using a Moto Z Play. Exceptional battery life, Moto mods for more battery when needed, front fingerprint reader/on and off, and a smooth clutter free experience - all for half the price of an S8. I have no desire for anymore than that.

Pixel ,,, for security, fast OS's updates, great camera,smooth performance,battery life

Pixel XL. It's the iPhone of the Android world when it comes to software and I'll never give up that buttery smoothness and great battery​ life!

Nexus 6. Probably going to wait on the note.

Pixel XL.....need good camera

I own the S8+ and V20. I find myself placing the V20 in my pocket every day.

BlackBerry KEYone - it's an incredible phone and I really like it. It's getting close to BB10 productivity. I like keyboard, Hub, battery life and after one year on LG V10 I enjoy typing on my phone again!

Note 5, waiting on the note 8, but being tempted by the Blackberry Key One!

S8+ for me. Coming directly from a S7 edge. Also had a V20, HTC 10, HTC A9, OP3 and OP3T, Moto Z, and iPhone 7 in the last year. S8+ is the best phone I've ever had. No lag at all and does everything extremely well. Paired up with my gear S3 it's the perfect combo!

Using the Huawei Mate 9, since my phone is mostly for media consumption.

I am still rocking my Nexus 6P (at least for another year until I can get a new phone). It has all the features I need and still is the most up-to-date Android version and patches. No issues at all, although a removable SD card would be nicer. 😀

My primary phone is the Moto G5 Plus, and my secondary phone is the HCT One M9.

Moto X 2014 because of the screen size until I can afford a Pixel or something of similar screen size. This is still probably my most favorite phone of all time. LG G5 is tied to my device payment, I use it when I need a better camera. I was using a Moto Z that was as a result of a warranty exchange from Motorola when I sent in a defective Moto G4 Plus. The screen on those are just too big for my liking. I'm on Verizon which limits my options as well.

Pixel XL and IPhone 7+. Sticking with these two models. Took me many years to get to just two phones but I am just going to get these two models each year.

Mate 9. Still best phone out in my opinion, battery life can't be beat, camera is outstanding, I have the ceramic white version and it's beautiful. The Kirin 960 is still one of if not the best chips out, 64 gigs of memory with a SD card slot, 4 gigs of ram, beautiful big screen but feels like a normal sized phone in the hand, fast, no lag,, what's not to love. Do plan on trying a Keyone, I'm a old school BlackBerry lover from way back.

LG G6. Switched from Nexus 6P. Reason: $500 special from T-Mobile + free Google Home. Technical reason: It's the perfect width for one handed use while retaining the length of the 6P, wide angle dual cameras, fingerprint sensor in the correct location, minimal 'skin'.

Nexus 6P, 128 Gig, still awesome and flawless after 12 months. Just be careful of what you flash and be sure if APK you install, you'll be just fine. Rocking a good pixel ROM

Pixel XL checking in here. But, it will be the Blackberry KEYone, as soon as orders go live on the 31st. Why? Because I still have a place for Blackberry in my heart. I was just waiting for the right one to emerge. The KEYone is that device. The KEYone checks all the boxes for me. And I hear it's on the heels of a Nexus or Pixel device in terms of OS/security updates as well. Nice!

Galaxy S7 Edge here (until the Note 8 is available). My first Samsung. Other than the notification shade freezing the OS and the mess that Google Play Music is, I like the phone. I love the display and build quality. I like the settings menus too. The UI is far prettier than my backup LG G3 (yah thing is still going and going well). Ara Google Play Music has bugs on any phone. Such a love/hate relationship with that software.

Galaxy s8, all though the fingerprint scanner is driving me crazy, I am getting used to it, also rocking the Huawei p10.

Been using the OnePlus One for the past two years. Part of me wants to upgrade, the other part doesn't care.

Galaxy Note 5. It's a busted Note 4 insurance replacement.

le eco le 1s, cuz no money!!! :(

Moto G4. It's a great phone for the price. Does everything I need it to.

Am I the only one here using! Blackberry priv?

LG G4 because I don't have any money to buy something new!

Just got the PIxel XL Had the iPhone 7 Plus before. I love both phones, I just love the PIxel more because of Google Fi.

I use my Samsung GS8+ as my daily driver. But i switch it up from time to time with my Nexus 6P... still a great phone!

I love the amoled screen and the battery life of my moto z play.

Note 4! It's the only device that still has all the hardware features that are important to me (in order of importance); user-replaceable battery, S Pen, large FLAT 16:9 screen, soft touch back, IR blaster and SD card!

I'm not a power user but a phone enthusiast nonetheless. I have a refurbed LG G4 I bought off of eBay for $120, and so far, it does everything for me (fast and responsive, nice screen, great camera w/ OIS, colored LED notification light, IR blaster, replaceable battery, LG UI). It was within my budget. I can't justify spending $200+, let alone up to $700 for a midlevel to flagship phone. I'll continue to stay a step behind, buying last year's flagship at a huge discount. I'll consider a V20 when the price comes down. I also use a $20 Black Friday special LG Tribute HD as a secondary phone.

I respect that. Ppl that get the newest phone every 3 months are the ones I don't understand at all.

I've had a Galaxy S7 with normal edges for about a year. Always rocked the Google launcher and Gboard for a more stock feel, and after Verizon finally pushed the 7.0 update I feel like running Google launcher actually helps my battery life and overall performance. It's been a solid phone that's given me very few problems. I lost interest in the S8 after holding one in Dubai mall, it felt too light and fragile to me. And Bixby...anyways, I ordered an LG V20 from Verizon that's waiting for me to get home next month. Can't wait to plug my Grado's into that DAC and pump The Tragically Hip directly into my cerebellum.

I use the Samsung Galaxy Note 5,i see no reason to upgrade.

I'm still using a Nextbit Robin. Updated to 7.0 Nougat, and the phone is good enough. Researching to decide on a new phone. I bought it to see how the app backup worked and to have an unlocked phone for use overseas. It's getting pretty long in the tooth.

Love my Pixel and thankfully I have the ZeroLemon 6500mAh case arriving this Wednesday!

Moto G4 Plus. A great phone for it's price and I have no money to buy a newer phone.

Hanging in there on a Note 3 with Marshmallow with S function added back in of course.
The Note 4 wasn't aimed at Note 3 buyers, but it's the only phone I'd buy if my Note 3 died at this time, as the Note 5-7 were lazy efforts, clearly not as good as they could have been.
If the Note 8 doesn't impress- and justify what will likely be a record high in Samsung smartphone pricing, I'll simply go to the effort of importing a Note 7R which will be out by then and be less than half the price of the 8.

Nexus 6p. Because the Pixel 2 XL doesn't exist yet.

Pixel. No explanation needed.

My daily driver is the Pixel XL. Why? It works very well, security updates and the latest OS.

Nexus 5X, S7 as a backup, soon the HTC U11 in black.

Verizon Note 7 on att with updates blocked. 100% battery

Blackberry PRIV after switching from my Nexus 5x. Been loving my Priv since I switched

I'm enjoying my ZTE axon 7 I think it's the best mid-range phone out there, great price, best sound for music, movies, games, the biggest bonus of all it's unlocked I'm using t mobile tower works great where I live and it's using Android 7.1.1 many phones still don't have that yet😀

I'm enjoying my ZTE axon 7 I think it's the best mid-range phone out there, great price, best sound for music, movies, games, the biggest bonus of all it's unlocked I'm using t mobile tower works great where I live and it's using Android 7.1.1 many phones still don't have that yet😀

I currently have 3 phones HTC 10, Samsung S7 and the Oppo R9s.
What I would normally pick is my HTC 10 but I have a feeling I will be moving permanently to the Oppo great camera and guaranteed 2 days battery life.
Have to keep my S7 for Gear VR though. HTC 10 will go and u11 will take its place. Love HTC.

Nexus 6P. Had a local repair shop replace my battery with a new OEM battery a few months ago and back to about 5 hours SOT again. Still love this phone. Looking to get a Pixel XL 2 this fall.

Note 5 by default... Waiting, wondering about the Note 8... Yikes... Don't want to be burned again... OMG, I just touched upon a hot topic, didn't mean to fire anyone up, after this post I'll probably go up in flames, am I melting any hearts here, OK, I'll stop...

Nexus 6P. No need to change. Long live Nexus!

I'm still rocking my Note 5 because it still holds it's own against even new phones.. Honestly the camera is still legit and the new update me this phone a great device again.

I bought my Galaxy S8+ on May 22, gave up my Galaxy S6 the day after to a friend and keep my Gogle Pixel XL in the box. Years ago I use my first Google phone, Nexus 5, and really enjoy it. So last October 4, 2016 I bought my Pixel XL directly from Google. The best thing for me about Google phones is the Android Platform Upgrades directly from Google . I don't want to mess around with Google phones die harders fans, but my former Galaxy S6 was and is a fast phone, no lags. Maybe the battery capacity was not so good but a charger at my apartment and a charger at my office keep me good during two full years. I loved the S6 so alternate it with the Pixel XL, just move the Nano SIM Card from one phone to the other. Regarding blotware there are a couple of apps in the Play Store that can help even if your phone is not root. In the few days using it as daily driver I can say that the Galaxy S8+ is a good phone, I like it. Never before used any kind of screen unlocking features in all my formers Android phones, no finger scanner, no eye scanner, no pin number scheme combination. Just plain swipe to unlock my phone screen. I know there is a security risk, but I can't stand this locking measurements. So if you got the money to spend and you are looking for a great phone go for the Galaxy S8+.

I'm still with my Z2, it's been a long while since I had the means to buy a new one. But I will definitely get the Note 8...been saving money for that one after I've got to play with my buddy's Note 5. Luckily I had the patience to wait for reviews so I didn't buy the Note 7.

LG V20! I've had this one since 11/2016. Not one complaint. Smooth as butter. Love the camera. I find the 2nd screen to be useful. 64GB internal storage at a great price.

After using a Samsung GS4 for 3 years, I finally picked up a 2 for 1 deal GS7. I'm rockin' 7.0 Nougat, CM launcher, and a 64gb micro SD card. I listen to a lot of music mostly and the battery life is better than expected - all day per charge. I think the keys to longer battery life is to always update apps and security and turn off data and or wi-fi when not in use. I'm very happy with the phone's performance on Bluetooth as well.

Was using a galaxy S7, by time it got to this model I was starting to be underwhelmed, so I decided not to go for an S8. Always fancied the pixel bit waiting for new one now. In meantime S7 broke, I say broke my bulldog sort of used it as a chew toy and the cost of repair was almost same as buying a new one, so got a cheap xperia X in meantime. Had no reference with Sony phones, had a Z1 compact for a few weeks years ago and really loved the big specs (at the time) in a small package. All I can say is, I read reviews of the X and not all great, bit not all bad, but I have to say absolutely loving it. Screen is 1080p as you know but whatever Sony have done it sparkles like my old LG G3 screen. And for a mid range phone it's not once slowed down and gaming has been flawless. However it's the upscaling to hi Res on my music catalogue that has impressed me more, I have to say I'm very very pleasantly surprised with this phone that I would consider Sony's next high end offering. Though I will take an S8 if someone is offering for free 😀

The S8+ is my new daily driver. As I read all the reviews good and bad I come to love this phone more everyday I use it!

Unlocked bootloader, root and less than $700 are priority, so still rocking my pixelized Nexus 6p running ARISE audio mods on my front facing stereo speakers, soon to be rocking Android O. Why would I switch?
Maybe OnePlus5 or HTC U11 can convince me to switch up.

I am on my second HTC phone, first one was M7 and current one is M9, love the phone except for the camera, which unfortunately is poor quality. Waiting for the U11 to be available, understand they have fixed the poor camera issue!

My Galaxy Note 4 is still going strong. Removable back and IR blaster. Keeping my eye one Note 8 though.

S7 Edge because of the recall of the Note 7 which was my first Note experience and I can't wait for the Note 8 to arrive. No complaints about the S7 Edge just not the phone I was looking forward to

BlackBerry KEYone! The best phone I've ever used. Good design, excellent display, perfect keyboard, and unbelievable battery life.

Note 5... Very happy with the phone S6 is my company phone

LG V20.. Still liking the replaceable battery but I am guessing the v30 wont have one.. phone works great but the note 8 is getting my attention.

I haven't tried the G6 or S80, but I can't think that they can outdo what the V20 can for me... except battery life. Its the closest thing to Galaxy note...in some ways it's better

Currently on the Galaxy S7, for my previous 4-5 phones, I've fallen into a cycle of getting last year's newest and greatest, mostly for budgetary reasons, but I'm a new grad looking for a "real" job so hopefully soon I'll get onto whatever this year's newest is.

Galaxy S7 Edge is my daily driver (sort of). I have Launcher 10 installed because I like the Windows feel and occasionally switch back to my 950.

Funny, I also have the S7 Edge running SquareHome 2, the keep the Windows 10 look and feel (I have a 950XL getting dusty). I also carry an iPhone 6 Plus with work sim.

Using a Motorola G4 as an reintroduction to Android after being on Windows Phone for a bit. Still carry my 950 75% of the time but the Moto G4 is a great phone for the price. Interested in picking up a nice mid-range device soon though.

Funny, I am on the Moto X Pure edition (2015) but I too, still carry my 950XL with me for quick access to things... I was so productive with that thing. Mostly, just from the start screen.

OnePlus 3T, love all about the phone, except the camera. Next GOTO phone will be the Galaxy Note 8, with three hopes, 16:9, 4000mah battery and dual lens camera.

For sure Huawei P8 because is the best for his price.

Just swapped my V20 for a G6 with my first Jump this year on T-mobile. LG won me over with the V20, after a few years with Samsung. And I am completely loving the G6.

I'm using the OnePlus 3T Midnight black. I only use phones that have great custom ROM support (tried the S7 Edge only to swap it quickly for a OnePlus 3). I don't care for what a phone would cost me. I picked the OP3T because it looks sleek, is fast, battery life is sufficient and great ROM support. Loving the alert slider and FP sensor on the front. Don't care for camera specs, but it's more than ok on this phone. The only thing I am 'missing' coming from the S7 Edge, is waterproofing but that's it.

Definitey the LG V20......I mean enough said with that

Nexus 6P because it's been really good to me and Project Fi.. I would go with the Pixel XL but can't swing it right now...

Using BlackBerry Dtek60, Blackberry KeyOne on order.

Since Microsoft isn't doing much to support mobile, I have swapped out my 950 and am using a Motorola Z Play. Excellent phone for the money. Solid build, no excessive junk cluttering up the OS, and very good battery life. I do wish they would invest in more mods.

S8 for me. I was going to stick with my s7 till my girlfriend's dog cracked the screen. so I gave it to her and got me the s8 . the s8 covers all my bases and being the tech junkie that I am, I now glad her dog made me upgrade lol.

Using my galaxy S7 Edge, impatiently awaiting Note8

Man i've been switching phones every month or so for the past year, tried so many smartphones which looked great on paper but wern't satisfying. Switched to the S8, first samsung phone ever, i love it, it's fast, smooth, beautiful, water resistant, and so on. Furthermore the Samsung UI has improved a lot, I don't feel the need to root it or to flash a custom rom, i just love it the way it is.

Wish I could say different bit the Nexus 5x

Samsung galaxy note five waiting to get the samsung galaxy note eight! Can't wait!

I have been using the Moto X pure 2015 edition. I love the active mic, the large screen. But upset that Moto has not updated the O/S to 7 yet.

https://www.youtube.com/watch?v=TBM5W12JYmQ

Iphone 7 plus. Because android is still laggy and subpay. I want a phone that always works, No slow downs,

Mate 8 for me :) loving it!

Still rocking the Galaxy Note Edge! Best phone I've ever owned!

I intended to upgrade (from a GS4) to the Samsung GS8 this past March. Went to the AT&T store and the sales rep gave me a deal on a brand new GS7. Couldn't pass it up. Great phone for me. Transfered everything with Smart Switch (except playlists) and re-inserted my 64gb micro SD card with all of my music. Sweet! I later updated the phone to Nougat 7.0. Couldn't be happier.😎
Android Central Newsletter
Get the best of Android Central in in your inbox, every day!
Thank you for signing up to Android Central. You will receive a verification email shortly.
There was a problem. Please refresh the page and try again.