Picture-in-Picture is the best feature Android's many video apps aren't using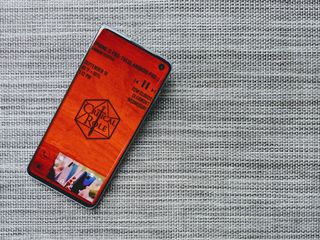 It's early evening in Hollywood Studios as I walk around with a smile on my face and a movie in my heart. My headphones are blocking out the crying kids and drunk rebel scum not with music — of which I do occasionally tire — but with an old Disney film. Smiling fondly, I mentally match the excited antics of a chase's song and sound effects to each beat of the action choreography, playing the movie in my head while my eyes pay attention to the chaos theory that is navigating a busy theme park on my way to the Millenium Falcon.
Ducking into the outdoor seating of Docking Bay 7 to avoid some Stormtroopers, I pull out my phone and swipe my way through a couple of inns in Wizards Unite while Aladdin keeps playing in the top corner of the screen. It's a frequent occurrence for me, but unfortunately one with very limited viewing options, as of the over half-dozen video services I use, only three take advantage of Android's Picture-in-Picture, and two of those are made by Google.
And that's really disappointing, because over two years after it was introduced, Picture-in-Picture should really be in more places.
Picture-in-Picture: A feature rewind
Picture-in-Picture allows an app to display over other apps in a small window that docks in one of the corners of your screen. When you tap the window, you can have some limited interaction with the app, such as pausing a video or returning the app to fullscreen. The feature was first available for Android TV on Android Nougat — though PiP has been seldom used there, either — and it came to Android phones and tablets in 2017, with Android Oreo.
While Picture-in-Picture is very, very handy for video apps, those are not the only ones out there that can use it. In fact, some video chat apps like Google Duo and WhatsApp take advantage of it quite well. Google Maps allows you to see your directions in one corner while using another app full screen, which is great when you're powerwalking through Times Square trying to pull up your credentials for an event.
That said, the number of apps that support PiP is still paltry three years in, especially when it comes to media apps. The only media apps so far that I've come across with Picture-in-Picture are:
That list is pretty sparse, especially when you realize that it's missing most of the streaming market, including Hulu, HBO, Movies Anywhere, and the Disney+ being tested in the Netherlands right now. Beyond freaks like me who listen to movies/TV while walking around Walt Disney World, there are plenty of uses for Picture-in-Picture:
Texting reactions to a new episode with your friends and fellow nerds
Checking stats during a football match or playoff game, or checking Fantasy scores as you see how your players of the week are shaking out
Comparing episodes to fan theories and speculation in the soul-crushing hiatus of your favorite show
Keeping your energy up with a film while doing late-night inventory in the stockroom
Now that the framework for Picture-in-Picture is not just a standard but an established part of Android, it's a damn shame that the feature remains so elusive outside Google apps and some of the bigger players in video chatting and navigation. PiP is a great feature — especially for users that do a lot of their video watching on their phones in office break rooms and waiting for trains rather than home on a big screen TV — but just like dark themes, developers will only implement them if enough users ask for them.
And so I implore you: open the Feedback button on your favorite streaming app and ask them why Picture-in-Picture hasn't been implemented yet.
Ara Wagoner was a staff writer at Android Central. She themes phones and pokes YouTube Music with a stick. When she's not writing about cases, Chromebooks, or customization, she's wandering around Walt Disney World. If you see her without headphones, RUN. You can follow her on Twitter at @arawagco.
Pluto TV also supports Picture-in-picture.

It works on sling TV I use it everyday

I use PiP everyday on YouTube Vanced, Netflix and Amazon Prime Video. So convenient, better than having to use split screen all the time.

Just open apps in pop-up view?

What a great discussion article. I would love to see picture in picture and make it to Facebook Messenger for video chats, and the other uses outlined here make a lot of sense as well. I wonder if the real problem has to do with the fact that a lot of developers seem to develop apps for Android either in parallel or following the iOS equivalent. Some of these cool features like split screen, picture in picture, and others available on Android May strike them as niche because the iPhone either doesn't support it, or it's iPad available but not iPhone available. Are there any developers reading this that might be able to shed some light here? Not being a developer myself, I wouldn't know the first thing about why several of these features are not being utilized, but I suspect there may be good reasons behind the reality.

If you're using a newer Samsung Download the official Samsung app called GoodLock and go into Multi Star and tick the switches for "Enable Multi Window to All Apps" and "Use Multi Window without pausing"
The go into the device settings and select all the apps you would like to use with Pop Up view.

I use split screen more the PIP but I'm glad there are options. Honestly I just wish more apps supported split screen. Notable apps lacking support: Facebook Messenger, Snapchat, Instagram, and Grinder.

Split screen support needs more work from developers, I agree that more apps should take advantage of it, especially when we've got 6-7 inch screens these days.

I use them equally, but my problem with split screen is many apps keep chunky bars or borders, and there is little room left for content. PIP just give you the content.

YouTube TV and Twitch support it. These are 2 giant ones left out of the article. But I agree with the article overall. More apps need to support this ASAP.

I forgot YouTube TV because I don't have $40 a month for it, but I'm not surprised Twitch has it considering how long most of its streams run.

Problem is that other than Netflix. These app developers think of developing for iOS first then porting it over to Android. Since iOS doesn't support PiP on their phones, we don't see them on Android.

The definition of PIP has changed. A 'picture' to me is a video feed (picture-show, get it?) not a menu or app interface, so TRUE PIP is a moving (playing) video inside another moving video. The audio comes from the full screen video while the PIP window is small, but moving, muted, video. When you want to change focus, the two feeds swap places. Do any apps do this? My CRT TV from the 90's did. You could select different input sources for the two feeds.

I really wish PiP worked on the andriod tv version of youtube. I didn't know it was there at one time or another. I have an nvidia shield that's still running smoothly- please add or bring this back!

I find PiP extremely frustrating, because it ALWAYS ends up blocking elements of whatever app/page I try to visit when I switch to it. I think it would be a lot more useful if it took a bar (like YouTube does when you navigate within its app with a video playing) and shifted the interface around then. The best implementation I can think of would be to reserve the space at the top of the phone's screen for this, and shift all of the remaining UI down enough that it never ends up displaying behind the PiP banner...

From what I remember edge started offering this for running multiple tabs

Many want to charge for background playback. Giving you picture in Picture for free sort of circumvents that.

Watching a movie or a tv show on a small screen is already a big compromise, but in pip it is just a waste... Who text live reactions with friends whike watching an episode on a phone ? It can be useful for YouTube videos or shows though
Android Central Newsletter
Get the best of Android Central in in your inbox, every day!
Thank you for signing up to Android Central. You will receive a verification email shortly.
There was a problem. Please refresh the page and try again.