What color LG V30 should you buy: Black, silver, blue, violet, or red?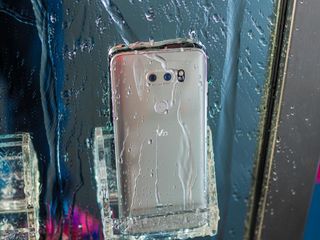 The LG V30 nominally launched with two colors, Aurora Black and Cloud Silver, but in the weeks and months since it was released we've seen other colors either break exclusivity and move to new markets or be introduced altogether. Now, we have five different colors to choose from ... well, sort of, depending on where you live and what carrier you use. Those restrictions aside, we have Aurora Black, Cloud Silver, Moroccan Blue, Lavender Violet and Raspberry Rose.
I think we can all agree those are some great names, but which one is right for you? Unlike some companies, LG has quite a bit of variation in the colors so you have a wide range of interesting options with little overlap in their styles. Here's a look at all five colors, and a few notes to keep in mind when you're choosing which one to buy.
LG V30 in Aurora Black
Image 1 of 4
The Aurora Black V30 is classy, simple and stealthy. Black glass combines with shiny black metal to create a sleek look similar to many other glass-and-metal flagships of the same color. You don't get much flair here aside from the shiny metal accents, but that's just fine if you're someone drawn to this blank color style
Who is it for?
If you're all about keeping things simple and under the radar, Aurora Black is a great choice. Maybe you'll let a brighter or more colorful case jazz things up a bit later, but out of the box you'll be able to keep it clean. Unlike most black phones the black V30 doesn't seem to hide scratches any better than any other color, perhaps on account of its subtly lighter coloring and light texture on the back.
LG V30 in Cloud Silver
Image 1 of 4
Using the word "silver" is a little bit of a misnomer, as the Cloud Silver V30 really is more of a mirrored finish. Both the back and polished metal sides are an extremely light silver color that reflects much of the colors in its surroundings to give a unique look depending on the angle you see it from. It's flashy, literally, and it's a good antithesis to the Aurora Black color.
Who is it for?
Cloud Silver is for someone who wants their phone to stand out, even if they don't buy a flashy case for the phone. It's super-reflective and will always catch your eye. Just keep in mind that it's also a bit more susceptible to showing smudges and fingerprints.
LG V30 in Moroccan Blue
Image 1 of 4
Moroccan Blue is a great middle ground between the black and silver color options. Its deep blue color doesn't catch your eye at a glance, but is clearly differentiated from the black color as it slightly shifts in the light between blue, green and turquoise. The blue metal sides stand out far more than the black ones, but aren't eye-searing bright like the silver finish.
Who is it for?
There aren't that many shiny blue phones out there, so from that perspective Moroccan Blue is a great choice to feel like your V30 is differentiated. But it manages to stand out without the extreme reflectivity of the Cloud Silver color, meaning you don't have to worry as much about scratches or fingerprint smudges showing.
LG V30 in Lavender Violet
Forget about the whole "violet" bit of the name, the Lavender Violet V30 really should be just "lavender" as it perfectly describes this color. It's not far off from the Cloud Silver, but with that subtle hint of lavender or light purple to set it off. In darker light it can start to look a bit like a light blue, and in bright sun it's almost like the Cloud Silver color. But it's very unique in any case, as there really aren't many phones out there rocking purple of any shade.
Who is it for?
If you can get your hands on it, the Lavender Violet V30 is for someone who wants to stand out ... subtly. It isn't as shiny and reflective as Cloud Silver, nor as ostentatious as Raspberry Rose — but it's clearly different from any other phone color out there right now.
LG V30 in Raspberry Rose
Image 1 of 4
The Raspberry Rose color is the one that launched the latest after the V30 was first introduced, and for some it was worth the wait. It's a gorgeous combination of different reds, and ambient lighting sets off different parts. In bright light it's more of a light red raspberry, almost approaching a deep pink, but in the dark it's more of a deep rose or garnet color. The shiny metal sides are the most visible of the bunch when looking at the phone from the front, so you never forget how sweet the back looks.
Who is it for?
This isn't just a Valentine's Day gift, it's a great color. The varying shades of red stand out from a crowd, and you probably won't want to cover up this phone with anything but a clear case — you bought it for the color, so show it off! Being a relatively limited edition device this is likely the most rare V30 color you'll see, so there's a bit of value in that as well.
Regional and carrier differences matter
Despite being a big name in phones, you'll be hard-pressed to find a market where the V30 is available in all five colors. Between various regional, country and carrier deals, you're only likely to have access to two or three of the five, if you're lucky. In the U.S., you basically just have black or silver, and most carriers will offer only one or the other. Looking unlocked and global you get access to blue more often in addition to black and silver, but if you want violet or red you'll have to live in one of a handful of countries.
As is often the case, there's typically more downside than it's worth to import a phone from a different region just to get a specific color. Yes, they look cool. And yes, they're far more exclusive. But make sure to do your research, as international phones from other regions are less likely to have the radio bands you need for your country, and in most cases you won't have access to that phone's warranty anymore. Unless you're getting a great deal or simply care about color above all else, take a look at what colors are officially available where you live and go from there.
Where to buy the LG V30
Get the Android Central Newsletter
Instant access to breaking news, the hottest reviews, great deals and helpful tips.
Andrew was an Executive Editor, U.S. at Android Central between 2012 and 2020.