Fitbit Charge 6: Everything we know and hope to see
The Fitbit Charge 5 is our favorite fitness tracker, but Fitbit's next tracker can't rest on its laurels.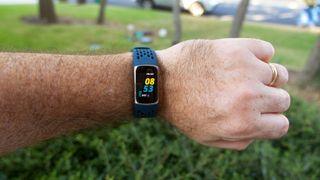 (Image credit: Jeramy Johnson / Android Central)
Fitbit had a busy 2022, launching two watches (the Sense 2 and Versa 4) and one fitness tracker (the Inspire 3), not to mention the flagship Google Pixel Watch with Fitbit integration. Aside from its kids' trackers, only one mainline Fitbit model skipped the party: the Fitbit Charge 6.
We heard a rumor that this flagship fitness tracker already arrived at the FCC last summer. Though if this is true, the Fitbit Charge 6 is certainly taking its time to arrive.
When it comes to the best fitness trackers, the Charge 5 has headlined our list since its 2021 launch with no close competitors except its own predecessor, the 2020 Charge 4. With just over a year between them, the Charge 5 made major upgrades to the display, health sensors, and software; and both are among the very few petite trackers with built-in GPS.
In this way, the Fitbit Charge 6 has plenty to prove. And given how Fitbit's recent watches like the Versa 4 actually downgraded some features compared to the Versa 3, it's not a guarantee that the Charge 6 will live up to our own excitement for it.
Keeping this context in mind, here's what we know about the Fitbit Charge 6, including when it should arrive and which features it should keep, as well as the upgrades we hope to see for Fitbit to retain its wearable crown.
Fitbit Charge 6: Release date and pricing
Last August, the Fitbit Charge 6 allegedly arrived at the FCC, according to a 9to5Google report. The supposed Fitbit tracker, codenamed FB423, had support for Bluetooth, NFC, GPS, and GLONASS, and the site's source claimed that it looked "near identical to the Charge 5."
At the time, speculation arose that Fitbit would announce the tracker in early 2023, but that obviously never happened. Now, the more likely timeframe would be summer 2023, specifically in August. That would correspond with the two-year anniversary of the Fitbit Charge 5, and come one year after the Fitbit Sense 2 and Versa 4 launches last August.
As for pricing, we haven't heard any leaks on the subject, but we don't necessarily need a hint. The last three generations of Charges, back to the Charge 3, all cost $150 at launch. We doubt Fitbit will make their fitness tracker more expensive, and it already has the Inspire 3 for bargain hunters.
Fitbit Charge 6: Design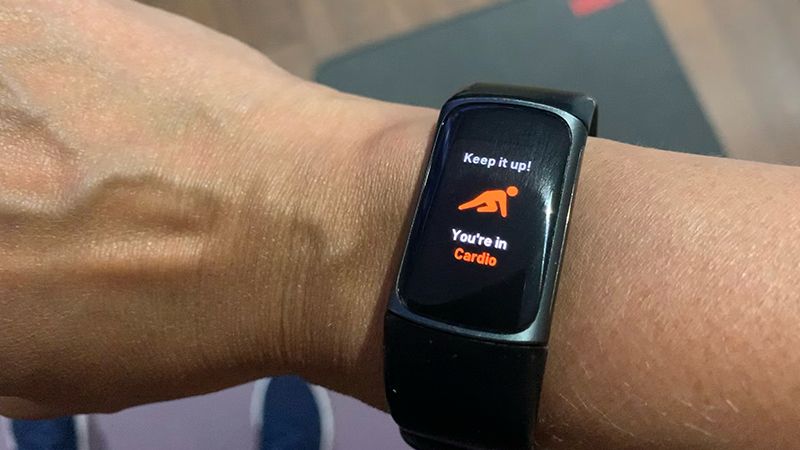 According to the aforementioned FCC leak, the Fitbit Charge 6 will look near identical to the Charge 5, including the aluminum body, curved black glass, and strips for ECG readings on either side of the tracker.
So you can expect a rounded, pill-shaped 1-inch AMOLED display, distinctly thinner than the blocky look of the Charge 4 and older models. It also most likely won't have any buttons or capacitive faux-buttons, making it touch-only.
Our Charge 5 review pointed out how finicky using the touchscreen can be, especially once your fingertips get sweaty; but this is fairly industry-standard for fitness trackers, and Fitbit will likely prioritize a uniform look and lightweight design instead of putting a noticeable button on the side.
Fitbit also tried a capacitive button on past Charge models, but these are extremely finicky, which is why Fitbit went back to physical buttons on the Sense 2 and Versa 4. So we'd hope Fitbit either squeezes a physical button in or nothing.
Our only other design questions concern colors, proprietary bands, and charging. The Charge 5 came in Black, Platinum, and Soft Gold, and we hope the Charge 6 returns with a few playful color options.
It also had its own set of proprietary bands, ensuring Charge 3 and 4 bands wouldn't work with them. We're hopeful that the unchanged design means that Charge 5 bands will work with the Charge 6, so you can build up a wider range of options. The same applies to the bundled charger, since Fitbit also deprecated the Charge 4's charging cable. Let's hope Fitbit keeps things consistent this time.
Whatever happens, Fitbit shipped the last charger with infinity, leather, fabric with velcro, and perforated silicone bands, so you should have a wide range of proprietary options once again. You just won't be able to use industry-standard quick-swap bands.
Fitbit Charge 6: Sensors and features
The Fitbit Charge 5 had an excellent bundle of sensors and tools for a fitness tracker. One of the rare fitness trackers with GPS, it also had NFC for FItbit Pay, an optical heart rate monitor, blood oxygen tracking, and the aforementioned strips for taking ECG and EDA readings. You can manually check your heart rhythm and stress levels by placing your thumb and index on either strip. And it also tracks skin temperature at night, though without the Fitbit Sense 2's dedicated temperature sensor for more accurate readings.
The Charge 6 should bring back all of these features, as well as other sensors like the 3-axis accelerometer and ambient light sensor. Though it's not guaranteed, since the Charge 5 lost the Charge 4's altimeter. Fitbit could always remove something to make room for a newer sensor.
What new sensors or tools could the Fitbit Charge 6 bring to the table? For starters, the Sense 2's new cEDA sensor, which continuously measures your stress levels without having to take a manual reading. But we have no idea how big this sensor is and whether it would make the Charge 6 too heavy, so there's no guarantee.
Honestly, we'd much rather Fitbit bring back the altimeter, since that's a necessity for athletes trying to accurately gauge their effort at high elevation. It's not as flashy, but runners and cyclists need it more than they need to know how stressed they are.
As for software, we know that all of the usual Fitbit Premium features and reports will be available to Charge 6 owners, and you should get a free six-month trial before you have to start paying for it.
Fitbit suffered some controversy earlier in the year when it removed popular community features like Open Groups and Challenges from its app, claiming not enough people used them. This came after the Versa 4 and Sense 2 removed third-party apps found on their last-gen predecessors. So it's very unlikely that the cheaper Charge 6 will have many "apps" outside of Google and Fitbit's own software.
Like the new Versa and Sense, the Charge 6 should likely replace Fitbit Pay with Google Wallet. Unlike those watches, it probably won't get access to Google Maps' turn-by-turn navigation: the display is too small for it, and it would burn through the smaller battery. Still, Fitbit could surprise us and rely on text-based directions, arrows, or vibrations to guide users.
Unfortunately, one missing feature on the Charge 5 will likely stay missing on the Charge 6. While the Charge 4 had music playback controls, the Charge 5 didn't, and for some reason Fitbit removed these controls on the Versa 4 and Sense 2, as well. We won't ask for music storage on a petite tracker, but we'd love to be able to tap through your playlists with your phone in your pocket.
Fitbit Charge 6: features we want to see
We've already brought up some of our wishlist items for the Fitbit Charge 6: Google apps, an altimeter, music playback controls, and a continuous EDA sensor. But there are plenty of other tools we'd hope Fitbit includes, though some are more realistic than others.
Improved GPS tracking
Dual-band GPS and all-systems GNSS tracking has become more prominent on Garmin and Apple watches, and even Amazfit is bringing dual-frequency tracking to its affordable smartwatches. If Fitbit were to prioritize this, it would've done so on the Sense or Versa lineups, most likely.
We'd still appreciate a tracking upgrade of some kind on the Charge 6, because the brand isn't known for its accuracy in this area. The Charge 5 had some noticeable tracking issues at times, losing your positioning entirely or else showing you drifting from your path for no reason. Hopefully, Fitbit makes an upgraded satellite a priority this time around, maybe by letting you make GPS and GLONASS active simultaneously.
Touchscreen improvements
We're generally fans of the Charge 5's colorful AMOLED display, a huge upgrade over the monocolor OLED on the Charge 4. But at 450 nits, it's only passably readable in direct sunlight. Other trackers like the Amazfit Band 7 hit 500, and that's a much cheaper device in general. We'd love it if the Charge 6 could jump to the popular 1,000-nit standard found on many fitness smartwatches, including the Sense 2 and Versa 4.
Also, if the unchanged design means no physical buttons, Fitbit needs to work on making its touch controls a bit more accurate to what users are trying to do. For example, you'll try to tap a notification to read it and the Charge 5 interprets this as you swiping it away. Other times, the tracker won't register your swipes at all unless you're "very intentional," as our reviewer put it.
Optimizing the battery life
We're generally quite impressed with the Fitbit Charge 5's 7-day battery life for casual use. If you're just using it to track health data, it's reliable. But with GPS tracking, it lasts just 5 hours maximum; or with an always-on display, it'll only last two days at most.
We don't want the Charge 6 to become excessively bulky, and built-in GPS tracking is much easier for smartwatches that can afford the extra battery weight. But I'd love just a couple more hours of GPS tracking. And as for standard battery use, if the Amazfit Band 7 can last 18 days while weighing about the same as the Charge 5, why can't Fitbit close the gap a bit?
Better integration with third-party apps and accessories
While there are a few "Work with Fitbit apps," many of the best fitness apps don't fall under that umbrella. Fitbit purposefully makes things difficult if you want to share data with another app like Google Fit or Apple Health, forcing you to use a third-party app as an intermediary or manually export data.
Similarly, Fitbit doesn't support Bluetooth or ANT+ accessories, so you can't connect a heart rate monitor strap for more accurate readings. We don't expect this to change anytime soon, but hey, maybe Fitbit will surprise us starting with the Charge 6, and start catching up to the competition here.
Get the Android Central Newsletter
Instant access to breaking news, the hottest reviews, great deals and helpful tips.
Senior Editor, VR/AR and fitness
Michael spent years freelancing on every tech topic under the sun before settling down on the real exciting stuff: virtual reality, fitness wearables, gaming, and how tech intersects with our world. He's a semi-reformed Apple-to-Android user who loves running, D&D, and Star Wars. Find him on Twitter at @Michael_L_Hicks.