Verizon's Wear24 Android Wear smartwatch is dead after just 4 months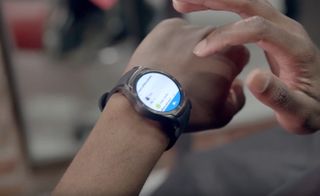 No matter how big of a Google fan you are, we can all admit that Android Wear isn't in the prettiest of places at the moment. Mainstream releases like the LG Watch Sport and Huawei Watch 2 never truly cultivated much of a following at all, and aside from these two entries, the rest of the space has been essentially dominated by fashion brands.
Verizon's Wear24 made a debut in February as a new Android Wear option to take advantage of the carrier's 4G LTE network, but after being released in May, the watch is already dead.
It was discovered yesterday that the product page for the Wear24 had been replaced by its support page, and after Android Police reached out to Verizon for comment on this, a representative replied by simply saying "Yes wear24 has been discontinued." No more, no less.
When it was announced, the Wear24 offered an interesting proposition. The 1.39-inch AMOLED display, 450 mAh battery, IP67 rating, built-in GPS, and LTE connectivity packed into a fairly clean body sounded like a nice offering, but the price of $300 with a two-year contract and $349 outright likely kept most buyers at bay. I mean, obviously, it did if the thing's already been discontinued.
Even though Android Wear as a whole is going through some serious growing pains, Verizon's random axing of the Wear24 after just 4 months of being on the market is still pretty insane.
Software updates and customer support for the Wear24 will likely be ending soon after the halt of sales, but considering that Verizon probably sold about ... 24 of these things, this shouldn't impact many people.
Android Central Newsletter
Get the best of Android Central in in your inbox, every day!
Joe Maring was a Senior Editor for Android Central between 2017 and 2021. You can reach him on Twitter at @JoeMaring1.
Too bad there's no new Google made watch to be expected at the Pixel event in early October. =(

I agree, I can't understand how hard is it for Google to drop a yearly pixel tablet, watch or tv streaming device box!!

The uh, Watch Style and Watch Sport were released in Feb of 2017. Also hardware is not easy, if you think it is then you don't know anything about developing it.

Watch Style and sport were made by LG, not google itself. Yea I know Google uses other manufacturing brands for their devices(HTC, LG, Asus etc). Every brand has a high end phone every year. So I didn't know hardware was that hard to develop. Google can use HTC to make a yearly high end phone, tablet, watch or tv streaming device and brand it "Pixel". It's called being competitive.

Think I'd stick with Fitbit or Apple if I wanted a notification watch.

Lol the Apple watch is terrible at notifications, much like the iPhone itself actually

It's basically Apple are samsung if you want a Fashion watch other then fitness watches those are the only 2 I ever see on the wild . Samsung an apple are the only ones Committed to advertising their products . Maybe with Google money they can actually develope an advertise a true contender to the 2 big dogs

I actually like Android Wear 2.0 and my Huawei Watch 2 Sport. I understand why people don't like AW but I find it very useful and it surprises me often on how functional it is.

I have both the Huawai and Samsung Gear S2 Classic. Between the two, I find I like the watch faces better under Tizen than Android Wear 2.0. Deeper blacks and smoother fonts. The Huawai watch looks great in pictures but in person, not so much.

I switched from the Gear S3 to the Huawei Watch 2 4g. I think AW sucks in comparison to Tizen. It's so slow to load apps and battery life is half that of the Samsung despite having a bigger battery and this is without using a SIM card. Google really need to up their game. I wouldn't even consider another AW watch unless there are some serious improvements. My old Sony SW3 was far faster on AW 1.5 ffs.

Thanks for the input. When tried Tizen on the first gen Gear S, it just felt "lonley" and way too much of a "Samsung Ecosystem", which is why I left for Android Wear. I am glad to hear it has improved some. If I get an opportunity, I'll try it again.

Maybe another reason why nobody bought that thing, was it's undeniably ugliness!

Apple Watch with GPS starts at $329. And this could be used with your Iphone. Apple Watch with GPS and Cellular starts at $399 right? Use seperate from your iphone. They overpriced the device, especially the off contract price. Lesson learned.

Live my zte quartz watch from TMobile. Massive battery that works well, even when on cellular. And it was sub $200. Only thing it was missing was a heart rate sensor, which I don't trust on a watch anyways.

i just don't get why they bailed on it before the holiday season? and without so much as even an advert for the device. If your going to make a no name brand device why not at least offer at a nice discount to get the money for the access fee.

I'd gladly go back to my LG Watch Urbane if it still worked. That the only reason why I switched to the Wear24 was cuz I could walk in, buy it, activate it, walk out..... Very F'd up on letting this watch die on the vine.. I would have been great if they didn't block the NFC and limit it to Verizon messenger+ bs...

What happened to your LG urbane?

How come No one mentions the best Sports and dress watches out there! The Samsung Gear Fit2 and the Samsung Gear S3.
Features added regularly . the just work, and no one knows.. blows away any other Fitbit, garmin , and Apple watch!!
Thanks Dave

That's exactly why the Samsung Gear S3 is and will be the best smartwatch available. Yes, I own one and still love it after over 6 months of using it. No, not a fan boy but it is a great watch. Can't wait for the S4 to release! And anyone who owns one would agree.

Agreed. Switching back to AW was a huge mistake. Just 'needed' wrist based payments with my new bank that didn't support Samsung Pay.

You have a bank that actually doesnt support samsung pay .....

It's fairly new in the UK and not many banks were supported at all at launch unfortunately.

This is a bummer. It's not perfect, but I actually like my Wear24. I switched it to use the Appfour Messages app, and I'm getting 9-10 hours on LTE. It's disappointing to see it cancelled after such a half-hearted attempt by Verizon to make it work as a product.

I like the LG Watch Style but the fact it's lacking NFC is just stupidity.

You know, before I got a Huawei Watch 2, I would've agreed with you, but the fact that you have to have pattern lock set up on the watch to allow for Android Pay use (while I suppose is understandable) is a huge pain. I ended up deactivating Android Pay so that I didn't have to unlock the thing every time I wanted to do something not Pay-related, so I may as well not even have NFC.

Did the rep say "Yes, the Wear24 has been discontinued", or did he say " YES!!! The Wear24 has been discontinued!"?

I just bought a new Fossil Explorist. It's a great looking watch as well as a great smart watch. Android Wear 2.0 is really good.
It has really good battery life as well as not being too big on my wrist. I'm impressed that Fossil is staying in this game. My watch doesn't need it's own data plan or cellular radio. Seriously, who really wants to have public conversations VIA THEIR WATCH? I will admit it's weird enough to talk back SMS replies on my watch, much less the thought of having a conversation via it.

Overpriced for a Samsung Apple world! I use the Gear S2 still and Tizen looks so much better than the flat tire known as AW.

My moto 360 gen-2, 46mm was dead after 11 months. The 2.0 upgrade completely demolished it My views here:
https://youtu.be/4xb6ZtJgk0I A $350 watch of ANY kind should not be obsolete after 11 months. I am not alone:
https://productforums.google.com/forum/#!category-topic/android-wear/LeQ... I can not recommend any watch that uses android wear, and I openly discourage it. To put it simply, there are better options.

Nothing strange about a company axing a product that no one wants. They exist to make money.

I wonder how/when they're going to go about liquidating the rest of their stock.. I'd buy one on the cheap.

They're available on eBay right now for $79, in all 3 color variations: http://www.androidcentral.com/e?link=http2F2Frover... I wonder if this watch is unlocked? I.e. can I throw a FreedomPop LTE SIM in there?
Android Central Newsletter
Thank you for signing up to Android Central. You will receive a verification email shortly.
There was a problem. Please refresh the page and try again.