Walmart's new $99 Onn Pro tablet has a USB-C port and runs Android 10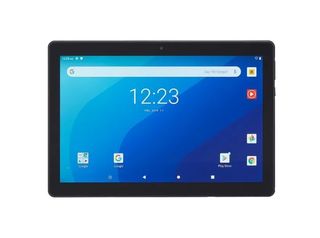 (Image credit: Walmart)
What you need to know
Walmart has launched new 8-inch and 10.1-inch Onn Tablet Pro models.
Both variants run Android 10 out of the box and feature a USB Type-C port.
The 8-inch variant is priced at $99, while the 10.1-inch model is $129.
Walmart has quietly launched two affordable new Android tablets to take on Amazon's Fire tablet lineup in the U.S. The two new tablets offer several upgrades over the Onn tablets launched last year, along with an updated design.
The $99 8-inch Onn Tablet Pro (opens in new tab) sports an 8-inch HD LCD display and is powered by a 2.0 GHz octa-core processor, paired with 2GB of RAM and 32GB of storage. It also features 5MP front and rear cameras, and promises up to 10 hours of battery life. What sets the Onn Tablet Pro apart from most of its rivals, however, is the presence of a USB-C port. It also runs the latest version of Android out of the box.
The 8-inch Onn Tablet Pro's main rival is the updated Fire HD 8 tablet, which was announced by Amazon last week. While the Fire HD 8 tablet runs Fire OS based on Android 9 Pie, it has a lower $90 starting price.
Walmart's $129 10.1-inch Onn Tablet Pro (opens in new tab) has a more impressive 1080p display and comes with 3GB of RAM. In other areas, however, it is identical to the 8-inch version.
Onn Tablet Pro
If you're looking for a cheap tablet that runs Android 10 out of the box, Walmart's new Onn Tablet Pro is worth considering. The tablet runs on an octa-core processor and is claimed to provide up to 10 hours of battery life. You also get two 5MP cameras and a USB-C port.
Will they ever get a software update?

I work at Walmart and we have never seen either of these tablets.

They were not available online, only in store. I checked out local stores. All of the stores within about 20 had no stock, but the store in the next town said they had availability. I tried calling to check whether or not this was true, but the store recording said due to the influx of product searches, associates can't give quantities over the phone. I still tried to connect to electronics, but no answer. So, I drive to the next town about 10 miles. I got to the electronics department, and 2 associates were hanging around the counter. Don't know why no one answered the phone. But, I asked whether they had the Onn 10.1 Pro model in stock; they hadn't heard of it. They had a ton of the Onn 10.1 prior models in the locked case. The one guy said maybe it's behind those and low and behold, they had 2 available. I haven't opened the box yet, as it's a present for my 88 year old mom. She has an old HP, with 1gb of RAM, and it's a bit sluggish. I'm excited to give her a new tablet that's got some specs behind it! Android 10, 3gb ram, USB-C, and an adequate screen resolution. She's going to love it. All she does is play games, look at email and news, but it keeps that 88 year old mind active.
Android Central Newsletter
Get the best of Android Central in in your inbox, every day!
Thank you for signing up to Android Central. You will receive a verification email shortly.
There was a problem. Please refresh the page and try again.