Viewsonic to release giant 24-inch underpowered Android serving tray that doubles as a PC monitor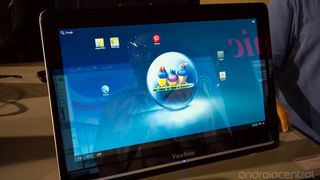 If you are looking for a 24-inch Jelly Bean tablet with last years internals, Viewsonic has just the thing for you. The VSD241, a concept which we first saw last January at CES with the VSD240, is what Viewsonic calls a "smart display." This means it can double as a monitor through its HDMI input, or act as a stand-alone Android tablet. And at 24-inches, I almost hate to use the word tablet.
In all fairness, it's not such a bad idea. Hook it up to your laptop for a second display, or if you need access to Android you can use the VSD241 stand alone. The internals, however, may not be up to the task of pushing modern Android apps out to 24-inches.
It's packed with a Tegra 3 inside, which Viewsonic says will deliver blazing performance, but there is no mention of how much memory will be on board, or the resolution. The VSD240 we saw at CES had a 1080p resolution, so we imagine this model will be the same.
It's good to see companies push the envelope. I think we all agree on that one, but I can't help but think this is one envelope best left un-pushed. What say you? Speak out in the comments and let us know if there's any interest in this one. The full press release is after the break.
ViewSonicSmart DisplaysDeliver Full HD Touch with NVIDIA® Tegra® 3 Processor and Android™ Jelly Bean for Powerful Performance
ViewSonic connects commercial customers with unrivaled desktop experience; Announces new VSD241 smart display for Android™
WALNUT, Calif. – October 28, 2013 –ViewSonic Corp., a leading global provider of visual solution products, announced its second-generation smart displays today.
The 24" (23.8" Vis.) VSD241 is a self-contained Android 4.2 Jelly Bean-based smart display which delivers blazing fast performance, courtesy of an NVIDIA® Tegra® 3 quad-core processor, making it perfect for local Android apps and cloud-based computing. Paired with a 2MP webcam with integrated microphone for video conferencing, and built-in speakers, this dual-point optical touch screen display is ideal for commercial vertical markets such as signage, point of information, and kiosks for interactive applications in enterprise, SMB, education, POS, hospitality and more.
"Recognizing the changing way people compute, ViewSonic was first to introduce Android based smart display technology in 2012,"said Erik Willey, Desktop Solutions Product Marketing Director, ViewSonic. "Now we're taking this innovation to the next level, giving our customers even better performance and larger screen options, along with the latest Android operating system. The result is the best possible desktop experience for Android stand-alone usage, cloud connectivity, and remote desktop capabilities."
For further functionality and interactivity, the VSD241 offers connectivity options, including HDMI® for connecting a notebook or tablet, as well as two full-sized USB ports,a micro USB and a mini USB,and SD card storage. Plenty of network connection options are integrated for instant access and transfers of data, documents and multimedia files, including integrated networking (RJ-45 Ethernet), 802.11b/g/n Wi-Fi® and Bluetooth® support. Paired with VESA mount capabilities and DC power support, the VSD241 is well suited for both stand-alone and extended display operation.
Matt Wuebbling, Director of Product Marketing for the Mobile business at NVIDIA, added: "Powered by an NVIDIA Tegra processor, ViewSonic's VSD241 Smart Display delivers brilliant graphics capabilities and exceptional speed. They make for a truly amazing consumer experience."
The VSD241 is now available in North America for an ESP of $499. A new 22" model, the VSD221, will be available in December for an ESP of $399. For a locked down, manageable version of the Smart Display, businesses may consider the 24" SD-A245 and 22" SD-A225 which integrates the Citrix® XenMobile platform.For further information, visit ViewSonic.com or follow ViewSonic on the Company blog, Facebook, YouTube and Twitter.
About ViewSonic
Founded in Walnut, California in 1987, ViewSonic is a world leader and pioneer in desktop display technology. As an innovator and visionary, ViewSonic keeps the world connected with a diverse portfolio of display solutions including smart displays, projectors, desktop displays, digital signage, and touch devices. Continuing our heritage as a desktop technology leader, ViewSonic delivers the latest in desktop virtualization and cloud computing products that change the way you compute, communicate, and connect. For further information, please visit ViewSonic.com.
ViewSonic's Finch Club offers resellers an opportunity to benefit from specialized product training and discounts. To sign up, please visit FinchClub.com.
Get the Android Central Newsletter
Instant access to breaking news, the hottest reviews, great deals and helpful tips.
Senior Editor — Google Ecosystem
Jerry is an amateur woodworker and struggling shade tree mechanic. There's nothing he can't take apart, but many things he can't reassemble. You'll find him writing and speaking his loud opinion on Android Central and occasionally on Twitter.
I was super excited for this when it was announced at CES, but discovery of two point touch and too little too late internals just turns me off. If they are still pricing it close to $500 there won't be any market.

I'm going to guess that's why they are aiming this at commercial customers. The every day Joe and Jane won't see why they need to pay $500 for this.
But convince some VP at a company that they need this and watch'em fly into cubicles.

Acer also has a mablet (monitor+tablet?) that was looking at getting... but... not so great specs, and then not so great support as a touchscreen monitor... Maybe ViewSonic will be slightly better?

No... Posted via Android Central App

It would make a great kitchen companion. Look up recipes, keep the family calendar, stream movies or sports, grocery list (would be nice if it had Wacom).

That's what I already do with my n 7 and smartphone in the kitchen. Usually listen to podcast mostly while cooking

Why does that remind me of this: [Note 3 Spoof]
http://www.youtube.com/watch?v=zKsW28L4qsE

Bwahahahaha... hilarious! Lmao! :p

Don't know why you have to bash it. Last I checked million of people buy Chromecast which doesn't have as good specs and is crippled in features. My Android TV stick for $50 is only dualcore with a single core Mali400, my family loves it for watching 1080p and streaming HD videos smoothly. Even the Ouya only have Tegra 3 and it have some pretty decent games on it. None of these options even come with a touchscreen. Viewsonic could lower the price since you can buy a 24" TV for $200 now and a separate android stick, but that so lacks a touchscreen. It could go for $350-400 instead. android central app

I think you answered your own post with the second paragraph. Price vs usefulness. Posted via Android Central App

The Chromecast is $35 (and insanely useful)... Posted from my pure Google Nexus 4 using the AC app.

+1 Posted via Android Central App

Give me a good price and little to no input lag, and I would be interested. I can see a novelty value to this, but not something I could justify as a must have.

I'm thinking that I might want to watch the Learn how to speak French video :-)

Hm, an Android Table... =)

YA, NO BATTERY!
What... were you planning on carrying around a 24 inch monitor with you on the go? If Samsung made it, it would be called the Samsung Galaxy Super Ultra Mega - Universe 2013 Edition.

Pfft! It should at least have a 64,000 mAh with the ability to add a ZeroLemon 128,000 mAh!

Samsung Galaxy Super Ultra Mega 2013 LTE HD You forgot those last two /Yarnell will take 3, but only on Tmo ----------------------------------------------------
My S-Pen went through hell to deliver this important message to you

Or they could copy a move from HTC and call it a Samsung Galaxy.

Anyone remember the Viewsonic gTablet? Fun to tinker with years back. Sent from my LG G2 via Android Central App

Not sure how a Tegra 3 powering a 1080p display is underpowered. Not current maybe, but I would think a Tegra in a package that big could pretty easily push along a 1080p display. I could be wrong though.

I guess I'm the only person out there wanting a tablet bigger than 10 or 11 inches!! Maybe not something this big, but also something with a battery! Posted via Android Central App

The HP Slate 21 is a much better device, and cheaper! I got my dad (89 years young) to buy one and I also bought one. It uses the new Tegra 4, and is only $400.00! It also comes with keyboard and mouse, and all three, full sized, USB ports are set to storage mode, plus it has a full sized SD card slot. To top it all off, the Slate 21 display is very very nice.

I think it might do well as an all in one for the kitchen or something. You could look at recipes while cooking. Just wipe your hands before touching the screen. I think the thing that would foul it up there is the price. 500 bucks for a tertiary computer, not good.

Release a custom version of android that allows for "kiosk mode" of the app of your choice and they'd sell a ton of them at $400. $400 for a display that can function as a thin client for Windows RDS, Citrix, or even as a VDI endpoint would be a pretty sweet deal. Touch could be useful in a small medical practice as well. As long as it has a USB port for a keyboard/mouse it'd be great for this purpose.

I don't think it can be used as a tablet, but maybe if you mount it on the wall you could use it as a kitchen aid (to get recipes and stuff, as stated in an earlier comment) or you could use it as a tv that could stream content (like a cheaper smart tv alternative ;)) Posted via Android Central App

Its kind of cool. Nothing for me though. Posted via Android Central App