Video gives an early look at ASUS' EeePad Slider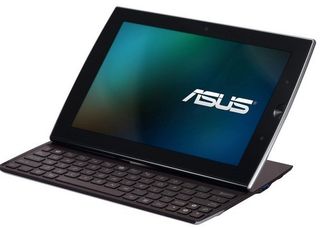 ASUS has already seen widespread success with its EeePad Transformer, but up until now we haven't seen much of the device that launched alongside it -- the EeePad Slider. Today, Romanian blog ImiDoresc.ro has published a short video presentation featuring a prototype of the Honeycomb tablet, showing off its trademark slide-out keyboard and software, based on Android 3.1.
Join us after the jump to check out the video. The EeePad Slider is due to launch in Europe this Fall, having recently been delayed past its original August release window. Be sure to let us know in the comments whether you'd prefer a device like the Slider over the traditional slab of glass.
Source: ImiDoresc.ro. Thanks, lau!
Alex was with Android Central for over a decade, producing written and video content for the site, and served as global Executive Editor from 2016 to 2022.
I sooooo want one of these.....

That's a cool looking tablet and i like the keyboard device, I just wish he could open the keyboard a few more times (sarcasm). . .=)

Damn that looks good. Looks like I know what I am getting for x-mas lol

I cant see the ports. what does it have? The big issues will be durability and ports.

I'm struggling to see the point of this model vs the Transformer... You lose the touchpad and some of the modular flexibility (no to mention screen tilt adjustment, from the looks of it), without any obvious advantages. Maybe I'm missing something, I guess if it's significantly thinner or cheaper than the TF+ dock that'd be one thing, but it looks pretty thick. More choices are always a good thing tho, so bring it on ASUS! What they really need to do is start spending some advertising money though, not release a dozen models a year like they've done with netbooks. I bet if more people knew about the TF it'd be generating a lot of buzz, right now the only people taking about it are tech heads.

This seems like the best of both worlds. Portability and convenience of a tablet, but with the improved productivity of a physical keyboard. I could see a lot of manufacturers copying this if it is well received. It could replace laptops for a lot of people; no mouse needed since you have the touch screen. I can't wait for this to come to the U.S.

My Asus Eee netbook was a lot cheaper. lol

If the price is right, this would be a better deal than the transformer and its keyboard dock. This looks like a winner. Hopefully it is not too bulky and heavy because of the keyboard

this is cool, but i dont understand why a tablet needs a keyboard, maybe its me but ever since i download the tablet thumbs keyboard i never ever felt the need for a physical keyboard, why not just get a laptop then? the whole point of a tablet is its portability, why not spend more time on making it thinner, lighter and more ports instead of adding a bulkiness with an unneeded keyboard.

I think those are some very good points. In defense of this tablet would be the fact that you can't type nearly as fast on a virtual keyboard (any of them). Also, nearly every tablet fits the direction you recommend, I think it's good for a couple to stand out with unique features. I like this over a laptop because it has all of the touch goodness of android (I can close it and surf, read books, etc), then I can sit down and take notes (the updated evernote app now has nearly all of the editing features of the desktop version), and the battery life will be great. I know there are "tablet convertible laptops", but those have never appealed to me, for many reasons.

It's pretty poor that he dinked with it for 7 minutes and never showed it from the side with the screen raised. No one cares to see a tablet flip through web pages. It's just assumed that web surfing works at this point. Let's see the slider mechanism in greater detail and have a look at the proportions of the thing while it is open -Suntan

Wow, at first glance that looks just like my old Psion Netbook.

My concern in the durability of the sliding mechanism. From the picture I have seen its pretty thin and then folded down there is quite a gap between the two halves.

While I think this is a cool form factor, I prefer the Transfomer. I like the opinion of having the extra battery and the trackpad, It just seems more put together then this .

Very cool. Full keyboard, while still portable. More portable than a Transformer + keyboard dock. You have to hand it to Asus, they are really innovative with the different options they are offering and after this, they will still be bringing out the 7" EeePad Memo and the very interesting Padfone.

Very cool! I love that Asus is coming up with new designs instead of just making a same-old, same-old slab tablet that's pretty much the same from every other manufacturer. That is one reason the Transformer so popular. I can't wait to test out one of the sliders, right now I have a transformer but this looks very tempting.
Android Central Newsletter
Get the best of Android Central in in your inbox, every day!
Thank you for signing up to Android Central. You will receive a verification email shortly.
There was a problem. Please refresh the page and try again.