Verizon's Wear24 Android Wear 2.0 smartwatch is finally on sale May 11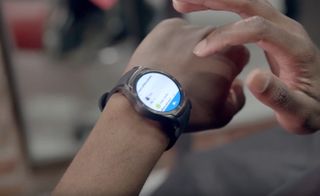 After quietly releasing its first Android Wear smartwatch with an expected availability of March, Verizon is finally ready to sell the Wear24 on May 11. The Wear24 is a pretty generic looking watch, but is rather sleek considering all of the features it packs. You're getting a 1.39-inch circular display, 450mAh battery, 768MB of RAM, 4GB storage and of course a Snapdragon Wear 2100 processor.
Naturally the Wear24 is designed to be used with Verizon's LTE network, including streaming music, using maps and making calls tied to your main phone's number. Verizon claims 18 hours of usage or 60 hours of standby (under ideal conditions, of course), which seems about right compared to the likes of the LG Watch Sport. The Wear 24 isn't small, but it's about average considering what's inside: 13.4 mm thick, 42 mm across and weighing in at 85 grams.
Having Android Wear 2.0 software means you're getting the latest from Google without much Verizon intervention — aside from a couple Verizon apps and some extra watch faces, of course.
The Wear24 comes in silver, black or rose gold color options, and prices out at an industry standard $349 — you can also pick it up for $299 with a data plan and two-year contract, or finance it for $14.58 per month for two years.
See at Verizon (opens in new tab)
Get the Android Central Newsletter
Instant access to breaking news, the hottest reviews, great deals and helpful tips.
Andrew was an Executive Editor, U.S. at Android Central between 2012 and 2020.
My big question is why... And that goes out to Verizon as well as the customer that buys it. I can't see this selling enough to make Verizon money and can't see many reasons to buy this over other unlocked models.

I have the exact same question....Why? I have a hard enough time explaining getting an LTE watch over just going to best buy and getting one of the million other non LTE options.

Valid question for people who visit this site and other sites like it. But for the average consumer, this is the watch Verizon will be pushing when they come in to upgrade their phone. Most of those average consumers won't be interested in a smartwatch, but if they're even just a little curious, this is the one Verizon will be putting all of the attention on. It's definitely a gamble for Verizon, but they've done good enough with their own Ellipsis tablets to release multiple versions of them, so clearly they think this is worth a shot too.

I'm buying one for my wife. She can't have her phone on her at work but a smartwatch is allowed. The LTE option lets her be without her phone but still receive important alerts. She doesn't like any of the currently available LTE watches but really likes the look of the rose gold wear 24.

What a joke. I'm still waiting for them to release the Gear S3. This stinks!!!

Gear S3 is awesome watch to date!

I agree. I just bought the Bluetooth version of the watch from Best Buy. Love this watch so far. And I can still use Samsung Pay. I can still talk on the phone as well. I don't mind carrying my phone everywhere either. LTE in a watch just to not have to carry the phone around doesn't make sense to me. And you still have to pay extra per month on the cell phone plan.

I actually got ahold of one of these early, but i've looked all through this watch and cannot find how to activate nfc, despite the articles on it saying it existed, and a verizon rep assuring me that its got instructions in the manual (which of course didn't come with it, nor is it publicly available yet, go figure).

Other articles about the impending launch are stating that Verizon has confirmed the watch does not have NFC. Early reports were that it would, but it doesn't.

Hey fossil! If Verizon can get a watch fabricated without the flat tire, you can do it too bud!

Had I not just got the Gear S3 last week, I might have been tempted. The lack of the ability to change the watch band is product killer. Other than that, I was impressed with the function of the software and hardware buttons/crown.

I played around with one of these today, its really nice. It has a premium feel. but...my conundrum, my favorite gold is rose gold...but i can only do rose gold sunglasses or chains...but the watch! wow in rose gold its REALLY nice! Is rose gold the official color for women in you all`s opinion? #seriousquestion

Having owned a moto 360 for a year, i honestly cant say its been worth the $325. There are times i really like it, but if I could do it all over again... I'd get the asus or sony android wear-ables... For half the price.

I felt the same way about the original LG Watch. But the Android Ware 2.0 enhancements and the LTE connectivity should make these much more versatile.

... thats $299 WITH A 2 YEAR CONTRACT... No way, easy pass.

Then pay the extra $50 and own it outright. But if for some u reason you can't, it's only $5/month on an existing plan.

I know I'm posting in an old story but I just picked one up on Woot. Apparently VZW got rid of them. They are going for $75 which is about what they are worth just to tell the time.