Verizon's gold Galaxy S5 breaks cover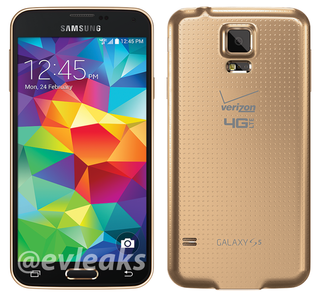 Interested in picking up a gold Galaxy S5 once it launches on Verizon later this month? If so, here's an early look at what the device will look like, thanks to a leak posted by notorious leakster @evleaks.
As you can see from the image above, Verizon's version features the carrier's branding instead of Samsung's logo. The Galaxy S5 branding at the bottom is also new, and ensures that you never forget what device you're rocking.
The device in itself features the same internal hardware as the standard Galaxy S5, which includes a 5.1-inch full-HD screen, quad-core 2.5 GHz CPU, 2 GB RAM, 16 MP camera and LTE connectivity in addition to IP67 certification, which means that you can take it to the pool. The gold Galaxy S5 is slated to launch on May 30 on Verizon's network, although it will be offered at a few select indirect retailers. Pricing information hasn't been detailed yet, but it is likely this version will cost the same as other color variants of the Galaxy S5.
Are you interested in buying this version of the Galaxy S5 once it launches on Big Red? Let us know in the comments below.
Source: @evleaks
Harish Jonnalagadda is a Senior Editor overseeing Asia at Android Central. He leads the site's coverage of Chinese phone brands, contributing to reviews, features, and buying guides. He also writes about storage servers, audio products, and the semiconductor industry. Contact him on Twitter at @chunkynerd.
THAT PHONE REALLY DOES NOT LOOK GOOD in GOLD!

+1000 Posted via my Nexus 7 (2013) running CM11

Honestly, I don't really think any of them do. The iPhone, the HTC, the G3 - gold's just an awkward color in my eyes.

Too Bad it's not a Prime.. :-)

There ain't no prime. This is as close as you're going to get: http://www.amazon.com/gp/product/B00JKF4H6Y?tag=hawk-future-20&ascsubtag...
PS. There ain't no HTC M8 Prime either.
via android central app

I kinda feel like you might be right. ಠ益ಠ

I don't mean there won't be an HTC Max or Galaxy Note 4 or S5 Active, which what they'll more likely be. via android central app

there are too many leaks for there not to be a "prime" model to not be in the works and almost available.

+5000 Posted via Android Central App

Sounds like someguy owns a standard S5..
And is in TOTAL denial..
You know what? I don't blame you.. I'd be pissed too if I spent (or are spending) $649.99 + Tax on a device that gets upgraded within a few months.. Shades of Razr / Razr Maxx.

Bling bling Posted via Android Central App

Yuck! Posted via Android Central App

I can't wait until the gold phone trend is over. Fugly. My AC App signature lacks a witty comment.

I would pimp the shit out of that phone. Posted via Android Central App

That "Verizon 4G LTE" is just atrocious. Same bs on the note3. I thought that Samsung is big enough at this point to say No - as long as I remember iPhone doesn't have any vzw stamp, or it's almost invisible.
Not a fan of gold, especially on a phone, but this would be probably the worst -furthest from it. VZW Moto X

Agreed. Samsung needs to tell verizon to chill out with the branding.

Yeah my Note 3 (Sprint) has none of that noise. I know there is a huge subscriber difference between Sprint and VZW, but you would think that they would at least cut down on it...

Speaking of cutting down -
How about the bloat ?! I don't need nor care for their stupid apps and extra "services". If they can stay away from iPhone's software they can do the same w Android. The only reason they are still having my money is coverage and unlimited data. VZW Moto X

remember the note 2 on Verizon? LOL Posted via Android Central App

fugly Posted via Android Central App

Vzw wanted to sell the iphone after seeing custome4s flock to att for it. Apple held the cards and dictates terms to carrier's. How else could we explain why most/all phones on vzw except apple device's get slapped with vzw logos? My S4 is in a case so I really don't care. And on the rare occasion it isn't its in my pocket or the logo is covered by my hand. Posted via Android Central App

The band aid phone is here! Posted via Android Central App

I just want the damn 32 GB model already. Come on Samsung/Verizon !

Put a memory card in it. Posted via Android Central App

That doesn't solve everything dealing with kitkat Posted via Android Central App

so i'm the only one who likes the gold s5? Posted via Android Central App

There might be a few more people who like it.

Nope. I would have got it at launch if it was available. Posted from my caseless GS5. Because I believe in myself.

Why r people making a big deal because of branding? Lol you people need a job. Posted via Android Central App

+1. If you don't like it get a case Posted via Android Central App on my daily driver, the Droid MAX

Looks pretty good from the front, but the back is hideous.

I agree it should of been black with gold trimming and/or white with gold trim similar to what they did with the Note.

Is it just me or does this look like someone took a standard S5, and sprayed it with Krylon? Then added "trim" they got off ebay.

I would have purchased the LG G2 last year but held off because they branded the front. I can handle if it's on the back. I think the 4G LTE is getting to be overkill at this point. Just wait until they start tattooing with 4G XLTE. Posted via Android Central App

The G3 appears to look good in gold, the iPhone 5s looks nice too. The M8 and S5 are absolutely hideous in gold. Posted via Android Central App

Love it!!! Posted via Android Central App

That render has the wireless charger back on it. I wonder if they'll sell it with that back already on it as a bonus. That would be nice. Posted via Android Central App

I wonder when otterbox is going to come it with an armor case for it? Posted via Android Central App
Android Central Newsletter
Get the best of Android Central in in your inbox, every day!
Thank you for signing up to Android Central. You will receive a verification email shortly.
There was a problem. Please refresh the page and try again.