Verizon won't be getting a developer edition for Moto X in 2014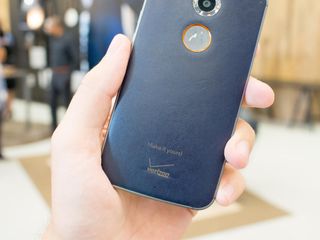 The new Moto X for 2014 won't be coming in a developer edition flavor for Verizon Wireless customers, unlike the original model that was released last year. Motorola's Punit Soni confirmed that there won't be a developer edition this year for Verizon in a Google+ post. Instead, if you're interested in the Moto X on Verizon's 4G XLTE network, you'll be left with the standard carrier offerings.
When asked on social media about the developer edition for Verizon, Soni briefly responded with an "unfortunately no."
Developer editions come with unlocked bootloaders that would allow customers to use custom ROMs and make adjustments to the handset. Though the lack of a developer edition of the 2014 Moto X likely won't be a dealbreaker for general consumers, the small population of developers and tinkerers who want more flexibility out of their phones may not welcome the news.
Were you hoping for a Verizon-bound developer edition of the 2014 Moto X? Let us know in the comments. And for more information about this year's X refresh, be sure to read our impressions of the device.
Source: Google+ via Android Police
Get the Android Central Newsletter
Instant access to breaking news, the hottest reviews, great deals and helpful tips.
Darn Posted via Android Central App

They would never want to do that when they can't put as much Verizon bloat on the phones as possible. Posted via Ash William's Boomstick

Moto X or Note 4... Decisions decisions. Posted via the Android Central App

That is an easy one. I am not even gonna tout the Note, I am just gonna say that the Moto X was a bit of a step back. Truly a disappointment

Why a step back? Seems like they upgraded every aspect of the phone? I didn't like the battery size choice but I'm sure it'll last long enough for most people. Posted via Android Central App w/G2

Ditching the X8 architecture for the "ho hum" that everyone else has is big. X8 was helpful with battery and that is gone, the battery did not really increase so we will get to see how it goes. I think that was the most disappointing thing. They did improve the camera but we are really going to have to wait for real world tests on that. I don't know, I expected more

X8 architecture was more of a marketing ploy than anything else, honestly. Both phones improved greatly. I'm leaning towards the Note simply because I currently have my OPO to fulfill my 'pure' android desires. Posted via the Android Central App

My friend had the OPO and he thinks its too big. I think the LG G3 is a great phone, but I'm gonna hold out in that nexus 6 Posted via Android Central App

Can you get him to send me an invite? Posted via Android Central App

Stop. Posted via the Android Central App

I was on the same boat. Had nexus 5, bought the oneplus one, loved it. Tried the lg g3 loved that one too plus it had ir blaster and was easier to hold. Kept the g3. If nexus 6 is as easy to hold as the g3 then the nexus 6 will be my next phone. The note 4 is a contender but I think holding it will be an issue. The g3 has spoiled me. Posted via the Android Central App

The S801 has the same capabilities but is also faster. Is also just as efficient. Posted via Android Central App

We shall see, and I hope you are right, but I am as skeptical on this one as I was adamant on the last one. Sooner or later I get one so I can get some hands on, and the reviews should come pretty fast and furious....

They used X8 because it had the lower power contextual cores for movement as well as language recognition, features that no qualcomm processor had at the time. The 800 and 801 both have those extra low power cores, so there was absolutely no reason for Motorola to spend the engineering resources (in time and treasure) to develop their own. Posted via Android Central App

The 800 was out last year, why not go with it then instead of doing the X8? Not picking a fight, honestly asking. There has to be more of a difference than that. If the processor is a push, then fine it will be the Moto X.1 and that is fine I suppose, but still a bit disappointing

Yes, the 800 was out last year. This year it's cheaper. Motorola opts for older (cheaper) hardware that is better optimized.

Maybe it garnered attention. They needed something to differentiate from the competition. The 801 probably has a better capability for integration. If I'm not mistaken, there an extra core, very small, in the 801 that they could utilize instead of another chip. Posted via Android Central App

Probably not in time for Moto. Also, at that point they had already invested in their own solution and probably didn't want to throw that R&D away. Posted via Android Central App

Motorola ditched the X8 architecture? Interesting, I didn't know that. What are your references? Posted via Android Central App

The specs that have been posted everywhere Posted via Android Central App

i dont think having the x8 matters anymore bc android L has that battery thingamajig that developers use to utilize how much battery their app uses. i think bc of this googles throwing this in the developers face on purpose to let them know, HEY, ur stupid app is killing peoples batteries, fix your app.

Trust me, the 801 does an even better job at preserving battery life. I got 52 hours out of my HTC One M8 at one point (of course that was an extreme case)

Let me guess sitting on your desk not being used lol Posted via the Android Central App

I checked the weather a couple of times :)

They didn't ditch the X8 architecture. They just use the HEXAGON DSP that is in the 801. The 2 extra cores that they advertised on the old Moto X were actually 2 separate chips, a TMS320 and a MSP430. Both are TI chips which Motorola seems to love to use. The integrated HEXAON DSP is a better solution. When the Moto X is 'asleep' the 801 is shut off except for the HEXAGON DSP so they still get the low power.

@mobius, they increased the processor, screen size and screen resolution, but only increased the battery by 100mah. I'm sure they didn't do too much to the battery to keep price in line. To me it's like the galaxy s3 vs s4. The s3 was a game changer like the moto x 2013. The follow up is just Okay. If I had to choose (thankfully I don't) I might get the moto g 2014 over the moto x 2014. Only benefits on the x are touchless controls, screen resolution, processor and camera with a $320 price difference. You could get 2 moto gs for the cost of the 2014 moto x and have enough left for a nice night on the town. Posted via...The One

With Moto G you also get stereo speakers.

New Moto G currently means no LTE. Posted via Android Central App

I agree it's not leaps and bounds better than last year's (what phone truly is now days) but they did improve quite a bit. Screen size might not be an improvement for a lot of people. The 2 design choices I don't get is the non dual front speakers and the battery size since they went bigger and higher res on the screen the battery seemed like a no brainer when all the comp has bigger batteries. Posted via Android Central App w/G2

Like I said up above I will wait to see what it is really like after some hands on (of my own) and reviews from others. You guys are talking about costs savings over the 800. Well it take a hell of a lot to develop your own chip, cast the die, produce and then abandon it. I doubt that cost played into it. I wanted to see what the X9 or whatever you might call it was gonna do (the next generation).

It was a Qualcomm solution with some extra stuff. Not exclusively Moto. Also not "home grown". Posted via Android Central App

Wasn't it a chip similar to the nexus 4s with the x8 stuff to give it features that the 800 series chip had built in? They probably started development way before the 800 chips would be available for testing. Posted via Android Central App w/G2

The X8 was just a S4.... Posted via Android Central App

That's *exactly* what I was thinking. The 801 is an excellent, power-friendly processor, so I'm not terribly disappointed that they went that way from a functionality perspective, but purely for geekiness' sake, I was excited to see what improvements they had made to the X8. I wonder if Lenovo had anything to do with the decision. Even if the sale's not final yet, I'm sure they could have exerted some influence over whether or not Moto should be sinking a large amount of money into next-gen processor R&D.

They didn't do a total custom chip on the old Moto X. Like you say that would be cost and schedule prohibitive. Instead they used a separate TMS320 MSP430. Also you would lose the cost benefit of using a standard chip. The probable reason for using the separate chips was Qualcomm 801 chips weren't available in time when they developed the old Moto X. Using the HEXAGON DSP in the 801 is a much better solution.

sadly the note 4 was a let down for me :( moto x was too lol but i wanted more for the note 4

It's funny, I thought the note 4 was quite nice. Not sure what else they could do, it has everything latest and greatest spec wise, next gen screen, better build quality etc... The phone that's a head scratcher is the Z3. However that's going to be my next phone most likely because it's coming T-Mobile which the Z2 did not. Posted via Android Central App w/G2

What's the allure for you? I've never given a Sony phone any serious thought. But I need a new phone soon. T-Mobile as well...but that still leaves plenty of interesting non-Sony options.

Ssung always does great from a specs perspective, poor from an optimization perspective. The first Gen Moto X was the inverse. Old specs, but optimized out the rear end. Personally I prefer the latter approach. Specs don't matter if the OS doesn't make the most of it.

I agree on the spec list part. I'm just saying though there's not much they didn't do to try to improve the note 4. The allure to me on the Sony Z3 is I like the idea of the camera it packs. Most people seem to like the 20.7mp sensor they've been using since the Z1. The phone should have great battery life like it's predecessors. They got rid of the protective film that people hated on the screen (since Z2). It's waterproof which you never know could be a blessing. I think it looks nice. Sony UI seems fairly stock Android which I prefer (might be able to use the stock launcher). They kept the screen at 5.2" which is the size of my G2 which the G3 killed it for me at 5.5". Posted via Android Central App w/G2

+1 Posted via the Android Central App on VZW Moto X

Moto X... can't wait to leave my Note 3 behind! Posted via Android Central App

What's leading you to make the switch? I'm always interested in what makes people change between device types.

I'm also interested in the response. Personally, given the choice, I'd just stay put with the Note 3 and see what next year brings.

They'll unlock it eventually. Posted via Android Central App

All of Verizon's LTE phones are unlocked. Posted via Android Central App

Quite the contrary. No VZW phone has unlocked bootloader
You probably meant "gsm sim unlocked" which is partially true. You can't use any sim from other US carriers, but internationally you can. Posted via the Android Central App on VZW Moto X

My mistake. I was under the incorrect assumption that you were referring to carrier unlocking. Posted via Android Central App

VZW's LTE phones are carrier unlocked, which means that they can be used on another network without having to go through the carrier to allow it. We're talking about bootloader unlocking here, though, which isn't the same thing. Bootloader unlocking allows you to flash different recovery and ROM modules.

Jcase and beaups have been able to bootloader unlock the Verizon OG Moto X running 4.4.2. Their method may even work for 4.4.4 although we will have to wait for them to release the final version of the tool. They are selling access to the tool for $25, which is $20 cheaper than the chinese guys who were selling the unlock codes for $45 each. Hopefully, even if jcase and beaups can't unlock the new Moto X running 4.4.4, then the chinese unlock code sellers will still be able to sell you an unlock code.

Oh, definitely. Third parties always find a way to unlock popular devices' bootloaders, and I'm sure the same will go for the VZW Moto X. I was just trying to give TheMimic12 some more information, since s/he seemed to be conflating carrier unlocking and bootloader unlocking.

Their work is based off of someone else's discovery of a security exploit. I wouldn't count on that type of stuff being available in the future. I certainly wouldn't buy a VZW phone expecting someone to find a bootloader unlock exploit.

LOL, yup....FCK U VZW!!! HAHAHAHA.... Just another reason why I'm glad I left you dbags almost 2yrs ago...F'em!

Verizon continues to not play nice. This is why I am going to a GSM carrier asap. Posted via Android Central App

Exactly. This confirms my decision to head to ATT.

AT&T locks the bootloaders down as well. T-Mobile and Sprint are the only 2 major ones that generally allow unlocked bootloaders.

I'm strongly considering heading out after my contract in January too Posted via Android Central App

Lol at Verizon.. The only thing customers get is that ugly crappy logo. Posted via the Android Central App

And service coverage that no other carrier can even come close to...

AT&T has just as good coverage as Verizon. Posted via Android Central App

Ugh. No they don't. I tried AT&T, but it was awful. Didn't have any service unless I walked around outside holding my phone in the air. Bash Verizon all you want, but fact is, for us who don't live in highly populated areas, TMobile and ATT service suck badly. It is way too expensive, yes, but having reliable service is worth it

Um yes they do. I live in Southeast Ohio and I would not say it's highly populated. Fact is AT&T has great coverage and is on par with Verizon. Posted via Android Central App

Take a look at the coverage map. AT&T has awful coverage compared to companies like Verizon and U.S. Cellular. Brought to you by the Samsung Galaxy S5 on U.S. Cellular

You think us cellular has great coverage? You, sir, are tragically mistaken. They only cover some parts of major Midwest cities. Anywhere south of Indianapolis isn't getting coverage. Posted via Android Central App

Well that is why carriers are area dependent. So he isn't wrong for saying AT&T is good .. since it may be for his area .. Just like you're not wrong for saying it is bad ... For your area... But you can't blanket a statement that Verizon is the best since ... that may not be true for other areas. For me T-Mobile has amazing coverage all around me ... so unlimited all for $80 versus .. $100 + for limited data on Verizon? It is a no brainer. No one should be carrier loyal ... it all depends on where you live ... Once you find out your options you simply weigh in your needs / budget versus what is offered.

I agree. Unlocked phones and cheaper plans aren't worth it if the network coverage is poor. T-Mobile and Sprint have awful overall network coverage outside of large metro areas. I have tried them all and Verizon has the best network IMHO.

This will probably only speed up the ETA of a brute force unlock. It could be seen as a good thing if you have a little patience.

Verizon must think we all love their Bloatware. ...well Verizon we don't. .
And I for one will be rooting my phone shortly. And when I buy a new phone....it won't be Verizon...it will be a GSM...like the other post says he will do. Is it good business to give people what they want or only let them have what YOU want them to have. Oh...I forgot to mention that soon it will be only YOUR APP STORE. Good luck with that Posted via Android Central App

Not only their app store, Google play will still be there.

Nice way to justify bloat ware. Posted via the Android Central App

He isn't justifying it, just correcting misinformation Posted via the Android Central App

Nope I am totally against, Verizon Sprint, Samsung, hell even Amazon having app stores. The Play store should be it. I was just pointing out that it was not the only option for Verizon phones.

I'm kind of okay with Amazon having their own app store, since they contribute significantly and independently to the device market, and their devices are a totally different experience than any of the traditional Android OEMs. Carriers providing their own app stores, though? Ugh. At the very most, they should do what Nvidia does, and provide a virtual app store that basically curates apps from the Play Store that are particularly relevant to their users. I'm actually really digging the Nvidia app catalog, which just shows you apps that are optimized for their devices, and then directs you to the Play Store to download them.

I'm looking forward to seeing the new Moto X. My contract has been up for a few months now and I'll be looking into ATT. sent from my BlackBerry

Obviously if they sold enough last year for it to be worthwhile they would do one this year. Posted via Android Central App w/G2

What really happened was they probably sold too many last year. It cost them pennies extra to sell a dev edition, but what they're looking at is the lost revenue due to the unlimited users free tethering. Im sure there's other reasons to but I bet that one of the biggest.

That may be the most ignorant post I've ever read. "We sold too many so lets not make anymore"
Wow

Really? What if no one bought the locked version at all, not one was sold, and everyone bought the Verizon developer edition instead? Do you think Verizon would then say "hey let's only sell unlocked phones"? No. They would say" hey let's stop selling unlocked phones and lock them all. " It's evident that Verizon doesn't want unlocked phones in many people's hands.

And what if nobody bought any phones period. Would Verizon just start selling toasters? See I can make stupid "what if" statements too

-11 Posted via Android Central App

+10 Posted via Android Central App

-10 Posted via Android Central App

Then they would stop restocking the moto x and restock developer editions of it and they would've done the same this year Posted via Android Central App

+1 Posted via Android Central App

-1 Posted via Android Central App

Yes, I was hoping for a developer's edition Moto X 2014. I currently have, and greatly enjoy the OG Moto X. It is the first phone that I almost wasn't disappointed that I wasn't able to root easily. Eventually I was able to root the phone and my love of the phone has only increased. While I got my X on subsidy (got it when there was an "issue" with Verizon's upgrade service and was able to keep my unlimited data), I was hoping to get a Moto X 2014 developer's edition on VZW so I could unlock and root my phone without having to resort to some shady tricks. But... we'll see. While I don't think that there will be any easy way to unlock a locked Moto X (just look at how long it took to come up with a way to unlock the bootloader of the X that didn't involve sending money to some random guy in China... and the fact that the exploit hasn't been released in a way that the average person can unlock their phone), I do hope that this is a case of semantics. Maybe an unlockable version of the VZW Moto X 2014 will be released, but not called a developer edition. Maybe it'll be called something else?? Anyway, when I am able to upgrade my phone I'll definitely take into consideration what phone that I can unlock.

Hugely disappointed. I was just waiting for them to go on sale on Motorola's website so I can buy a new developer edition Moto X. I have a developer edition now and I will only have a developer edition or sum addition of a verizon phone that I can unlock Posted via Android Central App

Well that made my choice really easy. Keeping my 2013 DE model of the Moto X. Good thing new features are coming to the older handset anyways. I dont care for 5+" screens anyways. :(

Wh....wa....why are ppl still on Verizon?! Posted from my caseless GS5, because I believe in myself

bu...bu...buh..because they have a great network and i pay a great price.

I pay $35/month for 5000min, unlimited text, unlimited data for my Agent Line. Also they are litterally the only carrier in my area with 3g or better.

Because they like bloat, ugly looking phone with Verizon branding, closed network with able to use only crap phone they sell, all in the name of great network.
Thank god for gsm networks like T-Mobile and AT&T we have choice. Posted via the Android Central App

Droid Maxx is GSM unlocked. Only VZW branding is on the back and I case my phone. Been with VZW shortly after they became Airtouch, because they were the first to offer true "no roaming, no long distance" anywhere in the U.S (and I gave the AT&T predecessor at the time the chance to match it, and they said, "no"). Because they have given me good to excellent customer service, their CSR's gave me tips on how to "try" a different plan for 30 days to avoid Canadian roaming charges. Because they "comped" a phone replacement fee on a new feature phone (back when we had those) because my wife left it on jumping into a pool going after a neighborhood kid who couldn't swim. Because they were the first with LTE and LTE-A rocks. Because they told me to wait on verifying my new employer when asked because my old employer had a better discount at the time (and the discount under the new place had since improved). Because with Android 4+, while I may not be able to remove their bloatware, I can disable it and ignore it. Yes, I am glad we have choice, and have a 1st Gen G LTE on order to test drive both AT&T and T Mobile. I may be switching, too, but it will be a decision not made in haste. Posted from my XT1080M

"LTE unlocked" is irrelevant. Phone barely works on AT&T and you lose 1700 Mhz hspa band on T-Mobile. People are talking about bootloader not sim Posted via Android Central App

I'd like for someone at AC to do a quick article about the difference between SIM and bootloader unlocking. A lot of people seem to confuse the two, and it'd be good to have a quick reference rather than explaining it in the comments time and time again. This is the kind of thing that Jerry does very well.

+1 Posted via Android Central App

I get that "SIM Unlocked" isn't "Bootloader Unlocked" and didn't mean to sound otherwise. Mostly I was responding to the "why are people (in this case, AC readers who often have more knowledge and experience) still on Verizon" question.

Because grandfathered unlimited data + 20% employer discount + fastest, most reliable network = win. Posted via Android Central App

That is the ugilest back of a device i have ever seen. Now there wont be dev editions, laughable. The moto g designwise is 10x better. Too bad the specs are gimped and no lte. Please god dont screw up the nexus 6 moto.

Ahem. Moto g has. Lte version. That is all. Posted via Android Central App

Not the 2014 version Posted via Android Central App

Not the new one, not yet at least. Posted via Android Central App

I think it has the best looking back side I have ever seen. To each their own. I will get mine in all black. Posted via Android Central App

Same sh!t different day as far as Verizon goes. If you're a Verizon customer enduring their BS year after of year don't complain. You know what you signed up for. Enjoying my unlocked devices on AT&T.

Um, yeah...I'm not complaining. Far from it in fact. I love Verizon.

Didn't get developer edition last year. Minimum bloat regardless. Love my Moto X. If there is another Black Friday sale, count me in. Posted via Android Central App

Who the HELL cares.. I mean seriously?! 3% of the population is interested, While the rest doesn't even know there's such a thing as a developer model.

I would be shocked if Dev Edition devices accounted for even 3% of total Moto X sales.

Those 3% people are among the (almost) 100% of unlimited data plan users. Those 3% people are the majority of the geeks roaming around such tech sites. Those 3% are the people to whom average Joe will ask for recommendation before buying a phone. We are minority, but no way less in deciding the fate of a phone, IMHO... Posted via the Android Central App from my OnePlus One

Also, Bloatware is EASILY removable.

Honestly, this sucks only for us nerds-and even then just ones on Verizon that want to play around. The general population (aka the vast majority of phone buyers) aren't going to give a damn Posted via the Android Central App

F Verizon! they are an evil, criminal enterprise! F 'em!!!!!!

What carrier or big company isnt? Nobody is in business to make our lives better. Just to charge us and profit by offering products we wish to own.

I have a Moto X dev edition on Verizon and it is the best phone I have ever owned. I will never buy another phone without an unlocked boot loader. I don't replace ROMs, but I am rooted and make use of several root only apps daily. So, I guess I will be hanging on to this phone for some time.

I'm very disappointed I know own a Dev moto x and droid Maxx unlocked. I'm gonna try the new X and if it's not 100% I'll return it in two weeks. I think it will get unlocked but if it doesn't perform it is worth the $35 to return it.

Same here, but what are you going to do when the battery dies? I'm already noticing some (slight) deterioration in battery performance in less than a year of use.

everyone seriously needs to shut up about this unless youre a developer. it doesnt make the biggest difference in the world esp if ur just a whatever consumer that only has eyes for apple. people crying about leaving verizon doesnt hurt them one bit bc there are the same crybabies on other networks who are willing to come to verizon just as fast as ur willing to drop them. this is the tech life, there will always be opposition. get used to it, stop crying.

+1 Posted via the Android Central App

An unlocked boot loader means you can always root the phone, even the day a new ota comes out. There is no need to have to wait for an exploit if one ever even comes out. Never having to worry about that is worth paying full price for a developer edition.

No need to upgrade my '13 DE because I'm still happy with it and the new one is totally not worth upgrading.
However, not surprised at all w Verizon's decision. Posted via the Android Central App on VZW Moto X

The Motto X looks much better compared to last year. As for Verizon not allowing the unlocked Moto X doesn't really bug me much. The reason why is, because I don't expect much from Verizon. I just come to expect to have to unlock the phones and update them when I'm able to do so. May take a bit longer to do so. At least they can't stop me if I wish to do so.F+×k VZW Posted via the Android Central App

I'm thinking that I'll go with the new Moto X at this point. I had always done the "unlocked and rooted w/ROMs" in the past but I went with the bootloader-locked Moto X last time around and I've still been very happy with the phone because the out-of-box experience was such a good one for me. Also, I still have my Nexus tablet for playing with ROMs. (I am curious to see what comes out in the way of Verizon Droids though.)

Simple rule for life. If you do not like your devices locked down and told how to use them, do not use Verizon. Left VZW to AT&T after the VZW GNex for a Nexus 5 (unlocked of course) and could not be happier with that decision. Verizon is the Apple of wireless networks.

At&t locks em to.sorry to burst your bubble.

Eh well I guess a better moral is to get an unlocked phone. Again could not be happier with my Nexus 5. All I care about AT&T anyways is letting me use their network to power my Nexus.

Will there be a GSM dev edition? How about sprint? Posted via Android Central App

This probably won't so me from buying the phone. My s3 has a locked boot loader, but it is unlocked now. Hopefully someone will be able to figure it out. I am hopeful that the battery is great on the phone. Maybe the moto maxx coming out will be the best of both worlds?

I know I am not to happy to hear this.

Actually I am very happy.. With tiny battery and no Dev edition on sale, it's easy decision for me.. Posted via the Android Central App from my OnePlus One

Good point on being happy. Same here. It makes my choice more clear by elimninating the new moto x. Also, just read that Samsun S5 has a developer edition and its same full retail price. Time for me to start saving...

Give it time, someone will find a way to unlock it themselves. Posted via the Android Central App

With less and less easy ways to even root the kitkat phones, I don't think unlocking boot loaders will be possible, let alone easier method. Posted via the Android Central App from my OnePlus One

I was holding off on buying the Moto X when it was on sale just so I could get the new Dev one. It's a shame. Guess I'll just have to wait for the new Droids or the new Nexus. Posted via Android Central App

Shiz. I was hoping that there would be one. If I had to do over my purchase of the moto x (off contact) on Verizon I would have gotten the DE. I was hoping I could get the new model as a DE. Oh well... They at least better have moto maker! Posted via Android Central App on the Moto X

This was not Motorola's decision not to sell a Verizon dev ed - it was Verizon's decision. Hopefully jcase and beaups or one of the other devs will come up with a way to unlock the bootloader of the new Moto X running 4.4.4. If not, then hopefully the chinese guys selling unlock codes can still get them for us.

Verizon likes to pile up cr@p on their devices and a developer edition won't sit well with them. I wonder if they'll be allowed to play with the upcoming Nexus.... Posted via Android Central App

No one can be too surprised. I left Verizon and am very happy with AT&T prepaid. I can do everything I want to do. That said in my area my coverage is great and speeds faster than Verizon so choosing what to do is going to be an individual thing based on where you live. Going on two years - no regrets leaving at all. NONE.

Disappointed, but not surprised. Verizon is the best network at my office so I stay with them. I'm ending my contract on the Galaxy Nexus and am looking for what's next. The unlocked bootloader has allowed me to keep the OS current.

Such a surprise. I am so shocked oh my. >_> Posted via Android Central App

thanks for new Moto X for 2014 . I really surprised to look the new version of moto

So much irony in that photo ("Make it yours! Verizon") Good luck making it truly "yours" with locked bootloader.

For the most part I don't need an unlocked bootloader, although I am currently running a custom ROM, what I do need a a quick easy root, something not easily done on Moto's phones. LG G3 is my front runner at the moment, root, load xposed and make it how I want it to be.

Everyone email them expressing your disappointment in this decision. I already did it. Last year they changed their minds on the developer edition warranty policy because of the public's reaction, so it's entirely possible we can help change this as well.

Confused granny needs help please. I have the unlimited data plan with Verizon and have been looking forward to getting an unlocked Moto x. I was just on the Motorola site to purchase and it seems that I cannot get an unlocked phone that will work on Verizon. Is this correct? What if any unlocked phones can I get that will work with Verizon which has the best coverage for where I live. I am just so disappointed. Maybe I should just give up on the unlimited data and go with a plan.

DE love was too good to last. I was hoping for an improved experience and thinking of stepping up from my motox de. Too bad they are not offering unlocked bootloaders anymore. I have to buy my phones at full price to keep unlimited data and I just cant justify spending $$$ and not having the phone unlocked. At least, in my mind, if I am going to have to deal with SS, I might as well get a Samsung.... see ya moto...