Verizon sales staff start talking internally about HTC Droid DNA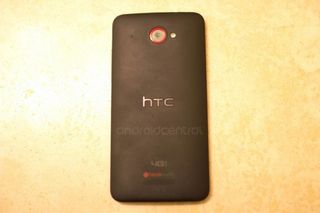 As if we didn't have enough confirmation that the HTC DLX would be coming to Verizon as the Droid DNA imminently, a shot of briefing slide shows that retail training isn't far off. Sources say that the device proper is being thrown around pre-holiday sales meetings. If the HTC Droid DNA does hit the streets before Black Friday (November 20, last we heard), it would make sense that Verizon is starting to get their retail staff prepped now.
There still hasn't been any official announcement, but we've got a pretty solid idea of what to expect based on numerous leaks, including one of our own. The HTC DLX will be running Android 4.1.1 with Sense 4+, have a 5-inch 1080p screen, and run a 1.5 GHz quad-core processor with 2 GB of RAM. There's an 8 emgapixel camera on the back and 2 megapixel shooter on the front, confirmed by the sales slide.
So, who's excited for this one? When are we going to start seeing some hints of an international launch?
Via: Droid-Life
Simon has been covering mobile since before the first iPhone came out. After producing news articles, podcasts, review videos, and everything in between, he's now helping industry partners get the word about their latest products. Get in touch with him at simon@futurenet.com.
After having zero service from Sprint the entire duration of Sandy and while my power was out, while all my friends with Verizon never lost service, I am strongly considering dumping Sprint for big red. I love unlimited and the price I pay monthly, but in a time of emergency I want my service to work. If I do decide to do this, the DNA will be the first phone I get with Verizon.

I've been on Sprint for the past 2 years and that's pretty much my everyday experience. Spotty service all over, and where I'm able to get 3G, the data speeds are Dial-up-esque.

Verizon 3G isn't much better. Data is *great* when my GNex is in an LTE area, but when I'm in 3G, I don't even bother browsing. It's atrocious.

Sprint has roaming agreements with Verizon. If your friends on Verizon had coverage you should have too. Are you sure you didnt have roaming turned off on your phone?

This is true and works. I roam on Verizon when Sprint not available, and this is without any catastrophe present.

Yeah, I roam on Verizon all the time too, but during the storm and outages it would bring me to a Verizon operator where I would have to use a credit card to get service. I kid you not.

I have Sprint. During the storm and 3 days thereafter i didn't have service. Every time i went to make a call i got a prompt from Verizon to either make a collect call (remember those? haha) or pay to make a call with my CC. what a load of crap.

phone is really cool at least on paper but when is the international release?

Buttons on the front and Sense? No thanks.

Exactly. Even rooted running something else like CM10, I just don't want physical buttons anymore...ugh, Nexus has ruined me and now the newest one isn't coming on V...so sad.

On screen buttons really only makes sense if they are going to use the entire front face for the screen. Otherwise you're losing screen real estate by going to on screen since most apps don't shrink them down. The only nice thing is being able to customize which buttons you can add to the virtual buttons but it's really not that big of a value add.

Yet another HTC device thats only exclusive to one carrier. That should help their bottom line a lot.

I will buy it because Verizon isn't getting the Optimus G or Nexus 4 LTE

Nobody is getting a Nexus 4 LTE... they don't make it.

Does this mean they are using their "inside voices"?

I will never buy another HTC device as long as I live. I bought an international unlocked HTC One X and was experiencing some pretty significant wifi issues with the device losing its connection after unlocking the screen and being unable to connect until I restarted the phone. I sent it to HTC for repair and they told me that the battery had been tampered with and that they wouldn't cover the repair under warranty. I explained the obvious to them by stating that it was impossible to tamper with the battery because it is non-removable and it's impossible to remove the back cover. The tier 2 service division rep got pictures from the repair facility and told me that he saw no signs of the battery being tampered with. He said he would take care of it for me and get them to warranty the device. He never got back in contact with me and I called him several times over the next two weeks without any success of being connected with him. I finally got another rep to handle my case and he said that the first rep had no right to tell me that he felt I hadn't tampered with the battery, and that he was in no position to influence the cost of repair to the phone. I then asked if I could have the case escalated to their corporate office and he told me that he would send the case to them and that they would be in contact with me in 3-5 business days. They never once attempted to call me and no one at HTC would give me any contact information to their corporate office for me to follow up on my case. About a month later they sent me a letter with the bill to repair the device with absolutely no information on anything that happened with my claim. I've heard nothing from them since them. This issue showed me exactly how much value HTC's customers have and that they aren't running an honest operation in their repair division. I work for a repair company myself, and it would be unheard of for us to accuse our customer of damaging any equipment without 100% evidence of it. I've been treated very unfairly by HTC and have lost a bunch of money because of their dishonesty and still do not have my phone back. This is why I will never buy one single product from HTC ever again. I will only do business with honest people who value my business.

Something similar happened to me, so I filed a case with the BBB and within less than 3 days later someone from the Corporate office called me to settle the case, by giving me a full refund of everything that I had paid to them. You might want to try that route as having a bad BBB rating is not good for a company that had a -60+% comp.

I hope a varient of this comes to Sprint. I have been due for an upgrade for the past 4 months which is an eternity in the mobile world. I was looking at the Note 2 but the screen is too dim and blue for my taste.. I was thinking about the Optimus G but the EVO LTE already has a better screen than the G. I cant imagine how good this screen must look.

Agree with you 100%. I'm still sitting with my OG EVO 4G, just itching for this phone to come to Sprint. Hopefully Sprint's LTE will be rolled out in LA county around the same time. Played with the Note 2 this weekend in the store. Love the phone, but didn't like the screen much. Also, not a fan of Samsung's build quality. Their phones feel like toys for some reason. Also, the three things I want to know about this phone is battery size, is the battery removeable, and is there a micro SD card slot.

I bet if a version of this phone comes to sprint it will be the new EVO... So i wouldnt expect to see it till like June, which is when i get my upgrade :)

Anybody else think it looks unnaturally tall / slender? Sure the specs are drool-worthy, just don't know about the physical set up... guess we'll know Soon™.

A device is only as good as the software it runs. Go Nexus, or go home!

I will never ever get another HTC device,go Nexus all the way

Pointless to have a resolution that high but the phone does look nice.

I hope this phone comes to Verizon soon. I love my HTC EVO LTE but sprint's 3G is getting worse by the hour in Phoenix, and it seems that sprint erased phoenix out of their maps a long time ago, so LTE will probably never arrive here. It's too bad that VZ didn't get their own version of the One X line, but this looks even better. I like HTC phones and sense, so this just makes perfect sense now for people who are waiting to leave sprint.

LOVED my HTC Sensation. LOVE my Galaxy S3. I'm buying either the Droid DNA or the Galaxy Note 2. Which one?

Yeah Im having the same problem deciding

Love the build materials of the HTC. I actually prefer Sense over TouchWiz on other phones. Haven't seen nearly as much more than specs from the HTC, whereas we've seen a TON of features that are coming to the Note 2. I'm leaning Sammy, especially because I'm going to give my wife my SGS3 and that will open up all the SharedPhoto, NFC fun. But I really do like HTC and will reserve judgement until it actually comes out.

How can be the "Black Friday" on 20 November, wich is a Tuesday.
Black November this year is on 23 November.
More info at http://hobbyforum.ro

I've had Verizon for over 6 years now and can't really complain .. I live in Hoboken area and lte speeds r great service was down during sandy so it is wat it is .. I must say this fone seems Amazing ( 1080p screen is insane )
However love my Gnex ..
And could not decide if i had to pick between HTC DLX/DNA or Galaxy Note 2 ( quad core exynos ) S-pen tons of gestures ..
So for now will wait til a he reviews and online comparisons r in ;-)
Android Central Newsletter
Thank you for signing up to Android Central. You will receive a verification email shortly.
There was a problem. Please refresh the page and try again.