Verizon rolls out update for Sony Xperia Z3v, mostly bug fixes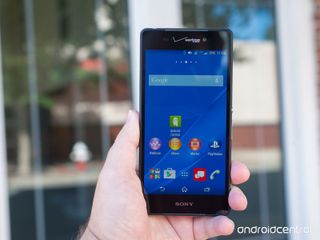 Verizon has released an update to its Sony Xperia Z3V today. While it's nothing to get too excited about, it does bring a number of bug fixes and improvements to the table.
Here's a run-down of what's been improved in the update:
Reduce mobile data notifications during calls
Simplify access to e-mail notification settings
Update the Lifelog notification text to guide the user on how to put their device into high accuracy mode
Update Lifelog default height and weight measurements to standard
Optimize oversized email retransmit to reduce data usage
Improved NFC performance
Ensure emails with HTML links are displayed without a clickable link
Enable HD video playback on Google Play Movies
Modified group MMS to minimize "Message Expired or Not Available" condition
Implement font size and layout improvements
The new update, which clocks in at software version 23.0.E.1.44, should be available for your device now. Happy updating!
Source: Verizon
I have been waitingfor Z3 on ATT, looks like it will never come.

Go to sonymobile.com and pick up an unlocked version, buddy. Posted via the Android Central App

I've been using my Z3 on AT&T since November.

Wife has Z3 on AT&T & got OTA update from Sony last night. Changes were a little different than those listed from Z3V. Sound improvements, photo/camera, Exchange mail is all I recall. Great phone! Posted via Android Central App

Was surprised to see an update show today on the review unit I received yesterday. Did not take long to install and reboot.

Thanks, pulling it down now.

i bought a z1 a couple years ago, and was disappointed by how buggy the Sony experience was. I was so excited because the phone had all the technology I was looking for, despite the suboptimal software for the camera module. I learned my lesson, and went back to my origial MO: buying phones that have a healthy developer community and remain fully functional after boot/unlock. The mature ROM's on xda usually provide a much better user experience, imo.

I updated earlier today. It through my phone into a boot loop. I would jump into recovery mode and try to go into safe mode. Unfortunately, it even went into a boot loop during that process. I am able to shut down my phone through the same recovery mode. I can do a factory reset, but I would lose some photos and videos. Any other suggestions?

" Enable HD video playback on Google Play Movies" It wasn't doing that before?? Omg. Posted via the Android Central App

Reduce mobile data notifications during calls?
We don't get data during calls!! LMAO!!!
Android Central Newsletter
Get the best of Android Central in in your inbox, every day!
Thank you for signing up to Android Central. You will receive a verification email shortly.
There was a problem. Please refresh the page and try again.