Verizon HTC One KitKat update already hitting phones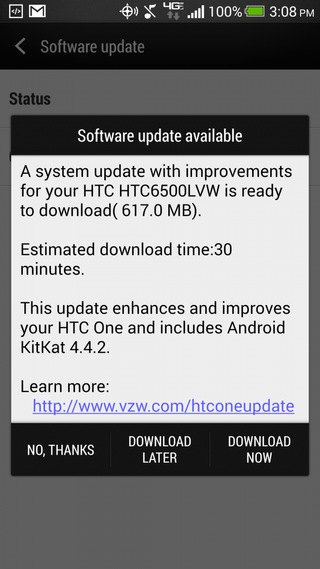 Apparently 'shortly' was more like 'immediately' for this update
Coming just hours after HTC announced that the KitKat update for Verizon HTC Ones was on the way "shortly," folks have already started seeing the update notification on their phones. The whopping 617MB update brings the HTC One up to Android 4.4 with Sense 5.5, which brings a nice set of tweaks and improvements.
After the update you'll notice small visual changes to the way BlinkFeed works, as well as redesigns in the settings, Gallery, Music app and lockscreen. You'll also receive the improvements in KitKat, including Immersive Mode and other behind-the-scenes features. There are also a few Verizon device-specific changes here, including improvements to low light photography and power management.
If you weren't already hitting "check now" in the settings on your Verizon HTC One, you really should now.
Source: Verizon (opens in new tab); Thanks, iLLusive!
Andrew was an Executive Editor, U.S. at Android Central between 2012 and 2020.
That must be the firmware that is downloading right now. Kinda wish that it would have asked permission. Posted via Android Central App

Updates only ask for permissions to install when finally downloaded Posted via Android Central App

Downloading now. Thanks Big Red! Posted via Android Central App

Someone let me know if foxfi works after this update! Posted via Android Central App

+1 on this. I'd forgo KitKat just to keep using WiFi tether with FoxFi.

So....I am running the stock firmware, but am s-off with TWRP. Can I take this?

No. Just wait a bit and grab the image from xda(if it's not already posted) and flash it with TWRP.

No wait for them to download and remove the Hboot and stock recovery and put into a flashable zip for us.

That's good. For Verizon "shortly" can mean like 6 months.

Well in this case it meant hours

Obviously not the situation with the HTC One on Verizon. With Samsung's devices, you're probably correct.

Yeah all the S4 owners must be ripped right now

Or have a device that does not need an update to be great...

Jealousy doesn't suit you.

Good thing that I am not then.

He's not jealous, he's just a dick nowadays. Posted via Android Central App

awe aren't you cute. A dick could be defined as someone who puts down another without ever actually giving some kind of reasoning. Food for thought.

Are you saying the s4 doesn't need updates? Posted via Android Central App

Honestly I have not had one in my possession since they fixed the lag issues so I am not as up on it as I should be. Kit Kat is so minor that it is just spec whoring to go all cheerleader/"everyone else sucks" on it. I am glad that they got it, and I will be just as glad when the G2 gets it in a few months. Continuing support of devices is the goal here.

Yea... Kitkat>Jellybean. But it is so minimal, there isn't much you would notice in day to day use (especially on a heavily skinned device like the s4) . Other than the fact you can act like a dick about it because you have kitkat and so few devices do.

That`s right I have the HTC one and GS4 both on Sprint, HTC One running 4.4.2 and GS4 running 4.3, I don`t see a big difference between them.

Minus us on Verizon got 4.3 first, and expect the same or close for the 4.4 update. The only thing I want to try is the immersive mode, and I'm a big fan of transparent notification bar. As far as lag, it's almost all gone, nothing more than I see in ANY mobile device these days. BaAAH

Not since the new Motorola line. When they announced it, it was in an instant for Moto X and little bit longer for Droids.
Seems like they stepped up the game. Maybe they started to listen to costumer complaints finally :) Posted via Android Central App
VZW Moto X

Wonder how bad this will screw up the root exploits Posted via Android Central App

Probably will fix them. Seeing that root exploits are actual vulnerabilities in the device manufacturers will likely try to fix them.

Does Google Wallet still work? I know it should now but I am always afraid that the "ISIS 3" will find some way to disable it again.

Anyone else find it odd that the 2 cdma carriers got the update before the gsm carriers? Posted via Android Central App

Yeah tell me about it :-)

Good job Verizon and HTC!

Finally, was that so hard to do making a comment without bashing HTC for once. I might not have purchased the HTC One but I'm glad they are at least trying to change their ways of not keeping their devices up to date I think we should give them credit for that. Now if they discontinued updates to the HTC One after this then I would understand your Apparent hate for them but until then let's give them a chance. I for one am excited to see the M8 unveiled as well as the s5. Posted via Android Central App

I do not bash any OEM unless it is deserved. I have had quite a few HTC devices, I spent time with the HTC One this year. I am sorry that asking an OEM to prove it before I will go all sunshine and rainbows with it is offensive. They have a long and storied history of dropping support for devices, and all of them got one. I am hopeful that they turn it around. I loved the Rezound. The HTC One was lacking where it mattered most to a lot of consumers as was evidenced in it mediocre sales. Do not mistake criticism for hatred. In my professional life I have to evaluate all of them, to an extent, fairly.

Mediocre sales? This was a company that many said was on its deathbed. The sales were astounding, considering that alone. If Samsung, or Apple, had released a phone like this, and had those sales numbers, then yes, that would be considered a disappointment. If the sales were that mediocre, why would HTC be putting all of this effort into keeping it up to date? And, I absolutely understand your frustration with each manufacturer. However, when you buy a phone, you are buying it as it is, when it leaves the store. I have yet to have a salesperson, or an OEM, guarantee me ANYTHING specific about an update, unless that update was coming out too soon to get on the phone before it shipped overseas.

Again look at things as outside the just HTC. The sales compared to *most* other devices were mediocre. They needed a home run and got a ground rule double that hit off the top of the wall. They were *THISCLOSE* to getting it there. They still had way too many things that were sub par, but I expect them to be changed in the M8. Why put effort into keeping it up to date? Because they were on their deathbed and need to change things up. Device support is part of changing the attitude and culture, jsut as much as putting out a good device. They also have the follow up coming and why would you poison that right away by failing on this one? I do buy for now. I could care less about updates. They are fun to get (especially leaks) but nothing has been essential since project butter!

Fair enough. I don't agree with your game analysis (I thought it was a home-run, even if it was an inside-the-park variety), but I respect your opinion.

we all know you are biased towards htc and the htc one. there isn't a single article about htc on this site that isn't adorned by your bashing in its comment section. perhaps you should comment more often on the S4 stories... if there were any...

Who are you responding to?

I do not have a bias toward, or against, HTC. The one, like every other device, was decent. It was not the best phone last year, it was not the worst.

The INTERNET does not allow for speaking about the S4 unless it is to bitch about it being plastic. You can't say anything about it being a good phone unless you want the wrath of the INTERNET to pile on you. The S4 is by far the best phone I have owned. Hero - sucked. Desire-OK, Rezound - good in the Winter when I needed a furnace, bad when I was sneaking out of the house and it creaked from my pocket. The One is a fine phone, I like the idea of the speakers, but hate the way they look. I dislike the aluminum, battery, but don't mind Sense at all. 2 buttons is dumb, and I prefer the power button on top, because my screen would not turn on when I put the phone in my pocket, which happens all the time with the S4. BaAAH

Congrats all of you on big red, sad at&t will be last to the market on this update. Posted via Android Central App with the HTC One

On the other hand, ATT took $1100 off my annual bill, last week. I'm not going to be real fussy that my already fabulous HTC One was forced to live in the "dark ages" of 4.2 for another few days/weeks. Will it be cool, when it gets here? Probably, but I surely am not losing any sleep over it.

Whoa. How did you get AT&T to knock almost $100/mo off of your bill?

I have five smartphones on my plan. The 10GB plan was $120, plus $30 per phone. Last week, that changed to $100, plus $15 per device! I had to do NOTHING, except click the accept button. It did not extend my contract, or anything. I am still eligible to move over to the NEXT program, but as all five of us love our current phones, it would make no sense. It was a very good day!

Awesome! Got it here in California. Great news as I'm getting out of class. Need WiFi to download though :( Gotta wait til I'm home

Wow they beat AT&T. I'm impressed Posted via Android Central App

The only thing I'm not crazy about is I haven't found a way to set a different wallpaper for the lockscreen. THRILLED that BlinkFeed can be turned off; however, I've been using Nova for awhile so it's a moot point. Posted via Android Central App

I now have the worse case of the purple camera haze since updating..... That's my only complaint Posted via Android Central App

I was hoping that would be fixed... sad.

Same here. Downloading now.

Looks like after the phone cooled down the hue is gone. My phone got super warm from the download and install. Posted via Android Central App

Aaaand the S4??? Any news at all??? Posted using Android Central App on my Samsung Galaxy S4 T-Mobile

We will get it, the leaks are popping up, so soon enough. BaAAH

Soon enough? Before the end of February? Posted using Android Central App on my Samsung Galaxy S4 T-Mobile

Much sooner than that for the Note and the S4

I'm new here...well kinda. Been on android for years now and every time I have had a problem I end up in the forums but always as a reader so figured it's time to join. Now, just got done installing the update and everything seems to be going smoothly but I have ran into one issue I don't like. It's nothing really major but before on the music player I could turn the lyrics off and just enjoy the animations (couple new ones in there now) but now I can't find anyway to turn off lyrics. If anyone knows of a way I would be most appreciative were I to receive a little help. Posted via Android Central App

Ok, I got the update, what is good now? What is better? Posted via Android Central App

I am drunk! I left my purse at the bar... I have my phone... What is better than before? Posted via Android Central App

Those that have it: does this retain the tap to pay settings that Kit kat has, which allows Wallet to work? Posted via Android Central App

Haven't tested it but I was promoted about Google wallet tap to pay. Might be good to go! Posted via Android Central App

I have an HTC ONE from Sprint and I'm happy to report that the new kitkat 4.4 update is now available. I just updated my phone an hour ago.

I have an HTC ONE from Sprint and I'm happy to report that the new kitkat 4.4 update is now available. I just updated my phone an hour ago.

where's T-Mobile's????????!!!!!??!?!? :(

My update is showing up. But I need to make sure it won't jack up foxfi. Anyone having issue's with it not working? Posted via Android Central App

Love the use of the word "already" in the headline.

I received my update yesterday at 4pm right an hour before I left work so this worked out nicely. Really enjoying it so far and have noticed a slight increase in battery life already.

Probably a placebo effect

Actually my battery is noticeably better today than before (got my update last night). I think it actually has improved and isn't just placebo. Posted via Android Central App

Now my DNA Needs the update.

Color me impressed. Posted via Android Central App on my HTC One running CM11.

I just updated last night and I have a couple of complaints. When you wake the phone and have to swipe up to unlock, it now requires you to swipe up from the bottom of the screen only, where as before you could swipe up from any area of the screen. Also, it now constantly asks me about linking my gmail with picasa which I do not use. And I have an app I made for personal use that is a form that does calculations for me. After the update I can no longer use decimals which I need. I used the input type "number" and "step=0.01" and it worked great before but now I can only input numbers with no decimal. Is there a way to fix this? If not, is there a way to roll back to the previous update?
Android Central Newsletter
Get the best of Android Central in in your inbox, every day!
Thank you for signing up to Android Central. You will receive a verification email shortly.
There was a problem. Please refresh the page and try again.