Verizon Galaxy S5 now receiving its Marshmallow update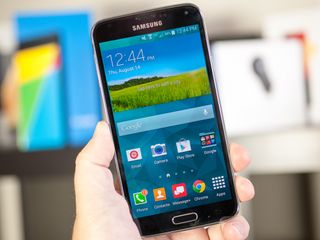 If you're rocking the Galaxy S5 from Verizon, you may want to check your phone for an update. The carrier is now pushing out the Android 6.0.1 Marshmallow update, which has a software version of MMB29M.G900VVRU2DPD1 this time around.
Following the update, you'll be able to take advantage of Doze, the enhanced permission controls and much more.
Verizon notes (opens in new tab) that the update also includes:
This software update brings the latest Android™ Marshmallow OS along with Wi-Fi Calling, App icon update, Ultra High Quality Audio and Android for Work.
You can make and receive calls over a Wi-Fi network if cellular service isn't available, helping conserve your data.
A new design of app icons and folder
Your favorite tunes have never sounded better on a Samsung smartphone. This breakthrough audio technology takes select music files and enhances the richness and detail.
This update supports Android for Work, the world's most popular mobile platform. To learn more, go to https://www.google.com/work/android/
You'll also notice some updated versions of the pre-installed apps, though no major changes were noted there. You can grab the over-the-air download now by heading into your Settings, About phone and finally check for the update. Be sure to let us know once you are updated how it works out for you.
Get the Android Central Newsletter
Instant access to breaking news, the hottest reviews, great deals and helpful tips.
Jared started off writing about mobile phones back when BlackBerry ruled the market, and Windows Mobile was kinda cool. Now, with a family, mortgage and other responsibilities he has no choice but to look for the best deals, and he's here to share them with you.
Happy for the S5 owners, now can the Verizon Note 4 get some love? Posted via the Android Central App

Hey have you got the update yet I still haven't received it yet.

I'm downloading it right now.

Wow. And still nothing for my At&t note 5. It'll Probably be the last carrier branded Android phone I'll ever own! Sick of carrier update bullshit! Posted from my Note 5, Nexus 6p, or iPhone 6 plus!

I honestly thought my carrier (Rogers) would have been the last to receive the update. Just so happenes it's been out for a week or so but I didn't have enough storage to download/install it so I didn't know the update had been pushed out. But I'm with you, completely sick of carrier controlled updates. Something needs to be done about that. ~TheRealFixxxer

I am very disappointed with AT&T and their reluctance to update the Note 5. No Marshmallow and still on the February security update.

I don't know why your still on the February security update as AT&T released the May security update for the Note 5 last week. I guarantee if you check for a software update it will be there. Posted via the AT&T Note 5

Same with atnt s6 edge plus. No update no nothing. It's complete bs Posted via the Android Central App

11 am guys. Verizon pushes updates at 11 am central time. Posted via the Android Central App

Spot on. I had no idea. Thank you for this. Checked at 10:55 am central time, no update. Checked at 11:03 am central time, update downloading right now...

https://www.androidcentral.com/e?link=https2F2F... Posted via the Android Central App

No update note4 ATT they are is too busy buying out DirecTV if it was not with the poor signal strength from Tmobile I would have been left them alone.

Pathetic Posted via the Android Central App

Good job on Verizon I guess. They sure are making AT&T look bad.

Still a solid device overall, and especially for Verizon users - one of the few left that can do simultaneous voice and data without LTE on Verizon.

Finally! I'll be downloading as soon as I touch down. Posted via the Android Central App

AT&T and their lack of updates is the reason why I ditched my S5 for a Nexus 6P. Posted via the Android Central App

Wondering if anyone has the same two small issues - have to enter backup password whenever the device is rebooted with (fingerprint unlock enabled), and the SD card notification pops up on every reboot - ? Otherwise a great update. No Longer on a Galaxy Quest

Can confirm the SD card notification on boot. Don't have FP unlock turned on, sorry.

I don't think having to enter your password on restart instead of using your fingerprint is a bug. This comes from a recent court case where a woman was forced by court order to unlock her iPhone as it was only secured with Touch ID at the time. Your password is considered intellectual property and thus US courts are unable to force you to unlock your phone with it but your fingerprint is not protected by the same law. http://www.bbc.com/news/technology-36185885 ~TheRealFixxxer

Yep. That is a feature, not a bug.

Unfreakingbelievable right now At&t. #Note5 Sent from my Galaxy Note 5 that's still stuck on Lollipop

Mine is updating now. I am excited for this update and the wifi calling.

The 2+year old S5 gets WiFi calling but not YOUR flagship devices, the Droids? Cmon Verizon... Posted via my Droid Turbo 2 that I wish were unlocked

Flagship devices, the Droids, what Droids, this update is coming from Samsung, last I heard Samsung did not make any Droid devices, neither has Verizon. Posted via the Android Central App

installed and it's working well so far!

co-worker's note 2 was giving him a ton of issues so I convinced him to get the S5 for $135.
Good to see it's getting the MM update.

How can the S5 receive a upgrade and not the Note 3? Posted via from my Samsung Rose Gold Galaxy Note 3

Lol, because the Note 3 was released well before the S5? Pretty simple really. Posted via the Android Central App

Can't get advanced calling to turn on, or wifi calling and even though Google play services updated to the latest version, I am still getting the reminder that Google Play services is out of date.... I was already planning on doing a hard reset so I'm going to do it anyway but I have a feeling this one is not as smooth as Verizon had hoped. Sent from Note 5, Nexus 7, Nexus 7, Nexus 10, Nexus 9, Samsung Tab S, Samsung Tab S2, Chromebook Posted via the Android Central App

Go to your app folder, clear the cache in Google services, if that does not help, just delete it "it will reinstall itself" , and reboot the phone, next go into the phones boot menu and clear the cache. https://www.androidpit.com/how-to-clear-galaxy-s5-cache Posted via the Android Central App

Updated overnight. So far so good. Wifi calling is pretty nice. Seems snappier. I was planning on a doing a factory reset, so will end up doing that tonight.

Disappointed. The haptic feedback is weaker, and the phone itself seems to heat up a lot faster than it did before. Lock screen also seems to be a little sluggish after the update as well. Posted via the Android Central App

I just had an update available so I freed up the space, downloaded the ~1.2Gb file, hit install and my phone instantly booted into a boot screen. I selected reboot and it booted into the phone (with no changes). Now the update is no longer available. Anyone have any ideas?

On a Note 5 with AT&T and so annoyed at the delay for marshmallow. AT&T has no excuse besides rhea don't care. Posted via the Android Central App

"Location Services Required" continually pops up after the Marshmallow upgrade if my Location is turned off. This alert was never seen before on my S5. Turning off locations on every app that allows me too does not solve the issue.