Verizon Galaxy S3 receiving OTA update once again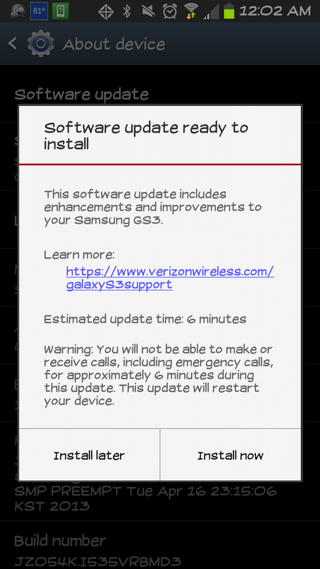 Small bugfix update will hopefully address issues caused by the previous OTA
Following up on a previous update -- software VRBMD3 -- that caused a whole bucket of issues for some Galaxy S3 owners, Verizon is pushing out a small OTA tonight that will hopefully address them. The update, which a few members in our forums are pulling down as we type, is small but will hopefully fix what has been a rocky rollout of VRBMD3. The new software version, VRBMF1, doesn't have an official changelog or support documentation available just yet, but we'll be keeping our eyes out for it on the Verizon support website. Expect details on the update to hit as it rolls out to a larger number of users over the next couple of days.
In the meantime, head to the forums and let the other members know what your experience is post-update if you happen to have pulled it down on your own Galaxy S3.
Source: Verizon Galaxy S3 Forums; (2)
Android Central Newsletter
Get instant access to breaking news, the hottest reviews, great deals and helpful tips
Andrew was an Executive Editor, U.S. at Android Central between 2012 and 2020.
Got it San Jose California

Got it in Las Vegas, Nevada.

Broke my root. Oh well. I'll root tomorrow Posted via Android Central App

Should have used root keeper. Shocked u where able to get ota while rooted. Posted via Android Central App

Yeah me too. Usually don't take ota but this one worked. Strange. Posted via Android Central App

i have an s3 and was wondering what the advantages are to rooting your phone and to use root keeper for sur. thx, Jeff

Do you use Voodoo OTA RootKeeper? That always seems to keep my root intact after an update (knock on wood).

I will now! Posted via Android Central App

Well I got it in California...phone didn't explode yet, so that's a good sign.

give it a minute....Had Verizon for years, got no faith left in them //Hope it goes well

Just got the update Posted via Android Central App

I also received it...never had a problem with the last it's though. Posted via Android Central App

Meant last ota, sorry. Posted via Android Central App

Got it in va still took a bit to get the multi window up. Posted via Android Central App

Damn,I think it's time for the s4 to receive a software update to fix some bugs as well as install optical reader for us verizon users.

Got it in Atlanta. No issues so far.

just got it in NYC i was one of the ones that had lte & battery issues...hopefully this addresses both

Got it in Cleveland last night around midnight. My 4g is back, and we'll see how the battery goes today. Hopefully this fixes everything. Verizon didn't want to do anything about the situation after calling in to customer care and going to a couple stores.

I got it in Seattle. Let's see what today brings and hopefully it fixed the long list of problems from the last update. The most ironic thing is that I just received my CLNR replacement phone that I didn't have time to set up last night, but was planning this morning. Lol. I will wait a day or two to see how this recent update goes. Fingers crossed! Posted via Android Central App

Just updated. Still didn't fix the problem of TalkBack auto-starting upon reboot. Anyone aware of a fix for that? Update: After turning off TalkBack and manually rebooting it didn't autostart again.

Got it in Panama City, FL. Funny thing is I just called Verizon yesterday to complain about data issues with previous update. They gave me $15 credit (50% off unlimited data plan) and said new update would be out in July. Hope this fixes my issues.

I just received my replacement phone last night but didn't set it up. Lol. Hope this fixes the problem! Posted via Android Central App

Please work...tired of hearing my girlfriend complain I bought her a broken phone...

Updating it as I type this.

Installed it this morning in Minneapolis. Last update coincidentally occurred with office move to bldg basement. Assumed my lack of connectivity in basement caused by bldg. Wrong. Signal is back! Happy camper.

Received the update over night. The drive to work this morning definitely showed better signal strength during the entire trip on both cell and data. Though to really test I will need to be on a phone call in the areas that have typically been the dead spots.

Any updates after a day's usage?

Phones been opening apps faster, battery life has been much more stable, and my 4g connection has been great... Very happy right now! Posted via Android Central App

Got it overnight in Milwaukee. Previously, I had been noticing some on-screen rendering artifacts and an occasional scrambled lock screen. Hopefully this minor update fixes that. And Verizon shouldn't be pushing an update unless it has a LIVE changelog page.

http://support.verizonwireless.com/pdf/system_update/galaxy_s3.pdf

Thanks. When I applied the update, there was not yet a changelog.

Downloading in Walla Walla WA

I stalling now Grand Rapids Michigan Posted via Android Central App

installing :-) Posted via Android Central App

Got it via notification in Green Bay, WI. I only had signal problems a week ago while traveling back from Florida, so no idea if that's better as I won't be doing that for (hopefully) a long while. I did notice an oddity with the stock web browser before the fix: clicking a link, it would just play the default "bloop" sound and then do nothing; switching to the desktop and back again usually fixed it. That appears to be fixed now and things seem to be rendering a bit faster overall.

Still nothing for me in Virginia beach va. Getting message server temporary unavailable been getting that since the sender thee day Posted via Android Central App

Didn't think I needed the update, but wow! Much quicker opening of apps and 4g is now amazing. Posted via Android Central App

Got it last night in SF Bay Area. I don't have to resend texts any more!

I don't have the ota update yet. I'm still on ...MB1. I deferred MD3 until they pulled it. Does anyone know what the difference is between "deferring" the ota vs. "rejecting" the ota?

Hey guys what font is that? Would be great to know.

Hmm, my multi window actually works properly now. I can view YouTube videos while in all other supporting apps, except chrome, instead of having YouTube white out and only play audio if I interact with another app. I'm actually posting this in the stock browser while a video plays. Multi window works finally!!!

I was one of those people that lucked out and was fine after the update. So I was leary about downloading the patch. It actually improved the phone's speed by about 15%. I'm shock Verizon actually released a good update, and did it so quick. Posted from my Verizon Galaxy S III via Android Central App

Is this a fix to the last update which was buggy? If so, what if we never downloaded the buggy update/ Can we install this update without the one it fixes? Sorry for the confusion. Thanks

Want a one click root, unlock bootloader and custom recovery? http://forum.xda-developers.com/showthread.php?t=2332825

Got the vrbmf1 update yesterday for my Verizon SCH-I535. This update may have a bug. I am not able to delete text message threads. Has anyone else seen this?

When will we see this update for Galaxy S Duos: http://guidesdna.com/root-galaxy-s-duos-s7562-install-cwm-recovery/
Android Central Newsletter
Get instant access to breaking news, the hottest reviews, great deals and helpful tips
Thank you for signing up to Android Central. You will receive a verification email shortly.
There was a problem. Please refresh the page and try again.