Verizon announces a slew of expansions and additions to its 4G LTE network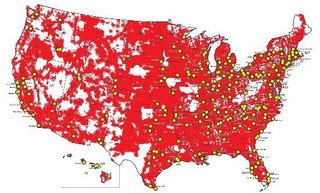 Verizon has been quickly working to expand its 4G LTE network and today they announced more additions, expansions and enhancements for it. If you're city is on the list, you won't have to wait long, as these announcements will take effect April 19th.
Additions:
Expansions:
Enhancements:
It's always great to see more LTE support and its apparent that Verizon is trying to expand as quickly as possible.
Source: Verizon Wireless (opens in new tab)
Boogedy, Boogedy, Boogedy

Verizon may be the most expensive of the major carriers out there, but at least they're upgrading their network in a timely manner, and at least they aren't trying to make a 3G service into 4G by simply calling it 4G. Yes, I'm looking at you, AT&T and T-Mobile.

But AT&T has LTE as well.

Yes they do, but it's in far fewer markets. I'm still waiting to hear a good reason for this.

AT&T thought they were going to get T-Moble and use there 4G network instead of setting up there own.

Except that T-Mobile's network isn't any more of a 4G network than AT&T's is. Granted, T-Mobile has more HSPA+ coverage, but that's still 3G. It's probably the same reason that AT&T's 3G was turned on in Tuscaloosa 3 YEARS after Verizon's was. And don't get me wrong, I'm not a Verizon fanboy. I know about AT&T's 3G rollout because I had them at the time. In fact, they were the last major carrier to turn on 3G here. The only one that didn't was Southern LINC, and that's because they use iDEN, which doesn't have an easy 3G path.

I have no gripes with AT&T's network it's been good to me. As a Galaxy S2 user using the HSDPA+ (3.5G you can call it) I get very decent speeds. It's not so much the Mbits but your ping times that will dictate how quick your browsing feels. Using Speakeasy.com and the Speed Test app I get between 80 and 110ms pings and download speeds from as low as 2.0Mbit and as high as 9.5Mbit. That's about 1000k/sec what more do you want on a cell phone? Upload is always 1-2Mbit. I'm fine with that for mobile usage. What more do you need cable modem like speeds for? I can stream HD from my Slingbox or 720p MKV files from my PC to my phone without a problem. Just saying... :) I love evolution and that LTE is expanding rapidly but what good is it with a "bandwidth cap."

How in the hell is LaGrange getting it before the bigger city 30 min to the south of it. Hell Columbus has the largest retail store in Georgia but still no 4G? Well at least I can enjoy it when I travel there about once a month.

There's a good chance it'll carry all the way to you 30 minutes away. I live about 45 from Milwaukee, and go another 20 minutes south on top of that most of the week. I still get a 4G signal in both place. Good luck!

You think that is bad. I live about 40 miles north east of downtown Atlanta. We easily have 5000 or more people per square miles here and no 4G. Yet, on the weekends I ride my motorcycle north to near Asheville NC. I drive for miles and miles through areas with few or no houses. Maybe 20 people per square miles. Sometimes less. And they have 4G. Talking to a friend of mine that plans fiber cable data lines, and he says the odds are that getting the 4G tower in is a minor issue. Getting the fiber to the tower and getting the servers in place to transfer all of the data, is often the issue.

Been waiting a long time for 4G to finally light up in my home town. Finally officially here, true 4G towers not some "extended coverage" where you're really connecting to a weak signal 20 miles away, and waddya know. I get no 4G in my house. Step outside and 4 bars, step inside, 3G ROFL =P Can't win.

I live in NYC so I have no issues. But if I venture out to Long Island, I have the same exact issues as you have.

According to Verizon's LTE map, coverage where I work is excellent, but I can't use it inside my building. At home further west where it's suppose to be OK, I can get it inside. No entiendo.

They expand buffalo but still ignore areas of Long Island. I don't understand the logic.

for the past week and a half I have been getting 4g across most of eastern long island from riverhead to southampton. Not sure whats going on as there is no announcement from verizon and their coverage maps still do not show 4g in ANY of suffolk but it is indeed working.

I'll tell you why it's working for you if you can send me some Sabrett's Onions in Sauce.

Oh Verizon, when are you going to expand that wonderful LTE coverage to Cocoa Beach/Melbourne/Cape Canaveral, Florida so I can use it at work. Having to switch to CDMA is quite depressing when I'm so used to that sweet LTE speed at home in Orlando.

Go Sprint!!! **I'm REALLY hoping Sprint has an aggressive LTE expansion plan**

We all know that's not the case :( That's why I jumped ship.

Left Sprint for verizon over the weekend and loving it. The Razor Maxx is the best.

Would you like an iPhone while you wait?

Coverage is impressive but after a number of major network failures I would never switch to Verizon. Do people realize how much of a screwup that is? How messed up does your IT plan have to be to have significant unplanned downtimes? I'm afraid they're cutting corners to maximize their coverage instead of building a properly robust, redundant (backedup) system. Sounds like they some critical single points of failure designed into their systems to save money and keep down costs. I think the Marketing Department and Accounting Department have more pull at Verizon than they should.

It does kind of suck that whenever they set a date for bringing sites on-line or updating/expanding that you have to use that date to expect to lose connectivity on their data network. What I don't understand is that since I have a phone who's text messages are supposed to be independent of the data network, why can't VZ send me a text msg that states... customers in your area are experiencing data connectivity issues while using 3g/4g. This is due to updates on the network. These issues can be circumvented by using Wifi until 3PM EST, when the network updates should be completed. Being a little pro-active goes along way and prevents people from calling in and asking WTF?!?

The last major LTE outage was back in January, four months ago. There may be isolated incidents here and there but c'mon man! This is new tech and they're being aggressive in rolling it out, so there are going to be bumps in the road. :)

You can add Fort Walton Beach, FL and Destin, FL to the list! I haven't seen an official Verizon announcement, but LTE turned on here a couple of weeks ago.

The starting pistol for Sprint's LTE is when their first LTE devices hit the streets... Thereafter it's just a short year and a half until every Sprint market gets LTE.

Aren't they also planning to expand LTE beyond their current 3G foot print(maybe not in that time frame)? I hope so. Their coverage just drops off a cliff when you leave a metro area. Not only has Verizon had 3G coverage out in the middle of nowhere where my mom lives for a while, but they already have LTE coverage there.

I'm a bit of a sad panda... when I upgraded in December I was told by my local VZW that in just two months LTE would be in the area... it's not here yet, 4 months...

this ass raping carrier will never get my money.

I have to say I'm impressed by Verizon's LTE rollout and at times consider swtiching, but at the end of the day, T-Mobile's HSPA+ is plenty fast enough for my needs, and while the coverage isn't always 3G/4G when I'd like it is about 90% if the time and that extra 10% is not worth tripling my bill.

Yea look nowhere near eastern nc.i. wish they give us some idea they are spreading out. Im half way through my contract and no 4g so why did i get a 4g phone. They pushed it."oh it comming. By the end of the year."vzn store. Now they ate getting rid of the 3g phones .best ha i still get dropped calls.

Ummm... Hello? Pacific Northwest, Verizon? Hello? Anybody home...?

Yippy for middle of no where Pierre SD.

I have a discount of 27 percent with sprint. My total bill with evo was 71.00 and change. I left for Verizon back on my wife old alltel plan. My bill is only 49.58. more that is a saving of 20.00 per month. I put my Sprint account on hold for 3 months month to month. Anyone looking to save 27 percent and wants sprint month to month. contact me.
Verizon speeds are just great. not missing sprint at all.

Just an FYI, Dodge City, KS has had 4G up and running for about a week now.

4G is a lie in PHX. I bought into the tablet hw and 4G dongle have NEVER received 4G. So I go to the V store and the guy laughs and sez "Your hw is working fine, the 4G signal is tough to get even standing under the tower". Parents don't let your babies grow up to be V users, or they'll soon be living in your basement...penniless.

It is a bit misleading to post a picture of their network with the article that is NOT an LTE MAP.... For those wondering, you have to ignore all the red areas and just look at the yellow dots.

Misleading? That's a bit nit-picky don't you think? While yellow dots indicate LTE areas, you still have to drill down into the map to see specifics. C'Mon man! You gotta give people more credit than that! I don't think they're going to automatically assume the red areas are LTE. Well, ok, may be not... :D