Using Alexa Scenes to control your home like magic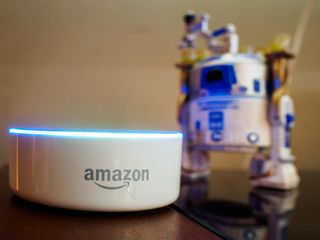 Most connected home gadgets have a way to do things automatically or based on specific conditions. That's the whole appeal after all: being able to automate parts of your life. That might be changing the color temperature in your living room when it's time to watch a movie or maybe just making sure the cable box is set to a specific channel when you turn on your television. Either way, Amazon collects these little scripted behaviors and puts them in a voice-controlled system called Scenes. Here's how it works.
Discovering your Scenes
Amazon's Scene tab isn't for creating; it's for collecting. If you have a Logitech Harmony set up to control you TV, those instructions can be added to a collection. If you have a thermostat and lights working together to change your environment in specific conditions, that gets added to the collection.
It's basically anything that isn't automated but still part of the system. Instead of going to those individual apps to activate these scripts, Alexa gathers them up and lets you activate them with your voice.
How to discover Scenes
Open your Alexa App.
Tap on the Menu button.
Tap Smart Home in the Menu.
Tap Scenes.
Tap Discover.
Alexa will now scan your local wireless network for any tech with a Scene to be collected. If you have a Philips Hue set, you'll need to press the sync button on the Hue Hub to give Alexa access to those scenes.
How to use Alexa Scenes
In your Scene list, you'll see everything you've set up for light bulbs, fans, thermostats, and other smart home things that can be on or off with a simple command. The Scene has a name, and if you say that name to Alexa, it will execute the series of commands in the Scene.
For example, if you have a Philips Hue Scene named "Bedtime" that slowly lowers the brightness when you give the command, you can say "Alexa, turn on Bedtime," and the Scene will start. If you have scenes that work in multiple rooms, adjust the command to include the name of the room after and it will work.
Questions or comments?
Do you have an Alexa Scene you rely on every day? Share your favorites in the comments!
Get the Android Central Newsletter
Instant access to breaking news, the hottest reviews, great deals and helpful tips.