U.S. carriers react in the wake of Hurricane Sandy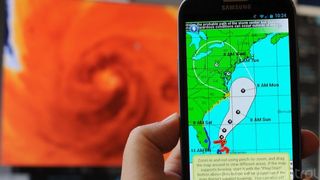 Our phone and network infrastructure is a critical part of the recovery efforts following a natural disaster. In an age where the only connection to the outside world for many people is a smartphone, the effects of a hurricane can be devastating. Luckily, the big four carriers in the U.S. are working hard to restore critical infrastructure damaged by the storm. Each is doing something different, but all are going above the regular call of duty to help out people put into a tough position by Hurricane Sandy.
Verizon
We talked yesterday about Verizon's charity plans. They're helping facilitate donations to the American Red Cross by encouraging customers to text REDCROSS to 90999 for a $10 donation. Additionally, it's matching the first $1 million in donations and donating $200,000 to various nonprofit organizations.
Verizon has also chose to refund any voice and text overages incurred by customers in New York and New Jersey between October 29 and November 16. Late fees are also suspended during this period. These refunds will automatically be applied to customers accounts. Good work.
The company continues to run mobile charging stations in areas that are still without consistent power. Verizon still has a presence in over 20 different locations in areas affected by the hurricane. There are charging stations as well as hotspots and laptops available for anyone's use.
Verizon claims that 98-percent of its cell sites in the northeast are operational and serving customers.
T-Mobile
Similar to Verizon, T-Mobile is partnering with the Red Cross to offer text donations. T-Mobile customers can text REDCROSS or DONATE to 90999 to donate $10 or $25 with no fees or charges.
T-Mobile has partnered with AT&T to allow customers of either network to use whatever towers are available in the areas effected by the hurricane. With no change in plans or charges to the customer, they will be able to place calls and use text messages as they normally would and have them routed over either available network.
The carrier is extending service to every one of its customers -- both postpaid and prepaid -- regardless of their ability to pay for their accounts until November 8th in New York City, Long Island, New Jersey, Connecticut and Pennsylvania.
T-Mobile would like to remind users that most of their phones offer Wifi Calling functionality, and you can use the service even if towers in your area are out of service. Additionally, T-Mo encourages users to come to any open retail stores to charge their devices of all kinds.
Overall, 95-percent of cell sites in Manhattan are operational and 75-percent are operational on Long Island.
AT&T
As noted above, AT&T and T-Mobile are working together to offer service to customers of either carrier regardless of device or location.
AT&T has pledged to donate $250,000 to the Red Cross Disaster Relief Fund, and like other carriers is facilitating donations to different charities. Texting these numbers will donate $10 to the respective charities:
REDCROSS to 90999 donates to the American Red Cross
STORM to 80888 donates to help the Salvation Army
HUMANE to 80888 donates to the Humane Society
The next day, AT&T pledged another $250,000 in donations to various charities in the disaster area:
$100,000 to the Community Food Bank of New Jersey
$50,000 to the Food Bank for New York City
$50,000 to Long Island Cares, Inc.
$25,000 to the Connecticut chapter of the American Red Cross
$15,000 to Jonnycake Center of Westerly Rhode Island
$10,000 to the MLK Community Center in Rhode Island
Any of the area's 400 retail locations, as well as multiple mobile charging stations, can be used for device charging by anyone. On the payment front, AT&T is extending the late payment window for customers, waiving late payment fees and isn't cutting off service for customers that have not paid.
AT&T indicates that cell site capacity is back up to 97-percent in affected areas. To supplement outages, AT&T is rolling out temporary cell sites and additional generators to make up for structural outages.
Sprint
Sprint is waiving late fees, overages for talk, text and data services, call-forwarding fees and roaming fees for customers between October 29th and November 28th.
Boost Mobile and Virgin Mobile customers (Sprint's prepaid options) will receive extended service even if they are at risk of not paying their bill on time. Boost Mobile customers will also receive a $10 account credit.
Sprint has also reopened 160 of its 200 retail locations that were closed by the hurricane.
The Sprint Foundation has donated $500,000 to the American Red Cross directly, and is matching any donations made by Sprint employees (current and former).
As of November 1st, Sprint reports that its network is 100-percent operational in Washington, D.C., Maryland, Virginia, Delaware, Maine, Vermont, Ohio and Kentucky. The network is 90-percent working in Massachusetts, New Hampshire, Pennsylvania and Rhode Island. In New York, New Jersey and Connecticut the network is at 80-percent.
Take Phil's advice, folks. Be safe, be patient and take care of each other out there.
More: American Red Cross
Get the Android Central Newsletter
Instant access to breaking news, the hottest reviews, great deals and helpful tips.
Andrew was an Executive Editor, U.S. at Android Central between 2012 and 2020.