Updated Android 5.0 Lollipop developer preview available for Nexus 5 and Nexus 7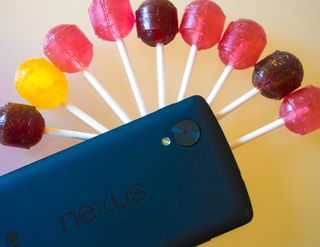 As promised, Google has just published an updated set of preview images for Android 5.0 Lollipop on the Nexus 5 and Nexus 7 (2013). The new developer preview is based on build lpx13d.
The first "Android L" developer preview arrived shortly after Google I/O, and was updated in early August with Google Fit support (and little else). It's unclear how much new stuff is in these latest preview images, but with just a couple of weeks left until the new Nexus devices start shipping, we're hoping for a more complete look at the next version of Android.
As always, these are preview builds intended to help developers tune their apps for the next version of Android. It's absolutely not the final version of Lollipop, and chances are there'll still be some bugs lurking. So we'd advise against flashing these preview images to your main device just yet.
Keep it locked to AC for full coverage of what's new in the latest Lollipop preview later today!
Source: Android Developers
Alex was with Android Central for over a decade, producing written and video content for the site, and served as global Executive Editor from 2016 to 2022.
LPX13D is Android 5.0/Lollipop, dated at approximately October 13, 2014.

Is the download link working for others? Just refreshes the page for me.

Just refreshing for me too

CTRL+click on windows
CMD+click on OS X

You saved a lot of time fa me..!!! Thanks. it worked.

Packaged up all 11 new wallpapers from the Nexus 5. Full res, no compression, enjoy! http://www.filedropper.com/androidlollipopwallpapers http://www2.zippyshare.com/v/57342364/file.html

Thanks Posted via the Android Central App

Really enjoying these right now. Thanks! Posted via the Android Central App

Can anyone actually download it? I click the link and it goes back to the top of the page?

Yeah, their links are dead. Don't expect that to be the case for long.

They are not dead. CTRL+click on windows
CMD+click on OS X

I've had this problem before. I've noticed that if I use a different web browser it always works. Maybe due to cache, Chrome would give me this problem (refresh wont do anything) and Safari would work.

I managed to get the download page up after a few tries at clicking but yeah it was just refreshing the screen there for me too. Still is actually when trying to grab the N7 image.

Direct links!
Nexus 7: http://storage.googleapis.com/androiddevelopers/finalpreview/razor-lpx13... Nexus 5: http://storage.googleapis.com/androiddevelopers/finalpreview/hammerhead-...

You have my thanks. And my sword (?) forevah

And my axe Posted via the Android Central App

That means the dude responsible for Nexus 9 pre-order in the Play Store is probably also waking up :-)

I think it may appear at this link when it's ready... edit: Nevermind. race55 already posted.

Alex, Your article title is not very accurate.
"Updated Android 5.0 Lollipop developer preview available for Nexus 5 and Nexus 7" is conflicting with your statement in the last paragraph "At this very moment it looks like the download links are there, but non-functional..."

DId you eat all them lollipops after alex

Just installed and pretty much all of the usual Google Apps are missing including Hangouts, Chrome etc. The only actual Google App pre-installed is the Play store. Even the included Music app is from the old like pre gingerbread days.

How'd you get the links to work? Maybe mine are cached... *swings into incogneto*

Take a look a few comments up, a helpful person has managed to post some direct links for everyone. I'll be using the N7 one he posted.

Yeah, it's basically a straight up AOSP build with the Google framework and Play Store. Has the music app from Gingerbread lol, AOSP browser from Jelly Bean, AOSP Messaging app, etc. Also, the Calendar app is buggy and doesn't have material design. Wi-Fi was working at first, but not anymore. Overall, this build seems less complete and stable than the previous dev preview haha. Definitely not a daily driver.

boo, that sucks I was going to flash it when it was packaged as a rom on xda because I'm getting impatient, I guess I'll wait for the real release lol, few more weeks of kit kat

Can anyone that has flashed it verify whether or not MMS works while connected to WiFi via Hangouts?

This statement right here "+over 9000" The biggest issue ive ever dealt with, has been MMS, and trying to get it to work when wifi was connected... drives me nuts, plus sometimes even over LTE, i would have to enable APM, and then drop it, to get the connection over again to refresh all my mms incoming please please work

I can verify that MMS works, both sending and receiving while connected to WiFi on T-Mobile! Boom! Yessssssss!!!!!

Haven't tried with Hangouts yet, still downloading apps but I was able to send MMS using the stock messaging app while on WiFi...so I'm hopeful.

I have MMS working with Wi-Fi using Hangouts and also without Wi-FI using Hangouts. I'm on Sprint LTE if it matters.

Sweet Jesus good glory! I'll do a backup and clean flash the new one. Will report back this afternoon with my results on T-Mobile.

What's the point of having a Nexus if you aren't going to crack flash early and unstable builds? :D

Lol ya Posted via Nexus 7 2013 or verizon Galaxy S5 or maybe one day through my moto 360

you can't get those early unstable builds on other phones.
First at the fresh meat lol
Just realized I misread you comment lol, anyway I agree :)

Going to be hard to talk myself out of flashing this on my N5.

You guys need to have a lollipop eating contest Posted via Nexus 7 2013 or verizon Galaxy S5 or maybe one day through my moto 360

Weird that it has the stock browser instead of Chrome.

Heads up for those on Sprint. I had to update my profile after flashing to get mobile data to work.. other than that, first impressions are bittersweet. There are notable improvements in design and appearance, then all the let downs of key GApps missing and dated looking ones (AOSP browser, Gingerbread messaging app) I almost want to flash back to 4.4.4 right away

Android Lollipop 5.0 running on the Nexus 5 https://www.youtube.com/watch?v=nMkDts5etJc

That guy is easily amazed. Also, people should've be allowed to post video previews unless they have, at least, a tripod.

Loving the new setup options. Actually better than Apples and its no longer close. Tap to get info from previous device, choose a device to restore from (was a pain when my tablet downloaded my phone apps) chose to restore data but not apps

Obviously, this is a build for DEVELOPERS to use to debug their apps against the system. The new Google apps aren't included because they aren't needed for debugging. I'll bet Google has refreshed all of them and they don't want people to see them until the N9 is out.

Wow, this feels like more of a change from the first dev build than the first dev build felt from 4.4.

Yeah it does! And how about a big WAHOO for it remembering all your folders and automatically putting everything back to how it was before?!

Does anyone else have a star in the status bar? What is it? Posted via the Android Central App

It means that you're on priority notification mode. Only certain things will notify you depending on your settings. Hit the volume button on the home screen and hit All on the popup. Boom Posted via the Android Central App

I flashed it and now my N5 won't see my G watch. Do I need to update the G watch or something ? Also, the first time I flashed it, I tried it without wiping and my home button was not working, I had to flash it again with the wipe

You have to factory reset the Moto360 in order to pair it with a new device. Not sure if it's the same on the G watch. Hope that helps.

That did the trick, thanks !

Flashed it on my N7 & N5. Not sure what the first preview was like in terms of bugs but I've yet to find any on either device now running 5.0.
Quietly impressed so far. Battery life will be the big issue for me though having come from a custom kernel and Greenify Posted via the Android Central App

Has anyone rooted this new image yet? I tried using the method for the previous preview build, but no such luck.

Yeah.. No dice rooting here either. Tried the adb/fastboot method & Nexus Root Toolkit. Would be nice to have, but I'm pretty stoked about the new digs regardless! Don't think I'll revert unless I encounter an unacceptable bug.

Same here. I can suffer without my restored app data for games and whatnot with the new layouts, for however many days it takes to get this process worked out.

Vomer over at XDA put up some resources that will allow root. Recovery flashable or adb/fastboot. Basically the missing link is a modified kernel. Worked for me! Nice to have ad-blocking again, among other things :) *Tried to post a link, but the site keeps flagging it as spam

Worked for me! SuperSU was already installed but it showed some error all the time. SO, rebooted into recovery, installed the kernel from XDA* through sideload. Now it works! Thanks. *Search for "[ROM] N5 L Developer Preview LPX13D + IMG & Sys Dump" on google and the first result is the link you're looking for

Holy poop! There is an android Lollipop version of Flappy Bird built in! HAhahahahahaha!!!

I'm not getting cellular data... that's a problem. Was really hoping to use this as a daily driver until the official release, but I suppose that was unrealistic.

im having the same issue...

I couldn't make phone calls at first. I rebooted and everything is fine now.

Will it erase my phone's data? Posted via the Android Central App

It will, if you flash userdata.img, or use the flashall script packaged within the file, which is preferable if you are coming from Kitkat.

Will I get an OTA update to the final Lollipop when its out? Or will I need to wipe again? There is a "System Updates" section in About Phone. Posted via the Android Central App

I would assume you are going to have to flash the final build.

How about write to SD card access in android 5? KitKat didn't allow to write to SD card.

Kit Kat allowed write to SD card. An app could only write to its own folder though. I assume they didn't remove security features. http://www.androidcentral.com/kitkat-sdcard-changes

So i downloaded the image last night and been messing around on it all day.. No problemls once so ever.. Battery is amazing that's fersure.. New everything.. It's way different but so similar.. You guys will Love it .. Running android 5.0 on my nexus 7 2013 edition

Anyone else having problems with Twitter? It sporadically won't refresh the timeline, and tweeting either takes forever or it says it couldn't be sent, even when it did. I'm using the Beta (for Android L usage) on a Nexus 5.

Ever since this update, my tablet basically sucks. Facebook, chrome and many other apps "isn't responding" and asks if I want to close it. Or it just closes over and over and OVER.. CONSTANTLY. I even can't put in my password to unlock my tablet many times because the keyboard won't pop up. This is the most horrible update ever. I've NEVER had any issues up until I did the stupid update. Its really frustrating.
Android Central Newsletter
Get the best of Android Central in in your inbox, every day!
Thank you for signing up to Android Central. You will receive a verification email shortly.
There was a problem. Please refresh the page and try again.