UK Galaxy S7s updated with Wi-Fi calling, touchscreen fix and April security patch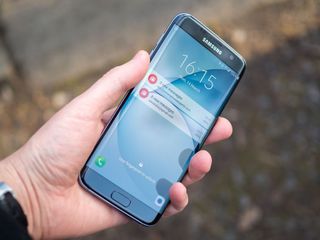 An over-the-air update going out today brings a number of changes and fixes for British Galaxy S7 owners. The update, which has been appearing in other parts of the world for the past week, has landed this morning on unlocked UK versions of the phones. The new firmware versions — G930FXXU1APD3 and G935FXXU1APD3 — include tweaks to the touchscreen software to help avoid unintentional taps on the edges of the S7 edge, while also eliminating phantom touch events sometimes caused by scrolling.
Alongside these Samsung-specific fixes, today's update brings British GS7s up to the April 2, 2016 Android security patch, putting Samsung's flagships less than two weeks behind Google's Nexus devices in terms of security fixes.
And interestingly, although it's not advertised on the carrier's website or in the firmware's changelog, the new update enables support for EE's Wi-Fi calling. Upon updating, the option is automatically enabled under Settings > Wi-Fi Calling in the Phone app, and we received an automated text from the carrier within a few minutes of updating. This is a big deal because until now only EE-branded versions of Android phones have officially supported the operator's Wi-Fi calling features.
If you're running an unlocked, unbranded UK version of the Galaxy S7 or S7 edge, hit Settings > About device > Download updates manually to see if your update is ready. Network-branded GS7s will, as ever, likely take a little longer to receive the updated firmware.
Alex was with Android Central for over a decade, producing written and video content for the site, and served as global Executive Editor from 2016 to 2022.
Meanwhile,over at Verizon, not Jack sh*t,except the sound of silence. As always,GOOD JOB,VERIZON! Posted via the Android Central App

Verizon has been good lately. got April security updates for my s6 edge and Note 5. Hopefully s7 edge gets it soon. S7 edge will make America great again!

The addition of WiFi calling to non-branded is great, it means I can now reflash my phone back to BTU firmware. I loaded EE just to get WiFi calling (obviously I am with EE). Posted via the Android Central App

Me too massive deal. Wonder if EE know! Posted via the Android Central App

And? Posted from my Nokia 3310

And we used to own you. Posted via the Android Central App

No, corporations own us both. Posted via the Android Central App

I love how true this comment is. Nice one! Posted via the Android Central App

So true. Would you like some Monsatan Corn with that? #TeamFrosty Nexus 6P

What is "merica"? Brazil? Canada? Posted from my Nokia 3310

It's "murica!" Posted via the Android Central App

Congratulations you know where you live! sent from my silver gs7 edge

Excellent, just updated. Was unsure whether to get a branded EE handset for features like WiFi calling but in the end went for unbranded to get the fast updates. Really glad I did! Hope this means they can also bring voLTE in the future without carrier software Posted via the Android Central App

I got the update yesterday afternoon and while I was in Leicester last night I saw VoLTE at the top of the screen where you would normally see 4G or H+. I'm on Three UK but have a SIM free S7 Edge. Had to look it up to see what it was.

I only got the April security patch for my Nexus 6p yesterday in the UK. Fair play to Samsung, great for their users Posted via the Android Central App

Vodafone Netherlands doesn't do updates, no system- and no security updates... Posted via the Android Central App

I cannot use a phone that has any network firmware, bundled apps, spashscreen or branding. It is impossible for me. So it is great to see features like this coming to sim free handsets. Posted from my Nokia 3310

I got mine yesterday and all good but I can no longer see my photos in Google photos for some reason! Hopefully they will patch it. Posted via the Android Central App

Does S6 have wifi calling with out branding software Posted via the Android Central App

Nothing at netherlands :) Samsung Galaxy Note 5 Gold Platinum & Samsung Galaxy S7 Edge Gold Platinum & Samsung Galaxy S7 Edge Black Onyx

My dad's A5 2016 is an import from the UK. It doesn't work with US LTE bands. Kind of a mistake. Still, it got the April 2, 2016 security patch, way before any of our other Android devices besides one on stock Android. Considering that it's a Samsung and that it's a midrange handset that typically isn't focused on updates, this is mighty impressive. Hope Samsung keeps this up.

Can we get a fix for touch screen in the states already? As a Samsung Employee I'm upset that it's taking so long lol Posted via the Android Central App

I can't blame samsung.Tmobile already pushed it.The other carriers won't get off their dead ass Posted via the Android Central App

I'm thrilled posted with nokia 3310

This patch is working great and has fixed the crazy sensitivity of the screen. Glad I imported a totally unlocked phone. Posted via the Android Central App from my S7 edge

Help, I can't update software on my S7 because I'm rooted!??? If I help you, do the same for ten others and tell them as well. This is how we get better together.

I'm confused, I've just upgraded to this (via a sammobile download) and I see nothing about wifi calling anywhere. Any ideas? :(

Don't worry, a hard reset seemed to put WiFi calling into the menus!

I updated my S7 this morning. I made a couple of voice calls this morning before I updated, but after updating I can no longer make any outgoing calls. I can receive calls, send and receive text messages and mobile data and WiFi data work fine. I *can* make outgoing calls if I turn on WiFi calling, but if I turn it off, or just disconnect from WiFi then I can no longer make any calls. I've rebooted several times and checked for the obvious (i.e. no call barring). Finally I gave up and called my network (EE). They could find nothing wrong with any of my network settings - so it looks like the update has definitely messed up the 'Phone' app. Basically, whenever I dial out, the call is dropped within a second of it starting to dial. My guess is that it is always looking for WiFi and failing when it can't find it.

VoLTE also works on the 3 network in the UK on an unlocked S7. It was a surprise for me because I had no idea they even had it in 3. Bonus for me because the signal is awful inside my house. Posted via the Android Central App

I saw that too on my S7. Woop woop! Posted via the Android Central App

Has anybody on O2 in UK received this for S7 Edge yet? Posted via the Android Central App

Yep, I would like to know this too. Reading the forum at 02 it seems they get the release for testing and i f all goes well they send back to Samsung for roll out normally takes about 2 weeks Posted via the Android Central App
Android Central Newsletter
Get the best of Android Central in in your inbox, every day!
Thank you for signing up to Android Central. You will receive a verification email shortly.
There was a problem. Please refresh the page and try again.