UE Roll 2 review: A small speaker that packs a big punch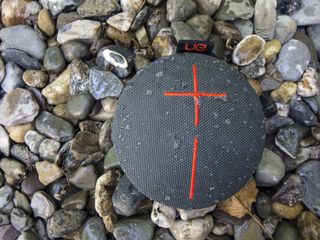 In a flooded market it can be hard to stand out, but Ultimate Ears (UE), a sub-brand of Logitech, does a pretty great job with its speakers. Speakers range in price from as low as $10 to over $200, and the differences can be hard to spot at times. Ultimate Ears has been around for a while, making a variety of Bluetooth speakers, headsets and more. In that time, the company has dialed in on some great designs that offer lots of benefits.
With some speakers being available for a decent amount less, you may be wondering if the UE Roll 2 is worth the $100 price tag (opens in new tab). Well, let's take a look at the design, quality and more to see if this may be the speaker that keeps your guests entertained at your next barbecue.
Overall Design
At first glance the UE Roll 2 may not be immediately recognized as a speaker. Its rounded design offers a rather unique look for a speaker and makes it easy to pack up and bring along with you. It isn't overly thick or heavy either, which is great. When you first look at the speaker, it is easy to be confused as to how you turn it on or off as well as how to adjust the volume because most of the buttons are quite hidden.
On the back, you've got a slightly sunk in button that acts as the power button, and directly beneath that is the Bluetooth pairing button. On the front of the speaker, you will notice some stitched shapes, one as a plus sign and the other is a long thin line. These are actually your volume buttons, and the middle of each can be pressed to adjust how loud the speaker is playing without reaching for your phone.
There are only two ports on the speaker, which are both hidden behind a rubber flap to help keep it waterproof. The ports are a Micro-USB and a 3.5mm line-in. At times the flap can be a little hard to get fully closed, as it wants to keep popping up. It is important that it remains closed when in contact with any water so that none can work its way inside.
Sound Quality
Arguably the most important thing to consider when purchasing a speaker is how it will sound while playing your music. The UE Roll 2 packs a rather impressive sound in the small package, with a solid range of sound. Depending on what genre of music you listen to, you may find the results to vary a little more.
If your music collection is more on the bass heavy end, you may notice that the speaker sounds a bit distorted. The bass is definitely not as deep as it could be, but that isn't all that surprising given how small of a package we are talking about here.
The UE Roll 2 can get rather loud, so if you are looking to spread music through a large space you should have no problem. In addition, you can easily pair two of them together for stereo sound, which is a pretty sweet option. Sure, it won't replace your home entertainment system, but it will keep the party going outside or out on the boat.
Battery Life
No one wants a speaker that can barely play two albums without needing to be recharged, right? Well, the UE Roll 2 boasts a 9-hour battery life per charge, which should be enough to keep your party going and the music flowing. Of course, the more you turn it on and off, or adjust the volume and what is playing could all have an impact on how long it lasts for you, but not in a huge way.
The app
Ultimate Ears offers a companion app for the speaker called UE ROLL. The app is pretty simple, and not something that you will find yourself using on a daily basis. With it, you can pair two speakers together, adjust some of the EQ levels as well as set alarms. That's right, you can set the speaker to begin playing as your alarm clock in the morning if you wish.
You'll also be able to adjust some settings, like naming the speaker and changing the language. You can also quickly view the battery level of your speaker right from the app. Odds are that once you pair the speaker with your phone's Bluetooth, you won't need to use this much unless you need to pair or un-pair speakers.
Should you buy it
This speaker isn't one that everyone will see value in, especially given its $100 price tag. That said, if you are an outdoorsy person, someone who spends time kayaking, fishing, swimming, camping or anything else like that, this speaker is what you want. Being light and portable you can carry it around with ease, and the up to 9 hours of playback time is great to keep the music flowing.
The UE Roll 2 is available at a variety of retailers and in a number of different color options. If you own one be sure to share your opinions of the speaker in the comments!
See at Amazon (opens in new tab)
Jared started off writing about mobile phones back when BlackBerry ruled the market, and Windows Mobile was kinda cool. Now, with a family, mortgage and other responsibilities he has no choice but to look for the best deals, and he's here to share them with you.
It all sounded good until i saw the $100 price tag.

Last month it was on sale for $50. If you look around, you should be able to find id for less.

That was the UE ROLL not the UE ROLL 2. They discounted the first version in anticipation to the second version :)

And the second is now on sale for $68... 3rd incoming? Seems like Logi's smaller models always end up on sale within the year, I bought my Boom Mini (same $100 MSRP) for like $50-something at Woot before the 1st Roll was even announced. Might pick up the Roll 2, just for the waterproofyness and floaty. I guess I could've bought a big Boom or Riva by now between what I'll have spent on the Roll + Mini + some smaller X-mini speakers, but I can't bring myself to spend over $75 on BT speakers.

I just bought the UE roll (1) on Amazon for like €75, for that price is a no brained, the newer model definitely isn't worth the extra money in my opinion. Posted via the Android Central App

Hey look, another overpriced wireless speaker! Posted via the Android Central App

Logitech is better than most makers and the roll is not exception. $60 USD is appropriate though. The mega boom speaker is really good Best BT speaker in my experience is the fugoo sport Posted via the Android Central App

I returned mine. There is no bass at all in this thing. :-/ I'm not even into a crazy ton of bass. But this thing doesn't produce any...where is the bass guitar in this song? Oh, there it is, sounding like a muffled whisper...great. Posted via the Android Central App

Imho, the JBL Flip 3's offer a much better sound, boomier bass, and better battery life at around $90-$100, around the same price range as the UE Roll. Only thing it doesn't excel at is water resistance as the Roll 2 is waterproof and the Flip 3 only splashproof: it can survive being washed under running water but no guarantees that it'll work when submerged. Posted via an LG V10

This one sounds the same as the first one: like garbage. Waste of a hundred dollars. I LOVE android central, but their reviews/suggestions for bluetooth speakers are not reliable. Disagree? Youtube bluetooth speaker reviews. You'll see what I mean. If you can spend the extra bucks, bump up to the UE boom 2. Way better sound and water protection without the silly little water floaty that comes with the Roll 2. There are other options out there that have even better sound than the boom 2 (JBL charge 2 +), but I've seen the boom 2 buried in mud and work perfectly after a washing on youtube. If you can't afford it right now, save up or wait for a sale....its worth it. Sorry AC. Still love ya though!! Posted via note 4, +32 gig micro SD and 2× batteries...because I can.

They are actually not that small. That is I was surprised at the actual size in the store. Based on the photos I always assumed it was the circumference of a hockey puck.
Android Central Newsletter
Thank you for signing up to Android Central. You will receive a verification email shortly.
There was a problem. Please refresh the page and try again.